26 November 2019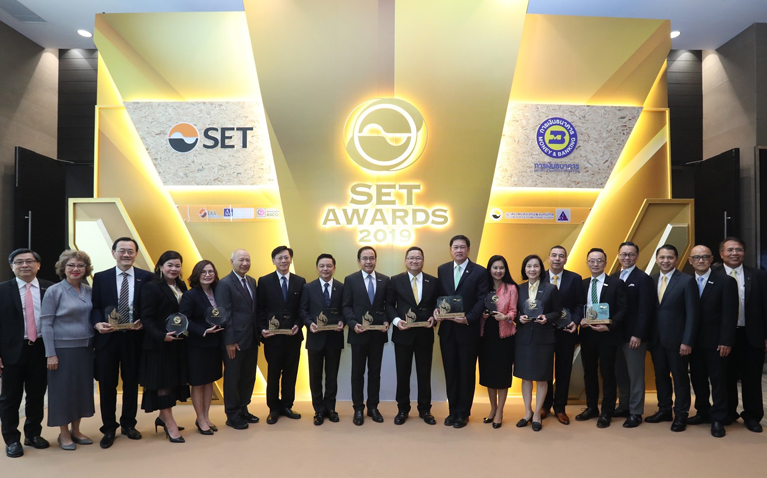 Mr. Chansin Treenuchagron, President & Chief Executive Officer, PTT Public Company Limited (PTT) announced that PTT had received two awards from SET Awards 2019, including the "Best Sustainability Awards"and the "Best Investor Relations Awards". The Best Sustainability Awards is given to listed companies that exhibit outstanding performance in sustainable development. The award highlights PTT's sustainable practices and reflects the company's ongoing commitment to promoting social development and environmental stewardship. PTT was also recognized with the Best Investor Relations Awards for its excellent performance towards investor relations practices and operating business in accordance with good corporate governance.
Additionally, subsidiary companies of PTT Group are ranked in Thailand's Sustainability Investment list, including PTT Public Company Limited, PTT Exploration and Production Public Company Limited, Thai Oil Public Company Limited, IRPC Public Company Limited, PTT Global Chemical Public Company Limited, and Global Power Synergy Public Company Limited. The list demonstrates PTT's sustainable business operations, which strive for balancing three dimensions (3Ps): People, internal and external human resource development, together with community and social care; Planet, efficient resources utilization as well as the conservation of natural resources and environment; Prosperity, strengthening fundamentals for steady and sustainable economic as well as social growth while maintaining balance for all stakeholders.
"PTT Group would like to thank all stakeholders, especially the shareholders and investors who provide us with their confidence and continuous support. These achievements are not only the result of our healthy and sustainable business, but also ensure our dedication for creating national energy security to sustain the future. Besides, PTT will strive to sustain its position as one of the top quality companies in the Stock Exchange of Thailand and continue to support national development with all sectors in a long run." Mr. Chansin said.
The SET Awards are organized by the Stock Exchange of Thailand in cooperation with Money & Banking Magazine, now in its 16th year this year. It is one of the most prestigious awards in the Thai capital market and aims to recognize and support companies with excellent performances in various areas while being role models for others. As a result, receiving these awards is regarded as a milestone for PTT Group in enabling economic growth and promoting the country's investment, which will lead to national strength and in turn leads to the betterment of society.