Achieving a steadily and sustainable business growth requires continuous developments for the business to adapt to disruptive challenges. The business also needs to build resilience by adhering to the principle of good governance, promoting the 20-year National Strategy and contributing to the United Nations Sustainable Development Goals, for the benefit of the organization and society in all sectors at all levels, from community, society and country level.
PTT operates under the Pride and Treasure of Thailand or "PTT" strategy, to build the company's pride as the nation's precious treasure. PTT strives to balance three sustainability management aspects (3P), consisting of operating business while caring for communities and societies (People), conservation of natural resources and the environment (Planet), and being the foundation for the steady and sustainable economic and social growth (Prosperity). Moreover, PTT also strives to contribute to taking care of communities, Society and Environment, while ensuring a balanced and responsive stakeholder engagement. To achieve this, PTT adheres to the principles of good governance and good corporate governance through the policy "CHANGE for Future of Thailand 4.0"
To establish PTT Group's strategic direction, apart from considering various challenges, international and the national strategy, the PTT Board of Directors has agreed to adopt of the United Nations Sustainable Development Goals (SDG) as a factor to inform its business direction. In 2018, PTT aims to contribute to the seven major goals: Goal 7, 8, 12, 13, 14, 15 and 16, with relevant target described as follows:
Goal 7 - Affordable and Clean Energy (Target 7.2 and 7.3)
Goal 8 - Decent Work and Economic Growth (Target 8.1, 8.5 and 8.8)
Goal 12 - Responsible Consumption and Production (Target 12.2, 12.4, 12.5, 12.6 and 12.7)
Goal 13 - Climate Action (Target 13.1, 13.2 and 13.3)
Goal 14 - Live below Water (Target 14.1, 14.2 and 14.3)
Goal 15 - Life on Land (Target 15.1, 15.2 and 15.5)
Goal 16 - Peace and Justice Strong Institutions (Target 16.5, 16.7 and 16.10)
Materiality
PTT's materiality assessment process is conducted in accordance to the Global Reporting Initiative (GRI)'s Sustainability Reporting Standard and the International Integrated Reporting Council (IIRC), to identify economic, environmental, social, and stakeholders' issues that have potential impacts on the organization's business operations and significant influence in stakeholders' decision-making. The materiality assessment is undertaken annually in order to review any changes in the issues that are important to the organization and its stakeholders.
Materiality Assessment Process
The process includes identifying issues, prioritizing material issues, verifying the findings. Details of the process are summarized as follows:
Issue Identification for Organization and Stakeholders :

Material sustainability issues are considered and identified in collaboration with relevant functions in the organization. Issues are selected based on alignment with corporate risks, strategic direction and sustainability management, and stakeholders' expectations.

Issue Prioritization :

The identified issues are screened to assess their level of significance from opportunity and impact to business, stakeholder interests and impacts, including value creation for stakeholders.

Verification and Assurance :

The PTT Group Sustainability Alignment Committee (SAC) is responsible for monitoring and verifying the report development process by reviewing results of the materiality assessment and report content, and approving the content for disclosure to ensure the report's completeness, balance, and coverage. The SAC further provides comments and suggestions on specific issues that should be reported depending on relevant stakeholder interests, such as current issues and global reporting trends. External parties are engaged to verify the materiality assessment process, stakeholder engagement process, data collection and analysis, and the organization's performance against indicators to confirm completeness, accuracy, reliability and transparency of the report. For continuous improvement, PTT takes into consideration observations and recommendations from relevant external parties to improve the quality of the report.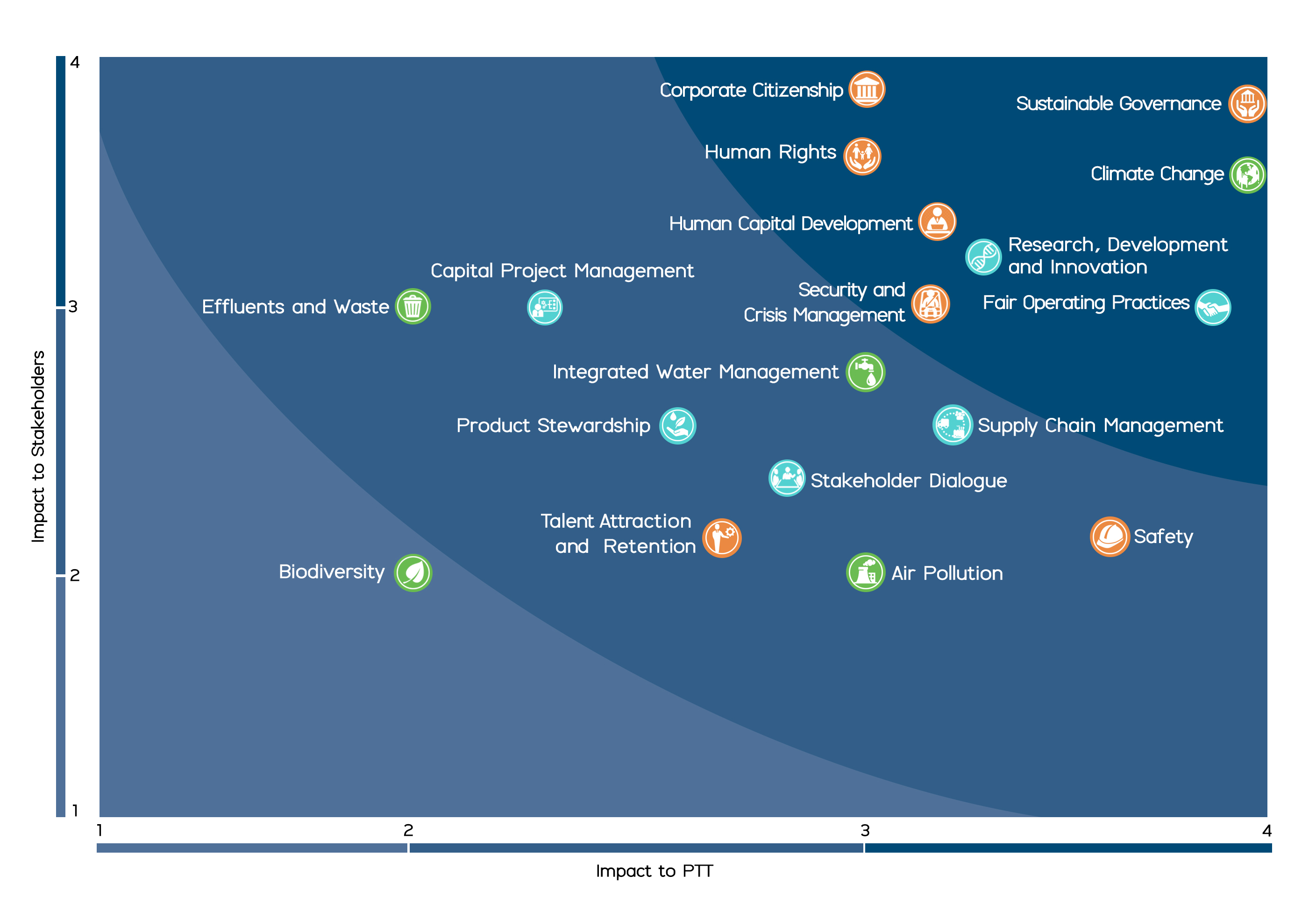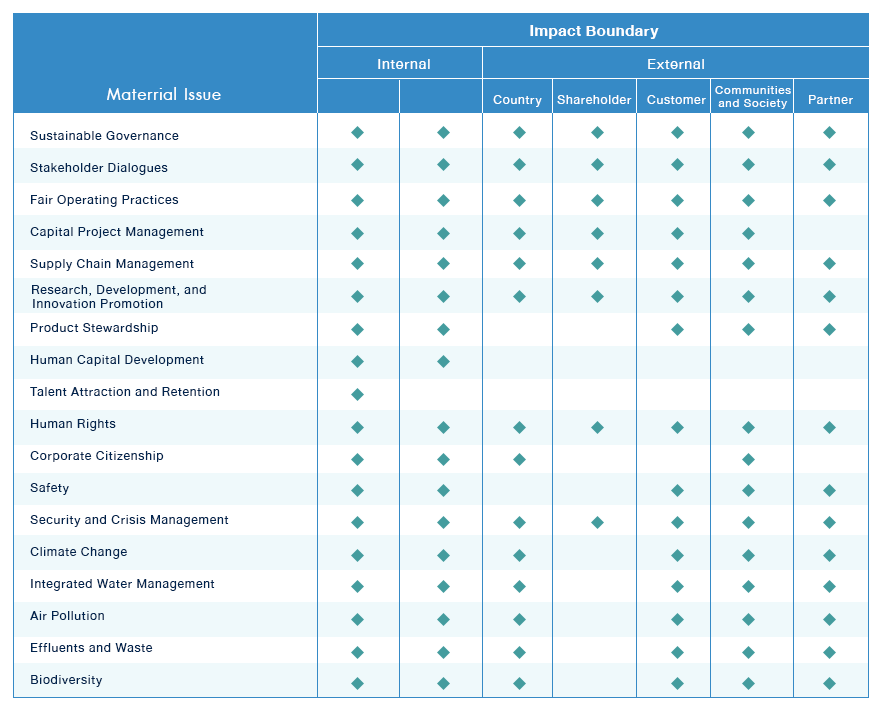 PTT has managed important issues through strategies and operational plans of relevant departments in a concrete manner. In 2018, the top three material issues are Sustainable Governance, Climate Change, and Research & Development and Innovation. For more information, please visit the following topics.