PTT's milestone mission involving the environment was conceived in 1994 when the company volunteered to run a reforestation project on 1 million rai of land in honor of His Majesty the late King Bhumibol Adulyadej The Great on the 50th anniversary of his accession to the throne. The project aimed to restore forest areas earlier encroached and destroyed. Target reforestation plots were scattered across the country covering evergreen forests on mountains in the North, deciduous forests on the plateaus of the Northeast, evergreen forests on the lower plains in the Central and Eastern Regions, and swamps and mangrove forests along both sides of the southern peninsula.
The project lasted from 1994 to 2002, covering altogether 1,043,230 rai. Its completion could not have been realized without the support and continuous participation of government agencies and villagers around reforested areas, who helped guaranteed the survival of the forests. Long-term forest conservation which relies on community engagement is thus the key to project sustenance.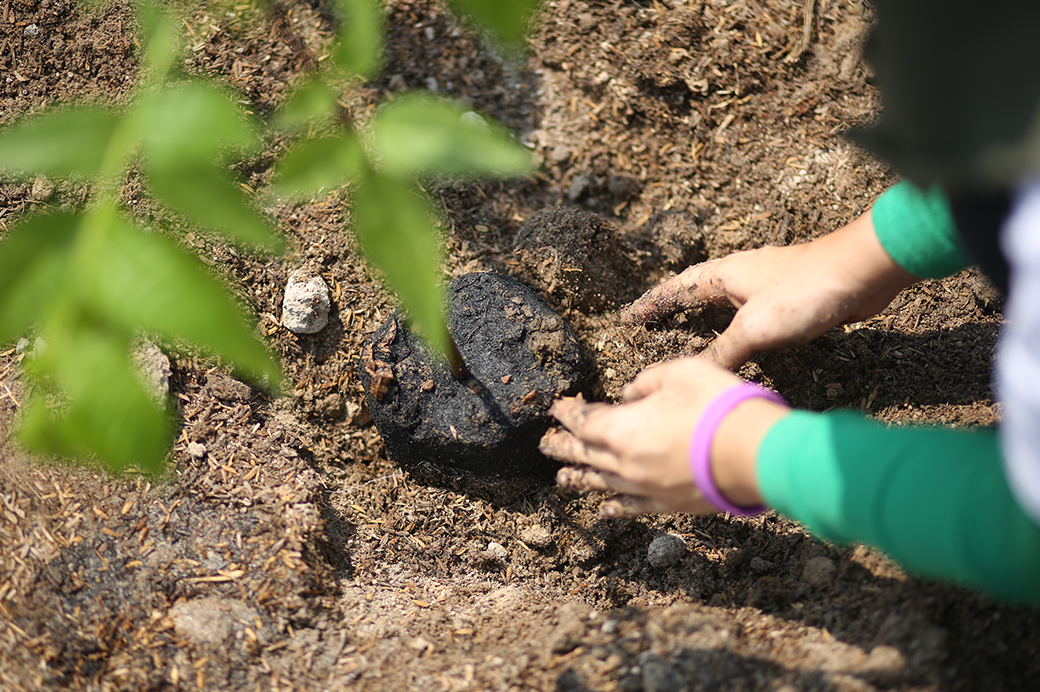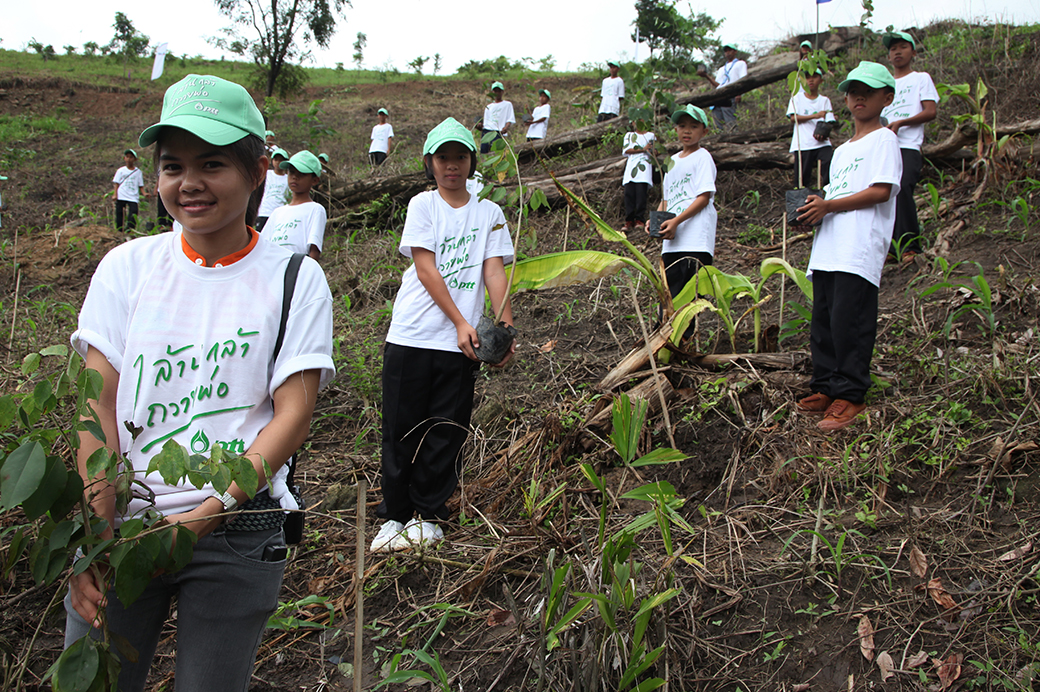 Not only did this reforestation project on 1 million rai of land restore degraded forests and return green areas to the country, but it also created awareness of the significance of natural resources while carrying on the goodwill to conserve forests and natural resources. As a consequence, a network of sustainable forest conservation was established by volunteer villagers around reforestation plots. The impact of the project has expanded, resulting in establishment of networks engaging in soil, water, and forest conservation, namely the Green Globe Project, conceived in 1999 to honor people, communities, and the youth who have outstanding performance in forest conservation, and Vetiver Development Project under His Majesty the late King Bhumibol Adulyadej The Great's initiative. These networks have sunk deeper roots in communities and the public at large, allowing the networks to interconnect and enabling wider knowledge dissemination and exchange.
Today the replanted trees have grown and yielded benefit for the country. The Forestry Research Center, Kasetsart University, found that PTT-managed reforested areas during 1994 - 2016 are capable of absorbing as much as 2.14 million metric tons of carbon dioxide equivalent per year, reflecting as high as 280 million baht per year of benefit reaped from the forests. The reforested areas were also found to have a fertility rate of over 82.66% thanks to the concerted efforts of all agencies concerned and forest conservation volunteers. Indeed, the reforested areas are part of the support for self-reliance of villagers around the reforested plots while raising their quality of life and improving the local economy.
PTT Reforestation and Ecosystem Institute
Taking charge of expanding the outcomes of the above-mentioned reforestation project, PTT Reforestation and Ecosystem Institute focuses on strategic reforestation, in which social and community benefit is targeted.
The institute accrues knowledge obtained from some 25 years of experience in reforestation and biodiversity research to educate the public and forge awareness of natural resource and environmental conservation.
Furthermore, PTT Reforestation and Ecosystem Institute is tasked with raising technical knowledge and fostering awareness through three learning centers, each of which has its own highlights: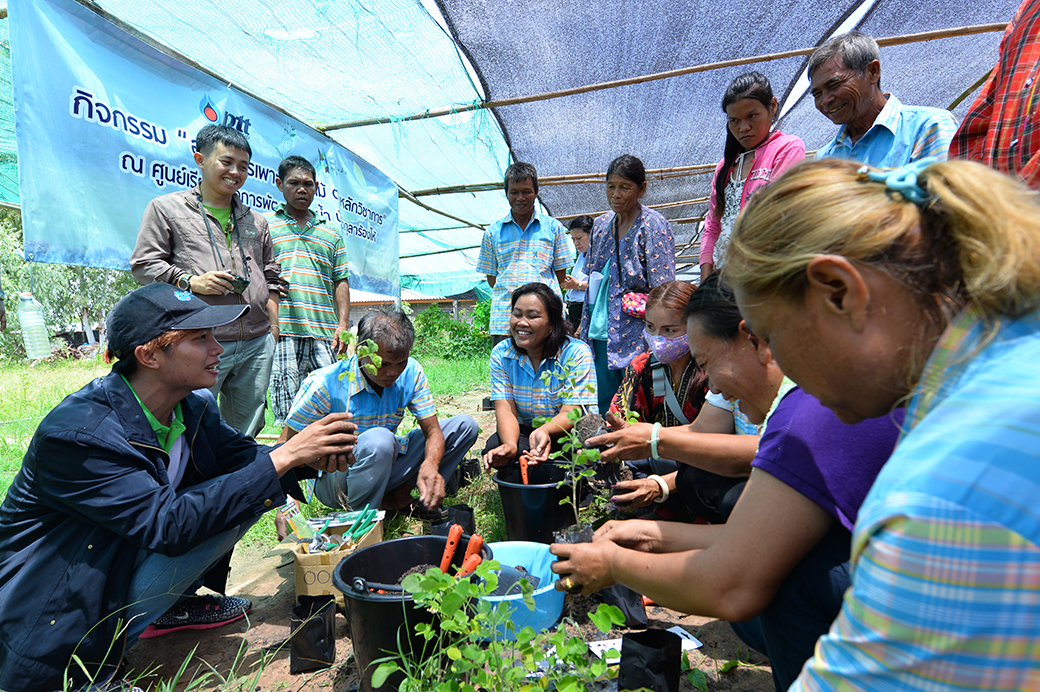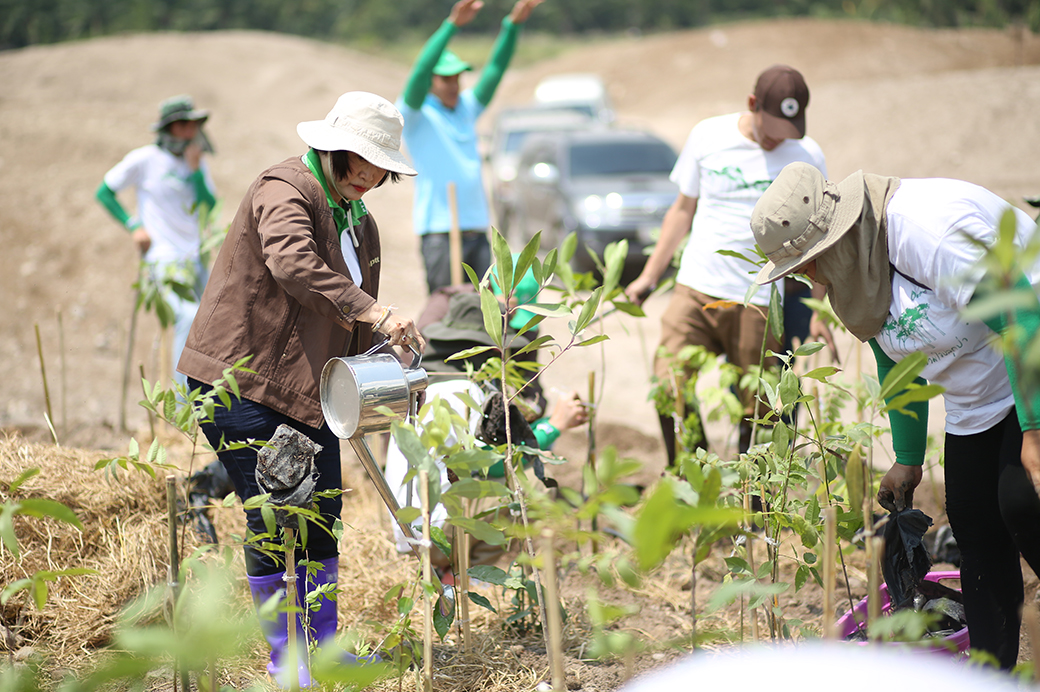 Building Awareness through Three Learning Centers
Sirinath Rajini Ecosystem Learning Center
This 387-rai mangrove learning center at Tambon Pak Nam Pran, Amphoe Pran Buri, Prachuap Khiri Khan, is recognized as one significant page of PTT history. It is the place where PTT presented the 1-million rai reforestation project to His Majesty the late King Bhumibol Adulyadej The Great.

The area was restored from a deserted shrimp farm into a mangrove ecosystem learning center with national and regional significance, thanks to participation from the community. Research and knowledge were applied to restore degraded soil and drain saline water, thus turning the area into a large plot of mangrove forest capable of absorbing carbon dioxide and thus becoming a prime source of ecosystem development. The site has also become a model of knowledge for restoring shrimp farms into a fertile mangrove area as well as a model site for managing a sustainable forest area with the participation of communities and government agencies. The area generates income for community people from tourism and fishery.

Metro Forest
Metro Forest was inaugurated in 2015 by Her Royal Highness Princess Debaratanarajasuda, Princess Royal of Thailand, who graciously bestowed the name of the learning center. The site, standing on a 12-rai plot of land on Sukhaphiban 2 Road, was designed in harmony with nature and the environment, and intended to be a learning center and double as a green area for Bangkok Metropolis. With trees of the top canopy layer grown in the form of a mixed forest, Metro Forest is where diverse types of trees native to Bangkok can be found. Moreover, it is a site where knowledge about PTT's tree planting and forest conservation is collected. Today it is a place where various activities involving forest and environmental conservation are organized.

Wang Chan Forest Learning Center
Situated in Tambon Pa Yup Nai, Amphoe Wang Chan, Rayong, the Wang Chan Forest Learning Center covers a total area of 351.35 rai. The design of the site was manipulated by concerns on the ecosystem and land use with minimal environmental impact. The center is intended to be a place where knowledge and innovation about various methods of forest restoration are housed, particularly the integrated forest restoration method in the form of 'agroforestry', where perennial plants and horticultural plants as well as paddy fields are placed side by side. The center is also a pilot reforestation site in the Thailand-Voluntary Emission and Reduction (T-VER) Program (forestry category).
The Wang Chan Forest Learning Center joined nearby communities in drawing up a local ecosystem course and combined it into the regular schooling curricula in schools in the neighborhood. The center follows a royal initiative by growing hygienic vegetables using the seeds graciously bestowed by His Majesty the late King Bhumibol Adulyadej The Great. These vegetables are not only safe for consumption but can also generate income, bringing about people's better quality of life. Vegetables grown are sold in the 'Wang Chan Ruam Rak, Plook Phak Baeng Pan' (Growing diverse types of vegetable for sharing) project.
Reforestation for Ecosystem Conservation and Promoting Community Forests
Following PTT's continued collaborations with community networks on forest and natural resources promotion and preservation, including with the Green Globe Institute, Civil Forest Protection Volunteers Network, and Vetiver Network, the Company decided to expand upon these collaborations by increasing green spaces in the form of community household forests within community-owned spaces. Growing a community forest refers to the creation of a forest – in an area with a title deed – for household uses. It involves growing a mixture of plants that benefit both air conditions and food security, such as perennial plants, fruit trees, flowering plants,herbs, and spices, etc., in accordance with the approach of the Royal Project, "Plant Forests, Create Incomes," of Her Royal Highness Princess Maha Chakri Sirindhorn, and the 20-Year National Strategy on Eco-Friendly Development and Growth. Today, the community forest area in Pang Sawan sub-district, Chum Ta Bong district, Nakhon Sawan province, has grown by 219 rai.
Promoting the expansion of urban green spaces and instilling a "Green Mindset"
In 2019, the PTT initiated the "Plant Together" scheme, supporting five universities – Thammasat University, Rangsit University, Bangkok University, King Mongkut's Institute of Technology Ladkrabang, and Rajamangala University of Technology Krungthep – in a competition to win prize money from designing a green space according to the needs of each university. PTT provided an initial financial contribution of 100,000 baht to each institution for their designs, shared knowledge from the PTT Ecosystem and Reforestation Institute, and worked with landscape architects on recommending tree species, area needs, appropriate means of caretaking and the benefits of various tree species to participants throughout the duration of the competition. It can also be a considered a starting point for increasing urban green spaces by using an inclusive approach, and for instilling a green mindset to promote better qualities of life and environment in cities.
Learn more about projects under PTT Reforestation and Ecosystem Institute at http://www.pttreforestation.com