PTT's gas transmission system consists of the onshore and the offshore systems, combining for a total distance of 4,255 km (as of December 31, 2018), connecting the Gulf gas fields, LNG terminal, and transmission pipelines from the Yadana, Yetagun, and Zawtika fields of Myanmar at the border with power generators, GSPs, and industrial customers. PTT's system consists of dew point control units and a header, together making up a process to control the quality of gas derived from various sources in the Gulf to uniform heating values and uniform quality.
In laying all gas pipelines, PTT adopts strict safety standards with due regard for the environment as well as public wellbeing and properties.
Third-Party Access Code: TPA Code of PTT Pipeline
In line with the Energy Business Act of 2007 and to provide a common framework, PTT Plc has developed a Third-Party Access Code: TPA Code of PTT Pipeline for license holders of natural gas supply and wholesale or other energy business operators to also exploit or connect with the gas transmission system.
TQA Management of Transmission Pipeline System
PTT's transmission pipeline system operation abides by the Thailand Quality Award (TQA) criterion, winning a TQA Award in 2010. This was the ultimate award given by the TQA Office to organizations with comprehensive management systems, marked by quality and world-class capability.
Operation of Gas Transmission System
To provide its gas transmission with maximum control and management efficiency as well as safety, PTT splits the operating responsibility for its operation section into Gas Pipeline Transmission Operations Departments 1-3 and Offshore Gas Transmission Pipeline Operations looking after all transmission pipelines, with the main operation center located at PTT Operating Center, Chonburi.
The heart of operation of the entire system, Chonburi Operating Center controls and plans receiving and delivery operations from producers to customers throughout nationwide pipeline routes; supports transmission pipeline engineering; maintains the transmission system; looks after system safety and environment; looks after block valve stations and measures gas volumes; and prevents and suppresses transmission pipeline emergencies with the SCADA system through communication systems including the microwave, fiber optic cable, and satellite systems.
Scope of Transmission Pipeline Operations Responsibility
Region I Gas Pipeline Operations Division: Chon Buri, Rayong, Chachoengsao, Samut Prakan, and Bangkok Metropolis
Region II Gas Pipeline Operations Division: Phra Nakhon Si Ayutthaya, Nakhon Nayok, Pathum Thani, and Sara Buri
Region III Gas Pipeline Operations Division: Rayong and Chon Buri
Region IV Gas Pipeline Operations Division: Khon Kaen
Region V Gas Pipeline Operations Division: Ratchaburi, Kanchanaburi, Nakhon Pathom, and Nonthaburi
Region VI Gas Pipeline Operations Division: Bangkok Metropolis, Nonthaburi, Pathum Thani, and Samut Prakan
Region VII Gas Pipeline Operations Division: Songkhla and Nakhon Si Thammarat
Region VIII Gas Pipeline Operations Division: Kanchanaburi
Region IX Gas Pipeline Operations Division: Pathum Thani, Bangkok Metropolis, Chachoengsao, Prachin Buri, Phra Nakhon Si Ayutthaya, and Samut Prakan
Region X Gas Pipeline Operations Division: Chachoengsao, Chon Buri, Nakhon Nayok, and Prachin Buri
Region XI Gas Pipeline Operations Division: Chainat, Nakhon Sawan, Phra Nakorn Si Ayutthaya, Lop Buri, Sing Buri, and Ang Thong
Region XII Gas Pipeline Operations Division: Nakhon Ratchasima
LNG receiving and offloading process, gas blending, and gas compression into all trunk lines, encompassing Rayong
Offshore Pipeline Operations Department: Entire offshore gas transmission pipeline system, ERP (Erawan Riser Platform), PRP (PTT Riser Platform), encompassing Pattani, Songkhla, Nakhon Si Thammarat, Surat Thani, Chumphon, Prachuap Khiri Khan, and Rayong.
Core Duties
Inspect and maintain the system to the ASME B31.8 international standard
Oversee and maintain block valve stations, gas metering stations, metering equipment system, and various control systems on a par with applicable standards for proper delivery to customers
Together with the emergency command, prevent and suppress emergencies concerning gas transmission
Look after community relations under responsible areas, thus promoting confidence in safety systems and environmental stewardship among the communities.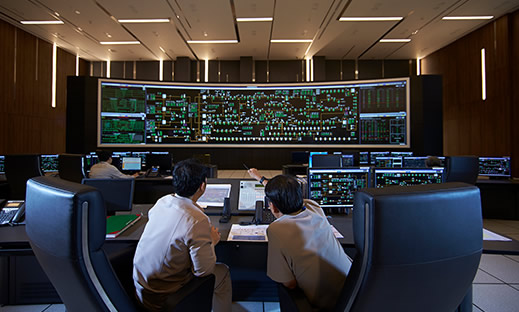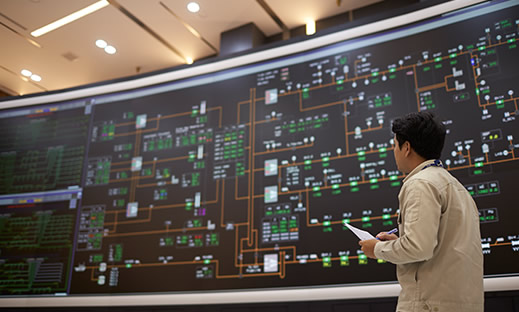 Supervisory Control and Data Acquisition (SCADA)
SCADA is a computer network technology designed for real-time, remote gas receiving and delivery. Spanning the entire transmission pipelines, SCADA enables punctual transmission from the point of delivery to customers, with specified gas quality in a continuously safe manner. The main control center is located in Chonburi province.
The communication systems rely on sophisticated technology for the entire system's maximum security:
Fiber optic cable system accommodating 622 Mbps in bit rates, buried along the pipeline routes, today serves as the core communication system
Satellite telecommunication system for data transmission between offshore platforms and the control center
UHF (Ultra-High Frequency) and VHF (Very-High Frequency) systems for support to operation tasks throughout all pipeline routes
3G/4G systems for data transmission between the RTUs (remote terminal units), SCADA system of NGV service stations, and the Automatic Meter Reading system.
Block Valve Stations: Each of these stations is equipped with RTU equipment and communication systems to link signals from field instruments to the control center, thus making the control and monitoring of gas receiving and delivery continuous as well as safe.
Pipeline Integrity Management System (PIMS)
Integrated with PTT's trunk line, PIMS provides pipelines with safety, strength, and security of service as designed under the ASME B31.8 international standard. As a result, gas delivery is continuous, as needed by customers, and pipelines have a long service life, delivering the gas with maximum efficiency.
Geographic Information System (GIS)
GIS analyzes spatial data, with different data in a given area of investigation arranged in an interconnected format depending on their types and details, thus yielding optimal outcomes. GIS is a computerized system with hardware, software, and procedures designed to store, manage, develop, analyze, simulate, and display spatial data for solving complicated planning tasks and management issues.