PTT focuses on effective supply chain management in order to prevent and mitigate supplier environment, society, and governance risks that may affect stakeholder's trust in PTT's business operations. Furthermore, PTT aims to improve and continuously develop internal supply chain management; in order to ensure prompt responsiveness to business context and changing environment.

Supply chain management can be classified into 2 levels: corporate and business. The corporate level is responsible for general products and services procurement, as well as governance and creating added values to companies in the Group. At the business unit level, products are procured according to each business unit's needs. These comprises hydrocarbon products, or raw materials used in the production process. The latter products have high transaction value, and comprise raw material for refinery; with relation to international trades in association with crude oil and other hydrocarbon-based products.
PTT Supplier Sustainable Code of Conduct
PTT has established Supplier Sustainable Code of Conduct, covering direction and scope in consistent with relevant regulations and requirements. It encompasses Code of Business Ethics, social responsibility, occupational health and safety, and environmental management. The document is available in both Thai and English. It is applicable to all suppliers whose contract is at least 2 million baht, and/or those whose operations may potentially impact safety and the environment. This includes supplier interested in registering as on the vendor list of PTT's suppliers. PTT has set a strategy to support and manage suppliers, enabling communication of good working direction, guidance, and knowledge with regards to suppliers' sustainable procurement guideline. This can be achieved through various channels, such as the Supplier Relationship Management (SRM) Seminar and the corporate website
PTT Supplier Sustainable Code of Conduct
Supplier Risk Assessment
PTT's management structure for suppliers and contractors ensures stringent management of suppliers' risks. This ensures prevention and mitigation of impacts to PTT's business. PTT evaluates the risks of its major supplier groups, in accordance with PTT Vendor List, by considering 2 dimensions:
Suppliers' ESG (Environment, Social and Governance) Risk; and
Buyers' Risks that may impact PTT's operations, such as PTT's high spending/high volume purchasing, or non-substitutable products or services.
Risk Assessment of PTT's Products and Services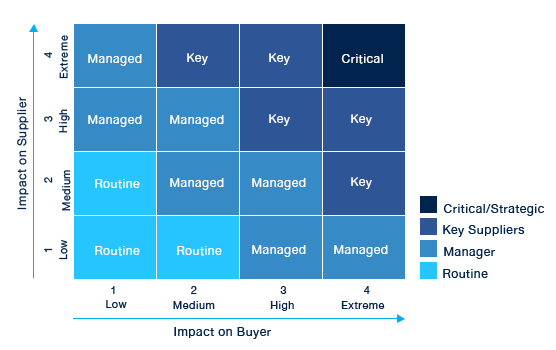 Results of PTT's risk assessment for products and services have impacts on different supplier group management and supplier management. There are three levels categorized, as follows.
Supplier Group's
Management Level

Definition
Management Strategy
Management Tools

1. Critical/Strategic

Critical supplier groups in the Critical / Strategic Group are those whose operational activities pose high risks and high impacts to both the suppliers and surrounding communities, resulting in extreme impacts to the buyer (PTT) both in terms of business and organizational reputation.

Foster long-term relations and common strengths in business operations to enhance mutual capacity and create added value

PTT Supplier Sustainable Code of Conduct
Specific Terms of Reference (TOR) on business ethics, social responsibility, occupational safety and environment for the Critical/Strategic group.
Sustainability Performance Assessment
Suppliers' Sustainability Auditing
Supplier Relations Management
Supplier capacity building

2. Key

Key Supplier groups are those whose business activities and products extend to potential impacts on consumers, which have high impacts to the buyer, both in terms of business and reputation

Foster long-term relations to control spending and risks, and maintain competitiveness level.

PTT Supplier Sustainable Code of Conduct
General Terms of Reference (TOR) on business ethics, social responsibility, occupational safety and environment

3. Manage / Routine

Manage Suppliers are those whose activities focus primarily on operations, with potential impacts on surrounding areas or communities, and medium risks to PTT as the buyer.

primarily on operations, with potential impacts on surrounding areas or communities, and medium risks to PTT as the buyer. Maintain relations through performance results, and manage risks and spending according to customer needs

PTT Supplier Sustainable Code of Conduct
General Terms of Reference (TOR) on business ethics, social responsibility, occupational safety and environment
PTT Group implements PTT Group Emergency and Crisis Management Plan and Business Continuity Management (BCM) in order to manage risks across its supply chain. The Emergency Crisis and BCM Portal monitors the overall management. In addition, PTT collaborates with internal and external agencies to organize a simulation for BCM plan on an annual basis; PTT defines the management plan post- incident, and transition back to pre-incidence level. This includes monitoring of BCM plans from external agencies ensuring management is effective and suitable to the circumstance
To minimize risk of energy scarcity, PTT unfailingly applies BCM principles. In 2018, Black Swan trainings have been executed in simulation form. There were also desktop training simulating situations affecting natural gas and petrochemical value chains. Crisis Management and Business Continuity Centers of various business units are connected. This facilitates greater understanding in crisis management, stakeholder communication, and other aspects of management to ensure PTT Group's capability in continuous business operations. Similarly, the arrangement substantiates alignment to the mission in protecting stakeholders' benefits, and in operating business sustainably. Following structural adjustment by transferring oil retail business and shares of relevant companies to PTT Oil and Retail Business Public Company Limited, rooms for improvements regarding operations during crisis have been identified. This improvement will enhance efficiency. Memorandum of Understanding (MOU) has been signed to ensure collaborated effort in crisis management.
Supplier Management
PTT sets supplier management measures in order to ensure compliance of supplier's conduct with the required standards, as well as the supplier's capacity to meet the increasing demands for products, achieve targets, maintain product quality, cultivate good relationships between suppliers and PTT. This includes building suppliers' awareness on PTT's corporate sustainability position.
Corporate Level
PTT has standards for selecting, assessing and auditing suppliers in a fair and transparent manner in terms of the supplier's ability to secure business operations and respond to PTT's needs. PTT uses a pre-qualification questionnaire (PQ) to evaluate each supplier's potential in various aspects including service readiness, production rate, transportation, and industrial standards. In addition, sustainability criteria for supplier selection include business integrity, social responsibility, human rights, safety, and environmental management. Qualified suppliers will be included in the PTT Approved Vendor List (AVL). Suppliers must be able to operate according to the PTT Supplier Sustainable Code of Conduct.
To enhance suppliers' satisfaction, and bolster good relations between suppliers and PTT Group, PTT organized Supplier Seminar annually. The key objective is to communicate targets, policy, directions and business approach. This also provides opportunity for exchange of knowledge and opinions between suppliers and PTT. There is satisfaction survey for suppliers regarding procurement and contract management post-process completion, as well as termination of contract. The feedback here will be used for improvement and development of business sustainably.
Business Unit Level
PTT's supply chain management strategy for hydrocarbon products, LPG, and biofuel procurement focuses on receiving the correct product quality and quantity that is on-time, safe, and environmentally-friendly, through a transparent and traceable process both from PTT and suppliers' sides. In addition, PTT supports added value creation for hydrocarbon products, LPG and biofuel products in the PTT Group's supply chain
Additionally, stipulations on environmental and social sustainability, volumes and delivery periods are included in all of PTT's short-term and long-term contracts with refineries and biofuel suppliers. The requirements related to environmental and social practice and criteria for performance excellence are defined in each contract based on the Supplier Sustainable Code of Conduct. ESG factors are used to assess the minimum level of quality and quantity of both existing and new contracts according to the strategic supply chain management plans, consisting of quality, economic, environmental, safety, occupational health, and community aspects
Supplier Assessment and Audit
PTT has in place supplier assessment and audit programs to manage risks, define mitigation plans, and evaluate performance based on jointly developed mitigation plans. Assessments take into consideration quality/quantity/safety in production and delivery, PTT's basic requirements, and minimum requirements in labor and environmental laws and management standards such as ISO 9001, ISO 14001, and OHSAS 18001.
PTT has been continuously assessed and audits supplier since 2016. In 2019, there was an assessment for twelve high-risk suppliers on economic, social and environmental risks, conducted in tandem with annual spending analysis. PTT has performed according to the Group's assessment plan at 100% completion of annual work plan. Results of ESG performance assessment reveals that there are eleven assessed suppliers meeting PTT's criteria, scoring over or equal to 2.5 points out of 4. There was one supplier who scored less than 2.5, due to non-compliance issues as follows. The mentioned supplier did not develop a back-up plan to ensure sufficient goods and services in case of crisis; they have also neglected to establish emergency or fire drills for employees. The supplier in discussion also failed to manage hazardous materials thoroughly according to established standards. These are all crucial risks. Upon notification, the supplier has already addressed and resolved them all.

Note: ESG assessment criteria's full score is 4. Companies assess must earn more or equal to 2.5 point in order to pass PTT's ESG assessment
SSHE Management System for Suppliers and Contractors
PTT has developed SSHE management system for suppliers and contractors alike, serving as a guiding approach for performance control and management. The key components are as follows.
The integration of SSHE screening criteria into procurement procedures;
The identification and assessment of SSHE-related risks that may arise from contractors, and the specification of SSHE responsibilities, approaches for control and operations, and the reporting of the contractors' SSHE performance as required
Development of initiative to improve contractors' SSHE performance during turnarounds, provide contractor SSHE performance evaluation system during main practices, SSHE training to contractors whose tasks involve specific risks, and establish SSHE suggestion system for contractors
Communication of SSHE expectations to contractors through various channels in order to cultivate awareness, improve the performance of contractors as well as to build contractor capabilities to respond to PTT needs; and
Provision of support to contractors to improve SSHE performance to meet the standards expected by PTT.
Furthermore, PTT Group's Operational Excellence encompasses Management of Contractor and Supplier. This ensures that good and services that suppliers and contractors deliver strictly meet the contracts, policy, standards and business objectives that PTT establishes. The approach ensures responsiveness and economic competitiveness. There is also the efforts to ensure there is sufficient inventory to support business operations.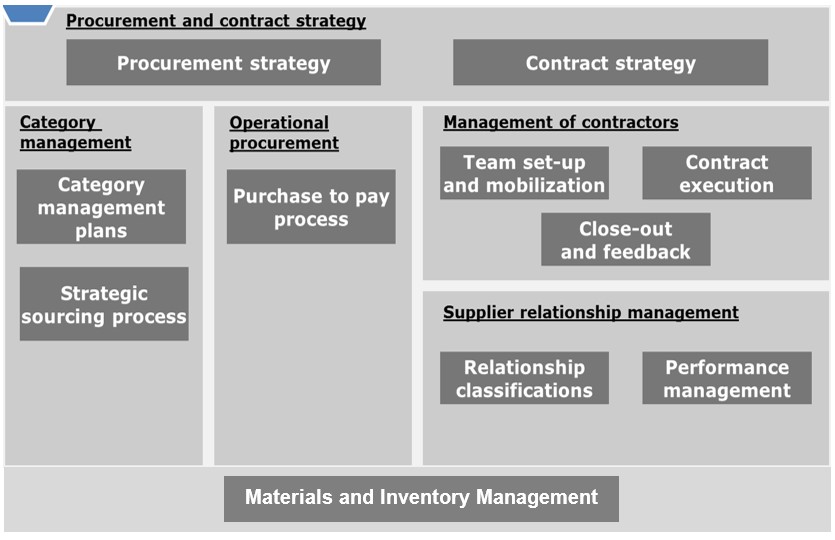 Setting targets to mitigate accidents in logistics. PTT aims to reduce the number of major logistic accidents to zero by 2020. PTT produced a management guideline regarding product logistics, adopting IVMS (In-Vehicle Monitoring System. It is a system connecting CTV and GPS, which can be used to help address and control drivers' behaviors, ensuring safe driving. The system collects and analyses statistics related to logistics accidents, ensuring investigation of all accidents from cars and trucks alike to identify real cause. This helps stipulation of prevention approach against future cases, in communication and training regarding PTT Group's Logistic Management Approach to relevant parties for implementation. There are defensive driving trainings provided.
Producing PTT safety Management Manual to be the approach for control and management of contractors' safety within PTT's operation site.
Reinforcing Transparency throughout Supply Chain
PTT disclosed corporate procurement information on a monthly basis, accessible to the public. This is in alignment with PTT's Pride strategy, aspiring to be a transparent company. PTT complies with the Committee's announcement regarding official information, stipulating state enterprise' results of procurement consideration must be available publicly according to Section 9 (8) of Official Information Act, B.E. 2540. PTT has also signed in Memorandum of Understanding (MOU) regarding Anti-Corruption Efforts, between National Anti-Corruption Commission (NACC), State Enterprise Policy Office (SEPO) and State Enterprise Department. This was in recognition and in support for national strategy in anti-corruption efforts, Anti-Corruption Act, relevant governmental policies, including anti-corruption prevention and mitigation action plans.
Notably, PTT is annually assessed for its information disclosure. The information on procurement, supplier selection criteria, and the top 5 largest procurement projects of the year is disclosed.
Local Procurement
PTT supports local procurement and service (within Thailand) and encourages the procurement of goods from operational areas in order to provide economic, employment, and income generation support for the locals with the advantage of lower costs and faster transportation. As a result of PTT's commitment to building long-term relationships with the communities where it operates, the organization gains each community's license to operate. Moreover, PTT also encourages suppliers to operate with care and responsibility toward society and local communities and to support procurement within the local area in order to lower the cost of goods and support the local community.
Performance
Progress Against Plan
Plan
2019 Target
2019 Performance
2020 Targets
Critical suppliers' onsite sustainability performance audit
Assess 100% of targeted critical good and service suppliers.

Assessed 14 other good and service suppliers. Which is 100% of targeted crucial suppliers

Increase the number of those assessed for ESG within the top spending supplier groups. Aiming to assess 100% of other product and service suppliers from targeted top spending groups.

Conduct procurement sustainably according to ISO 20400

Study sustainable procurement standards according to ISO 20400

Provided training of sustainable procurement according to ISO 20400 to PTT procurement employees. This ensures they understand principles and importance of sustainable procurement according to ISO 20400.

Integrate elements of sustainability into procurement process within PTT Group, according to sustainable procurement process (ISO 20400) of at least 3 Categories.

Procure for product and service mutually required within PTT Group and flagship companies.
Procure goods and services with PTT flagship companies, with targeted additional value creation at 12% of spending value.
Conducted procurement of products and services with PTT flagship companies, generating additional value of 19.48% of spending value
Procure goods and services with PTT flagship companies, and target additional value creation at 13% of spending value.
Other Product and Service Suppliers
Supplier's satisfaction towards PTT's performance communication to ensure understanding of PTT's procurement system via supplier seminars
Satisfaction score of 4.2 from 5.0
Satisfaction score of 4.57 from 5.0
Satisfaction score of 4.5 from 5.0
Local Product and Service Procurement
| | 2017 | 2018 | 2019 | 2020 |
| --- | --- | --- | --- | --- |
| Targets (%) | >95 | >95 | >98 | >90 |
| Performance (%) | 95 | 98 | 91 | - |
Major Accidents from Transportation
Long-Term Target: Reduce major accidents from transportation to zero in 2023
| | 2017 | 2018 | 2019 | 2020 |
| --- | --- | --- | --- | --- |
| Targets | 0.05 times per 1 million km | 0.05 times per 1 million km | 0.05 times per 1 million km | 0.027 times per 1 million km |
| Performance | 0.05 times per 1 million km | 0.006 times per 1 million km | 0.0017 times per 1 million km | |
Supplier Satisfaction in Working with Procurement Functions
| | 2017 | 2018 | 2019 | 2020 |
| --- | --- | --- | --- | --- |
| Targets (%) | 85 | 85 | 85 | 85 |
| Performance (%) | 83.96 | 85.84 | 86.70 | |
Spend Analysis from 2017 - 2019
Number of Suppliers

Tier-1 Supplier
4,690
Critical Tier-1 Supplier
26
Non Tier-1 Critical Supplier
6

Procurement Value

30.8 Billion Baht
Environmentally-Friendly Packaging Procurement
PTT demonstrates commitment in promoting environmentally friendly products according to the government's promotion plan. PTT has thus developed PTT Vendor Management system to facilitate environmentally friendly products and service procurement. The data of green spending and suppliers selected for bidding report green product selection in use to PTT. The system commenced on the 1st March 2019. Since then, there has been a total of 42 work on green products and services; with accumulated value of 327 million Baht.
PTT Procurement Governance
PTT gives great importance in ensuring procurement is economical, transparent, effective and traceable in order to reassure all stakeholder groups. A Procurement Management Working Team was appointed to monitor and handle aspects relevant to parcel delivery and commercial non-hydrocarbon procurement. The focus is on ensuring compliance according to the laws, regulations, requirements, criteria and relevant process. Furthermore, Procurement Management Working Team also provides consultation on delivery and non-hydrocarbon commercial procurement process. This enables sharing and learning opportunities in the organization, allowing collaboration to improve procurement's process effectiveness. In 2019, the Working Team has monitored delivery and commercial procurement process, utilizing the assessment results as indicators for Compliance performance assessment of all functions' procurement. The assessment is conducted for function-level heads onwards. This raises awareness for all functions on transparent procurement, in line with laws, regulations, criteria and relevant process.
Procurement Officers' Capacity Building
PTT and PTT flagship companies have reviewed and planned vocational employees' development annually. This promotes employees' working capacity ensuring their readiness for organization's shift effectively. In 2019, PTT communicated PTT Group's Sustainable Supplier Procurement and Management Policy, as well as relevant tools, to procurement employees, user function and suppliers. The arrangement ascertains that they can follow mentioned policy accurately. PTT also provides training for PTT procurement employees on sustainable procurement according to ISO 20400 to prepare them for integration of sustainability into PTT procurement process. This serves the organization's objectives. Furthermore, PTT emphasizes on development of employees' IT capacity – so that they may work smoothly with procurement. This is under the project of Digital Procurement, founded by PTT to facilitate procurement and management process systematically and quickly. This reduces the working time required, while also enhancing effectiveness and efficiency of employees' work.