Sustainable Development Goals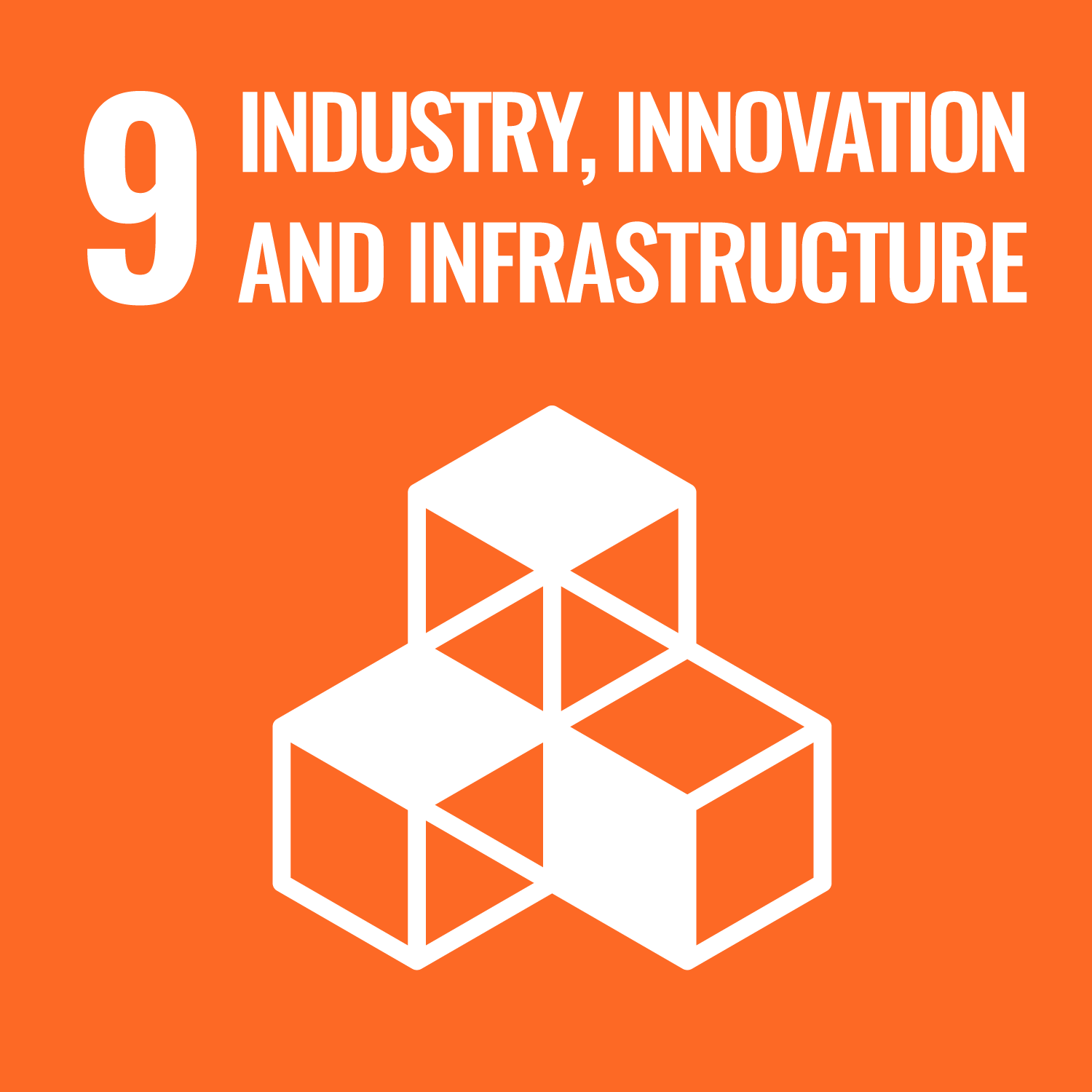 Opportunities and Challenges
Due to the changing consumers' behaviour that puts more emphasis on the environment and society, PTT is relentless in innovating for products and services in response to the present and future lifestyles. By focusing on the adjustment and readiness preparation of personnel and the organizational structures, management model development, acquisition, and distribution of energy. To include many operators and buyers, the Energy Platform, currently in development to connect with the Smart Grid equipment and Energy Storage system to promote the faster use of renewable energy. Moreover, PTT gives importance to the impact on the environment throughout the product lifecycle, in which the impact is assessed in the form of Life Cycle Assessment for various products of the PTT Group. There is continuous development for products that are environmentally-friendly to serve the customers' behaviour and attitudes towards saving the environment with products that have been certified with the GREEN FOR LIFE label. In addition, PTT has innovated to enhance its operations' efficiency, such as preventing sudden production shutdowns and reducing the impact on customers' production. Furthermore, PTT still faces new natural gas operators who are interested in importing low-cost LNG to compete in the country, in line with the government's policies to promote competition in the natural gas market. Therefore, there is a high chance that PTT's natural gas customers will also become procurement competitors in the supply chain in the future.
Management Approach
Innovation And Product Safety GRI 416-1
Presently, businesses must continue moving forward according to global trends and imminent changes. PTT takes technological opportunities and challenges, natural resources, and people' changing lifestyle as guiding approach for continuous development of products and services. This ensures that business can operate continuously, effectively and remains justly responsive to stakeholders' needs.

Research and procurement of safe, environmentally and socially friendly products (products and services) are PTT's priorities. PTT considers the topic as part of PTT Group Quality, Security, Safety, Occupational Health, and Environment Policy. Each business unit operates differently according to respective product group. There are management approach addressing list of products, health and safety impact assessment, from the stage of product design, raw material assessment, and risk assessment of various key processes throughout the product's life cycle as specified in the design requirements and engineering standards of PTT.
Research, Development and Promotion of Innovation
PTT builds the foundation for innovation development through its establishment of PTT Innovation Institute. The institute conducts researches and development of petroleum/ petrochemical products, production process, alternative energy, and novel technologies to support PTT Group's operations. This was the effort to stimulate Thailand's innovation. PTT I2C Gate, or research screening process, consists of 5 stages, as follows.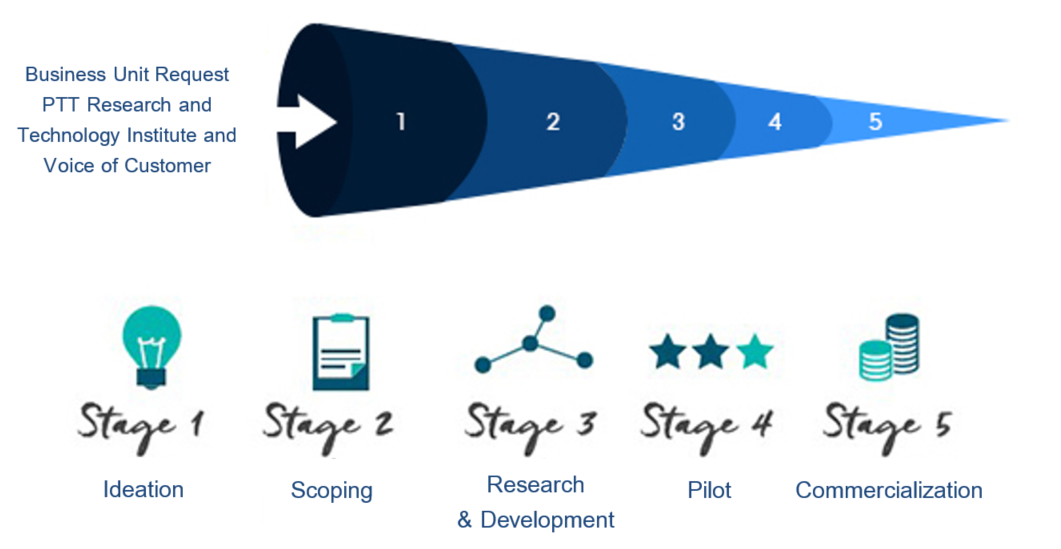 Research screening process starts with feedback acknowledgement to assess clients' needs, each business unit's needs, or employees' innovation. Next step is to develop a work plan and budget in preparation to annual research and development plan, as well as 5-year long-term plan. The presentation is before the Screening State Enterprise Committee, follows by a presentation to PTT Management and Board for approval, respectively. Furthermore, PTT has also collaborated with external agencies continuously in organizing contests promoting innovation and researches in the field of energy. The goal is to develop Thailand's innovation development capacity.
Safety Information of Products and Services
All of PTT's products and services, including those of the organization's logistics fleet, are required to have appropriate and accurate safety information and labels that must comply with all relevant laws, regulations, and international standards. PTT also provides additional knowledge and information relating to specific products and services to help customers making informed decisions. The marketing and communication activities are designed to ensure no misrepresentation of products and services exist. All advertisement media is approved by the Television Advertising Censorship Board. Additionally, PTT regularly organizes customer seminars and customer visits to provide stakeholders with better understanding of PTT's products and services for the maximum benefit of all stakeholders.

In 2020, PTT has not found cases of non-compliance against regulations and laws pertaining relevant safety and occupational health; this includes, regulations on labelling, customers' privacy protection, and products' marketing.
Environmentally and Socially Friendly Products
PTT and subsidiaries of the PTT group commits to promote and respond to consumers' needs in using products that are safe, whose social and environmental impacts are minimal. These comprise of studies for alternative energy and environmentally friendly products, management processes to enhance the efficiency of energy consumption, and greenhouse gas emission reduction. PTT has plans to introduce more environmentally-friendly products to the market in the future. Furthermore, PTT also operates businesses in alternative energy to enhance long-term national security. PTT provides pilot charging stations and design solar-based charging stations for PTT service stations to promote the use of electric vehicles. This was a collaboration with leading car manufacturers.

To raise awareness in society regarding the use of environmentally friendly products and services, PTT uses the certifying, 'GREEN FOR LIFE' label guaranteeing environmental friendliness. It is a self-declared environmental label in alignment with ISO14021:2016. It is scientific, precise, traceable, and informative in a straightforward manner, thus preventing the consumer's confusion. It also facilitates the consumer's understanding of the environmental properties of PTT Group's products.
Customer Relationship Management
Customer relationship management at PTT is divided by business unit due to the differences in each unit's nature of the customer, products, and services. This customer relationship management includes customer needs and expectation surveys, customer satisfaction building, and an integrated process, which focuses on systematic customer involvement within a defined timeframe and clear work improvement process, such as the communication channels to customers and markets, market information technology analysis, and customer engagement processes.

While each business unit sets relationship management approach in alignment, the details may differ for each customer group, such as establishing a diverse choice of communication channels with customers, a hotline number 1365 Contact Center, and annual customer engagement surveys. These channels ensure that customer insights are integrated into the analysis applicable for product and service development. PTT visits customers regularly, conducts seminars with customers, and create an efficient customer database via information technology, and is therefore able to respond business' needs promptly, and foster customer loyalty through various activities.
Customer Satisfaction
PTT values the satisfaction of customers purchasing PTT products and services, as well as the users of PTT products and services. To provide quality products and services, which are reasonably priced and responsible to both customers and consumers, PTT sets customer satisfaction as one of the corporate performance indicators since 2001. An annual customer satisfaction survey is conducted according to each business unit; Oil Business Unit, Natural Gas Business Unit, and International Trading Business Unit. The survey is conducted by a third party using a standardized method that covers the entire data collection process, where both qualitative and quantitative information is comprehensively and transparently collected. The results of the customer and consumer surveys are presented to the Board of each business unit. Recommendations from the survey, if any, will be analyzed and used as a basis for improving the annual operation plans in order to adjust PTT's products and services to correspond to the specific needs of each customer group.
Grievance Process
PTT has an Ordering and Customer Relation Center, serving as the center for service, news communication, as well as acknowledging feedback and suggestions regarding products and services, including being responsible for developing a work system to support logging purchase orders and the grievance system. The center prioritizes customers' satisfaction as a priority. It acknowledges suggestions or grievances from the Natural Gas Business Unit's and International Trading Business Unit's customers. The customer relation system serves as a tool in servicing clients in data collection and monitoring efforts to address various grievances. The center takes immediate action according to suggestions or grievances alike. However, if the case identified is related to a business unit, the center communicates to the relevant business unit and prompts their actions to close the mentioned grievance within a day. There is a satisfaction survey on the management of the said grievance 3 days after the issue is resolved.

PTT established a channel for receiving grievances through the 1365 Contact Center, e-mail, website and sales area representatives or international trade staff who are responsible for dealing with customers. Upon receiving the grievance, they are forwarded to those responsible for receiving the matter who will inform how to verify or solve preliminary problems, respond, or communicate to follow-up on the progress to resolve complaints from the responsible party, and report the information back to the complainant. The follow-up and progress reporting will be in accordance to the Service Level Agreement (SLA). Examples are such as responding to grievances with 24 hours and reporting causes and solutions within 7 days. If no progress is made within 30 days, the grievances will be communicated to the department manager and if no progress is made within 60 days, the grievances will be communicated to the assistant managing director, as well as giving priority to remediation from the root cause of the problem in order to prevent the cause of the grievance from recurring.

Today, PTT uses various social media platforms for communication and grievances. This is in response to the changing lifestyles of customers and consumers. Such web-based communication channels include Facebook and PTT News, which is under the responsibility of the Corporate Communications and Public Image Department. The channels also provide useful information such as oil prices, news, and promotions as well as serve to collect information from customers and consumers to support the continuous improvement and development of performance.
Key Performance
PTT has committed to deliver products and services to customers continuously. PTT has embraced with the New Normal way of life, as a result of the COVID-19 pandemic, in our operation, ranging from procurement management, production of natural gas separation, maintenance, customer service, to operation at PTT service stations. To maintain the energy stability and security of the country, PTT has developed various products and services based on the survey results of each customer group, by adopting technology and digital systems to better support customer needs with the following important examples.
GSM Shipper Control Center is the center of natural gas supply management working 24 hours a day to respond to customer needs, support competition, and to ensure energy security of the country. The center consists of four systems as follows: 1) The GSM Monitoring System, which serves to display the quantity and quality of natural gas from the production area, including a real-time customer's gas usage, 2) The gas offtake and distributing system or i-Connect System which is a system used to record the sequence of natural gas distribution, while tracking uncompleted sequences, which will be recorded and simultaneously informed to the producers or customers, instead of documenting it, 3) AI Assistant & BOT which is a system used for managing large volumes of producer and customer data, and for increasing efficiency of operating personnel under terms and contracts; and 4) Digital Dashboard system to instantly display information critical to Shipper's decision-making to coordinate with producers and customers, and to increase efficiency in response to customer needs.
The Soothsayer, an innovative, predictive maintenance service, is used as a tool for predicting damage and anomalies in advanced before affecting machinery or equipment used in the production process of the Rayong Gas Separation Plant. The historical data of machines is processed to create an algorithm to evaluate the relationship of each parameter, and used to create statistical models, enabling the system to accurately predict abnormal activities. It can also notify on the preparation of production planning, customers alert, preparation of spare parts and personnel. The tool will help prevent an unplanned shutdown and reduce the impact on customer productivity, both for the power plants and petrochemical plants. It can be applied to machinery in other industries apart from the natural gas business. Therefore, the commercial trial was available in 2020 under Alpha Com Company Limited and the first customer was PTT LNG Company Limited.
Energy Solution Provider started from an analysis of an industrial customer satisfaction survey from the past year by applying digital technology to manage data, analytically summarize, recommend, and introduce value-added services in the application of technology. The service will help improve energy efficiency and elevates the Thai industry to become a digital society.
Providing comprehensive consulting services for the offtake and distribution system of compressed natural gas (CNG) and LNG. It is a consultant for the design and construction of CNG and LNG offtake and distribution systems, including the gas transportation to industrial factories outside the gas pipeline network. Instrument calibration services in natural gas service stations for automotive and industrial plants are also provided.
Fire Fighting Training Center at Ratchaburi province provides an emergency plan rehearsal area and various safety training courses according to the law, which is an extension of current expertise in related businesses.
PTT Natural Gas Business Unit continues to build relationships with all customer groups. Even during the situation of COVID-19, meeting and contacting via online program was conducted, including continually developing online training courses to facilitate the customers to access knowledge at any time. This represented the determination of PTT Natural Gas Business Unit to create value for customers in every situation.



Green Products and Services
| 2020 Target | 2020 Accomplishments |
| --- | --- |
| Increase the number of products and services approved with the self-certified GREEN FOR LIFE label and maintain the number of certified products and services. Products approved with the certified GREEN FOR LIFE label and the maintained, certified products are registered in the government database. | 3 |
Products Certified for GREEN FOR LIFE in 2020

R&D Performance Index
| ปี | 2017 | 2018 | 2019 | 2020 |
| --- | --- | --- | --- | --- |
| R&D Performance Index | 318 | 342 | 236 | 509 |
| Targets | 300 | 320 | 295 | 240 |
Innovation R&D Performance
Amount of Biofuel Procured for Sale in Thailand
Biofuel sales (billion litres / annum) in 2019
*Sales by PTT Oil and Retail Business Public Company Limited

ผลการสำรวจความพึงพอใจของลูกค้า (ร้อยละ)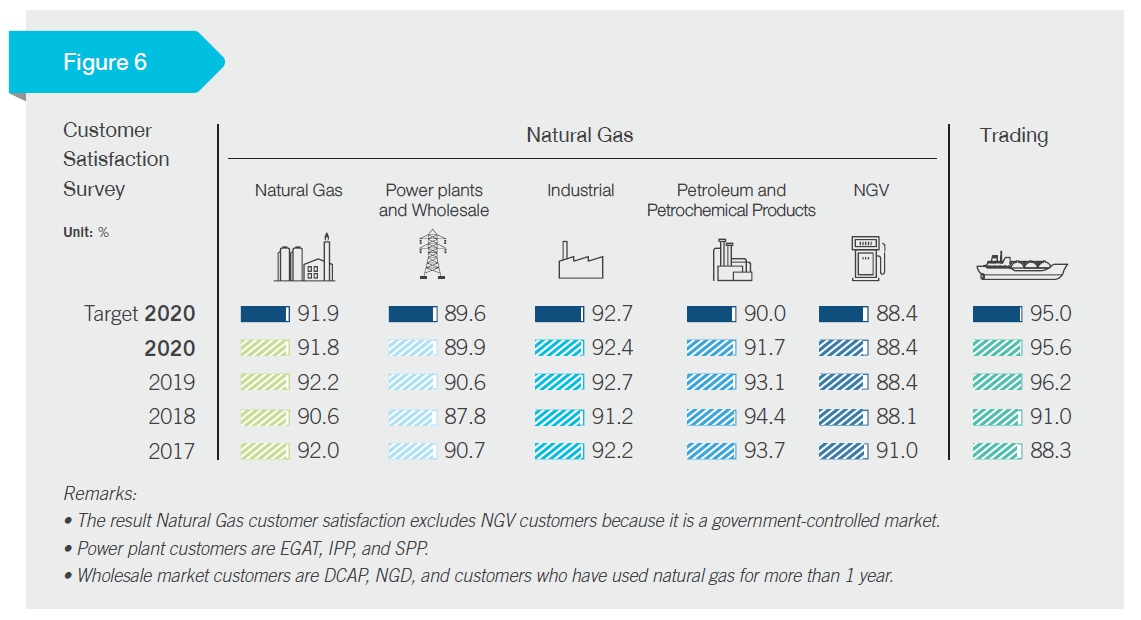 PTT has continued to maintain a high level of satisfaction despite the impact of COVID-19, as it directly affected the implementation of normal customer relationship building plans, such as local visits to each country, business discussion meetings, and participating in international trade seminars on various occasions and annual customer seminars. Therefore, PTT adapted its relationship building model to be in line with the situation of the past year. For example, PTT worked with our suppliers in China to provide masks to aid healthcare workers and patients during the start of the epidemic in China, preparation and delivery of alcohol gel to domestic partners, and preparing and delivering cloth face masks to both domestic and international partners. This included creating and sending video clips for the lockdown period through e-mail and online messaging, joint video conferences, as well as assisting customers who could not receive products according to the contract deal.


SPIRIT Commitment Score for Innovation Behavior Since 2017-2020
No target value for each behavior is set. Instead, the target value is set for the SPIRIT commitment score as follows

SPIRIT Commitment Score
Example of Projects or Key Activities
Liquefied Natural Gas Storage and Regasification Mobile Unit (LNG-SRM) Project
To be able to transport natural gas to customers in remote areas outside the natural gas pipeline network, PTT has designed the Liquefied Natural Gas Storage and Regasification Mobile Unit (LNG-SRM) to transport LNG with six times more volume than the CNG transportation, regasified and treated to improve quality at major natural gas service stations. This can be done instead of natural gas for vehicles transportation from other major natural gas stations, resulting in lower transportation costs. It also increases the distribution capacity during the maintenance season of natural gas fields by applying and extending the service for industrial customers for emergency use. As a result, the customers have greater confidence and satisfaction with the service.
Life Cycle Assessment (LCA) Project
PTT is aware of the importance of the Life Cycle Assessment (LCA) of the product as a tool for assessing the environmental impact that occurs throughout the product life cycle, ranging from raw material acquisition, production, usage, to the disposal of the product. This includes the transportation that occurs throughout the supply chain. In 2020, there were life cycle assessments from the Khanom Gas Separation Plant for two products, Natural Gasoline (NGL) and Liquefied Petroleum Gas (LPG). The data from the LCA study was applied to the application for label certification of carbon footprint products by the Thailand Greenhouse Gas Management Organization (Public Organization) or TGO. In addition, there were nine LCA studies for Café Amazon packaging and Café Amazon upcycling products, including plastic packaging made from PP and PET for sizes 16 oz. and 22 oz., tables made from coffee chaff compound, sofa coversheets, T-shirts, aprons for Café Amazon staff, and tumbler cups made from PET plastic from Café Amazon. The assessment covered the environmental impact of the product through comparison, for example, on the production aspect, the original material used for the production was compared with the use of upcycling material in order to consider the environmental impact such as the amount of greenhouse gas reduction per product and the amount of water consumption reduction per product.
GREEN FOR LIFE Project
PTT Group is committed to developing environmentally-friendly products covering products and services under the PTT Group label or supplier's goods made from PTT Group products, including packaging that contains product related to the provision of service. With the research and development of innovations that reduce the environment impact throughout the value chain, PTT has developed and revised its products and services certification guidelines that are environmentally-friendly of the PTT Group under the GREEN FOR LIFE label. In 2020, there were two products certified by the GREEN FOR LIFE label, which were plant pots made from recycled traffic cones to reduce waste caused by the used rubber cones. The plant pots were made using 100% recycled materials, from traffic cones made from plastic styrene pellets of which is made up of 35% natural latex by weight. And an automotive glass cleaning product made from renewable materials such as vegetable oils and sugars. The composition of renewable material was 6.60% by weight, in line with the resource efficiency strategy based on the principles of the circular economy.
Environmentally-friendly natural gas vehicle (NGV) service station
The natural gas business unit line for vehicles continues to expand the project to reduce electricity consumption within the service stations by continually improving the natural gas distribution system. In 2020, an addition of 1 station was added, consisting of a natural gas service station for vehicles, PTT MSC Petroleum, is able to reduce energy consumption and the intensity of greenhouse gas emissions by 23.68% and extended the certification of 1 station for the natural gas service station for vehicles, PTT ChoSamsien, enabling the reduction of energy and intensity of greenhouse gas emissions by 19.41%, enabling them to be awarded three-star certification under the GREEN FOR LIFE label, in line with the low-carbon society business strategy while having an environmentally-friendly business operation.