Innovation and Product Safety
Presently, businesses must continue moving forward according to global trends and imminent changes. PTT takes technological opportunities and challenges, natural resources, and people' changing lifestyle as guiding approach for continuous development of products and services. This ensures that business is able to operate continuously, effectively and remains justly responsive to stakeholders' needs.

Research and procurement of safe, environmentally and socially friendly products (products and services) are PTT's priorities. PTT considers the topic as part of PTT Group Quality, Security, Safety, Occupational Health, and Environment Policy. Each business unit operates differently according to respective product group. There are management approach addressing list of products, health and safety impact assessment, from the stage of product design, raw material assessment, and risk assessment of various key processes throughout the product's life cycle.
Research, Development and Promotion of Innovation
PTT builds the foundation for innovation development through its establishment of PTT Innovation Institute. The institute conducts researches and development of petroleum/ petrochemical products, production process, alternative energy, and novel technologies to support PTT Group's operations. This was the effort to stimulate Thailand's innovation. PTT I2C Gate, or research screening process, consists of 5 stages, as follows.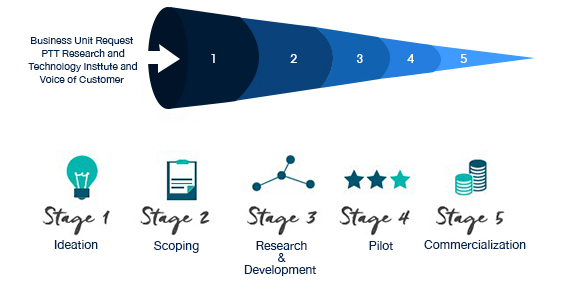 Research screening process starts with feedback acknowledgement to assess clients' needs, each business unit's needs, or employees' innovation. Next step is to develop a work plan and budget in preparation to annual research and development plan, as well as 5-year long-term plan. The presentation is before the Screening State Enterprise Committee, follows by a presentation to PTT Management and Board for approval, respectively. Furthermore, PTT has also collaborate with external agencies continuously in organizing contests promoting innovation and researches in the field of energy. The goal is to develop Thailand's innovation development capacity.
Safety Information of Products and Service
All of PTT's products and services, including those of the organization's logistics fleet, are required to have appropriate and accurate safety information and labels that must be in compliance with all relevant laws, regulations, and international standards. PTT also provides additional knowledge and information relating to particular products and services to help customers making informed decisions. The marketing and communication activities are designed to ensure no misrepresentation of products and services. All advertisement media is approved by the Television Advertising Censorship Board. Additionally, PTT regularly organizes customer seminars and customer visits to provide stakeholders with better understanding of PTT's products and services for maximum benefit of all stakeholders.

In 2019, PTT has not found cases of non-compliance against regulations and laws pertaining relevant safety and occupational health; this includes, regulations on labelling, customers' privacy protection, and products' marketing.
Environmentally and Socially Friendly Products
PTT commits to promote and respond to consumers' needs in using products that are safe, whose social and environmental impacts are minimize. These comprise studies for alternative energy and environmentally friendly products, management process to enhance efficiency of energy consumption and greenhouse gas emission reduction. PTT has plans to introduce more environmentally friendly products to the market in the future. Furthermore, PTT also operates businesses in alternative energy to enhance long-term national security. PTT provides pilot charging station and design for solar-based charging stations at PTT service stations to promote the use of electric vehicles. This was a collaboration with leading car manufacturers.

To raise awareness in society regarding the use of environmentally friendly products, PTT uses a certification logo guaranteeing environmentally friendliness, 'GREEN FOR LIFE.' It is a self-declared environmental label in alignment with ISO14021:2016. It is scientific, precise, traceable, and informative in a straightforward manner – thus preventing consumers' confusion. It also facilitates consumers' understanding in environmental properties of PTT Group's products.
Customer Relationship Management
Customer relationship management at PTT is divided by business unit due to the differences in nature of each unit's customers, products and services. This customer relationship management includes customer needs and expectations surveys, customer satisfaction building, and an integrated process focuses on systematic customer involvement within a defined timeframe and clear work improvement processes, such as the communication channels to customers and markets, market information technology analysis, and customer engagement processes.

While each business unit sets relationship management approach in alignment, the details may differ for each customer group, such as establishing a diverse choice of communication channels with customers, a hotline number 1365, and annual customer engagement surveys. These channels ensure that customer insights are integrated into the analysis applicable for product and service development. PTT visits customers regularly, conducts seminars with customers, and create an efficient customer database via information technology, and is therefore able to respond business needs' promptly, and foster customer loyalty through various activities.
Customer Satisfaction
PTT values the satisfaction of customers purchasing PTT products and services, as well as users of PTT products and services. To provide quality products and services, which are fairly priced and responsible to both customers and consumers, PTT sets customer satisfaction as one of the corporate performance indicators since 2001. An annual customer satisfaction survey is conducted according to each business unit: Oil Business Unit, Natural Gas Business Unit, and International Trading Business Unit. The survey is conducted by a third party using a standardized method that covers the entire data collection process, where both qualitative and quantitative information is comprehensively and transparently collected. The results of customer and consumer surveys are presented to the Board of each business unit. Recommendations from the survey, if any, will be analyzed and used as a basis for improving the annual operation plan in order to adjust PTT's products and services to correspond to the specific needs of each customer group.
Grievance Process
PTT has An Ordering and Customer Relation Center, serving as the center for service, news communication, as well as acknowledging feedback and suggestions regarding products and services. This Center is responsible in developing a work system to support logging in purchase orders, and in grievance system. The center prioritizes customers' satisfaction as a priority. It acknowledges suggestions or grievances from Natural Gas Business Unit's and International Trading Business Unit's customers. Customer relation systems serves as a tool in servicing clients in data collection and monitoring efforts to address grievance. The Center immediately takes action according to suggestions or grievances alike. If the case identified is related to business unit, the Center communicates to relevant business unit and prompt for their actions to close aforementioned grievance in a day. PTT surveys satisfaction on management of said grievance 3 days after it was resolved.

Today, PTT uses various social media platforms for communication and grievances. This is in response to the changing lifestyles of customers and consumers. Such web-based communication channels include Facebook and PTT News, which is under the responsibility of the Corporate Communications Department. The channels also provide useful information such as oil prices, news, and promotions as well as serve to collect information from customers and consumers to support the continuous improvement and development of performance.
Communication and Complaint Channels
Performance
Progress against Plan
Green Products and Services
| 2019 Target | 2019 Accomplishments |
| --- | --- |
| Increase the number of products and service self-certified by PTT Group Green for Life, and maintain the number of certified products and services. PTT also look to register the certified products and services in the government database. | 133 |
Products certified for Green for Life in 2019


R&D Performance Index
PTT set the annual targets for R&D Performance Index, starting in 2015 and ending in 2018. PTT is in the process of setting a more challenging target.
| Year | 2016 | 2017 | 2018 | 2019 |
| --- | --- | --- | --- | --- |
| R&D Performance Index | 356 | 318 | 342 | 236 |
| Targets | 348 | 300 | 320 | 295 |



Innovation R&D Performance
| Year | Target | Performance |
| --- | --- | --- |
| Number of new specialty products | - | 10 |
| Number of new commodity products | 17 | 11 |
| Number of patent applications for innovation | 2 | 0 |
| Number of patent application for design | - | 10 |
| Number of petty patent applications | 8 | 14 |
| R&D Performance Index | 295 | 236 |
| R&D Effectiveness | 1.0 | 1.25 |
| Direct revenue (million baht) | - | 57.4 |
| Indirect revenue (million baht) | - | 1,358 |
| Research budget (million baht) | 855 | 668 |

Biofuel Sales (billion liters/annum) in 2019


*Sales by PTT Oil and Retail Business Public Company Limited