Product safety
PTT sets for adequate research, development and procurement of safe and environmentally-friendly products, in line with PTT Group Quality, Safety, Security, Health and Environment Policy. Each business unit manages according to its product and service type. The management approach encompassing products and services, health and safety impact assessments, from product design, to raw material assessment and risk assessment of all major processes, throughout stages of products' and services' life-cycle as illustrated in the following diagram: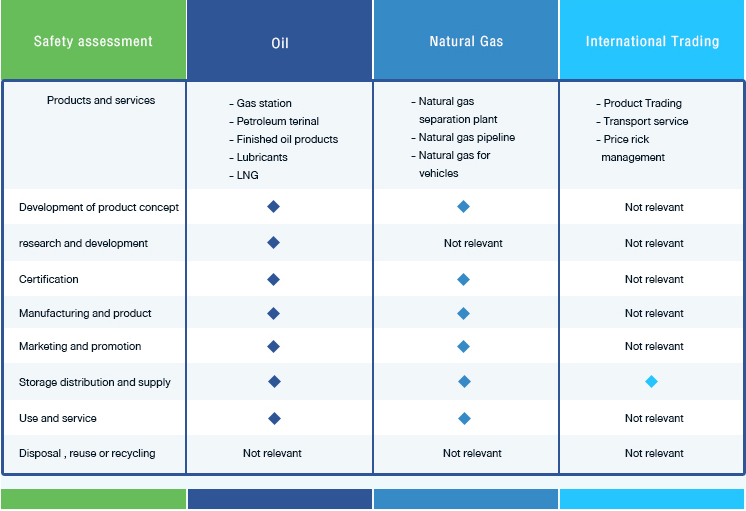 Safety Information of Products and Services
All of PTT's products and services, including those of the organization's logistics fleet, are required to have appropriate and accurate safety information and labels that must be in compliance with all relevant laws, regulations, and international standards. PTT also provides additional knowledge and information relating to particular products and services to help customers making informed decisions. The marketing and communication activities are designed to ensure no misrepresentation of products and services. All advertisement media is approved by the Television Advertising Censorship Board. Additionally, PTT regularly organizes customer seminars and customer visits to provide stakeholders with better understanding of PTT's products and services for the benefit of customers and consumers.
Environmentally Friendly Products
Striving to respond to customer demands for safe and environmentally friendly products, PTT invests into innovation and development of more green products guided by the Green Roadmap, which is composed of: developing alternative energy and environmentally friendly products, increasing energy efficiency and reducing greenhouse gas emissions, and raising public awareness of environmental protection. In the future, PTT plans to produce more environmentally friendly products such as bio-degradable plastic and bio-fuel. In addition, PTT is also committed to developing the alternative energy business to strengthen Thailand's energy security in the long-run by installing pilot electric vehicle charging stations and designing the solar electric vehicle charging points in PTT gas stations. In addition, PTT collaborates with leading vehicle manufacturers to promote the use of electric cars, to reduce dependency on petroleum and reducing greenhouse gas emissions from the on-board source of power.
PTT has established a strong foundation of innovation development by founding the PTT Research and Technology Institute, dedicated to research and development of petroleum/petrochemical products, production processes, alternative energy, and new technologies to support PTT Group's operations and to motivate innovative thinking in Thai society. PTT utilizes the PTT I2C Gate as a tool for screening research ideas and innovation. PTT I2C Gate comprises five stages:
The process begins with the formulation of a project plan and budget by considering factors, such as business unit's requests, Voice of Customer (VOC) input, and employee's innovation, to develop the Annual Research and Development Plan and the Research and Technology Institute (RTI) 5-Year Business Plan. The plans are submitted to Corporate Plan Committee, Management Committee, and the PTT Board for approval prior to further action. PTT continuously collaborates with external entities to organize competitions on new energy innovations and enhance Thailand's innovation capabilities.
With regard to green public awareness, PTT certifies the environmental friendliness of its products through the PTT Group Green for Life Eco-label (Self-certified) mechanism, which was developed in line with international certification standards (ISO14021:2016) and scientific-based approach, to ensure that it is accurate, verifiable, relevant, and non-misleading. In this way, PTT aims to promote public awareness of PTT's environmentally-friendly products.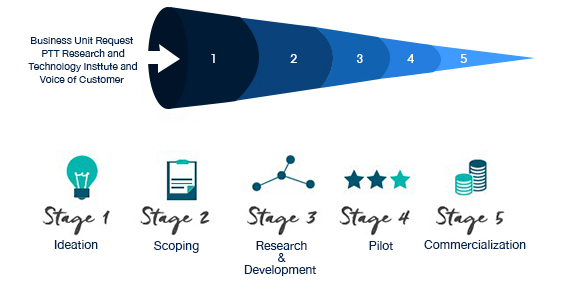 Eco-friendly Operation
PTT strives to raise its stakeholders' awareness of eco-friendly operation. As a result of the continuous eco-friendly efforts, PTT was awarded the Green Industry Level 5 – Green Network, focusing on creating a network between factories, customers, suppliers, government agencies and communities, by the Ministry of Industry. Furthermore, PTT organizes seminars for its suppliers in order to communicate environmental operations, encourages suppliers to participate in the Green Industry project.
Customer Relationship Management
Customer relationship management at PTT is divided by business unit due to the differences in nature of each unit's customers, products and services. This customer relationship management includes customer needs and expectations surveys, customer satisfaction building, and an integrated process focuses on systematic customer involvement within a defined timeframe and clear work improvement processes, such as the communication channels to customers and markets, market information technology analysis, and customer engagement processes.
While each business unit sets relationship management approach in alignment, the details may differ for each customer group, such as establishing a diverse choice of communication channels with customers, a hotline number 1365, and annual customer engagement surveys. These channels ensure that customer insights are integrated into the analysis applicable for product and service development. PTT visits customers regularly, conducts seminars with customers, and create an efficient customer database via information technology, and is therefore able to respond business needs' promptly, and foster customer loyalty through various activities.
Customer Satisfaction
PTT values the satisfaction of customers purchasing PTT products and services, as well as users of PTT products and services. To provide quality products and services, which are fairly priced and responsible to both customers and consumers, PTT sets customer satisfaction as one of the corporate performance indicators since 2001. An annual customer satisfaction survey is conducted according to each business unit: Oil Business Unit, Natural Gas Business Unit, and International Trading Business Unit. The survey is conducted by a third party using a standardized method that covers the entire data collection process, where both qualitative and quantitative information is comprehensively and transparently collected. The results of customer and consumer surveys are presented to the Board of each business unit. Recommendations from the survey, if any, will be analyzed and used as a basis for improving the annual operation plan in order to adjust PTT's products and services to correspond to the specific needs of each customer group.
Customer Feedback Process
PTT's Ordering and Customer Relations Center Department acts as a service center to provide information and to collect feedback regarding PTT products and services from customers. The Ordering and Customer Relations Center Department receives recommendations or complaints from the Oil Business Unit, Natural Gas Business Unit, and International Trading Business Unit via the Customer Relations Center (CRC). The Center acts as a tool in providing customer services, collecting information, and monitor the follow-up progress of customers' complaints. If possible, the Ordering and Customer Relations Center Department will immediately resolve the customers' issues. However, if the issue is related to a specific business unit, the matter will be forwarded to the responsible business unit for address. An initial response to each customer must be made within one day. Customers will be inquired whether they are satisfied with the proposed solution three days after the issue has been resolved.
Today, PTT uses various social media platforms for communication and grievances. This is in response to the changing lifestyles of customers and consumers. Such web-based communication channels include Facebook and PTT News, which is under the responsibility of the Corporate Communications Department. The channels also provide useful information such as oil prices, news, and promotions as well as serve to collect information from customers and consumers to support the continuous improvement and development of performance.
Ordering and Customer Relations Center (ORC)
Communication and Complaint Channels
Progress against Plan
1. Green Products and Services
| 2018 Target | 2018 Accomplishments | 2019 Target |
| --- | --- | --- |
| Increase the number of products and service self-certified by PTT Group Green for Life, and maintain the number of certified products and services. PTT also look to register the certified products and services in the government database. | 93 | N/A |
2. Green for Life certified products and services in 2018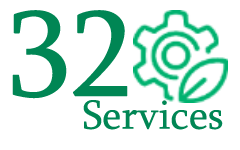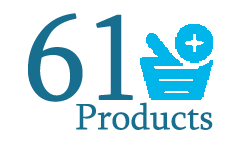 3. R&D Performance Index
PTT set the annual targets for R&D Performance Index since 2015 until 2018. The company is in the process of setting a more challenging target for innovation and research and development.
| | 2015 | 2016 | 2017 | 2018 |
| --- | --- | --- | --- | --- |
| R&D Performance Index | 326 | 356 | 318 | 342 |
| Target | 326 | 348 | 300 | 320 |