PTT promotes the development in accordance to SDG number 13, 14 and 15 supporting the conservation of natural resources directly increasing green area, protecting the land and coastal ecosystem and absorbing greenhouse gases through the following fundamental projects.
PTT Reforestation and Ecology Institute
Furthermore, PTT Reforestation and Ecology Institute continues to strategically plant forest with the focus to positively impact stakeholders, society and the community according to the SDGs. Framework for reforestation has been divided into 4 compartments for the 4 key locations consisting of:
Watershed forest restoration in the North Region
Community reforestation in the Northeastern Region
City reforestation in the Central Region
Mangrove Forest Plantation in the Eastern Region
Hence, for 2018 a target of planting 739.2 hectares of forest area was set.
To assess the performance of this project from 1994 to 2016, Kasetsart University conducted an assessment study identifying that the area, which PTT planted and reforested under this initiative, has absorbed averagely 2.18 million tons of CO2 equivalent per year. Achieving the goal of 2.1 million tons of CO2 equivalent per year. The achievement surpassed PTT's target year of 2024, thus, the value of benefit created by the reforestation is more than 280 million THB per year.
PTT aims to expand the network to cover households and take the initiative of income generating forests to be developed as a community enterprise.
PTT Green in the City Learning Center is a center for knowledge sharing on reforestation and conservation as well as being a public recreation space near the heart of Bangkok, which can host and advocate forest conservation and environment related activities. The 1.92 hectare learning center is situated on Sukhapiban 2 Road attracting an average of 24,000 visitors per year.
Wang Chan Forest Learning Center is located at Pa Yup Nai Sub-district Wang Chan District in Rayong Province. With an area of 56 hectares, PTT is committed to developing a learning center propagating about the various types and provide public spaces for leisure activities. The water management system and conservation of local plant species have benefitted in maintaining environmental fertility and biodiversity in the area. Wang Chan Forest Learning Center attracts approximately 45,000 visitors per year. Additionally, the Learning Center is a pilot area for reforestation project, which participates in the Thailand-Voluntary Emission and Reduction (T-VER) project, forest category. In 2018, the center officially registered 763 tons of carbon dioxide. Furthermore the Learning Center received an Award of Excellence for the category of "Wildlife, Biodiversity, Habitat Enhancement or Creation" by the International Federation of Landscape Architects, for its landscape planning which focuses on balancing ecosystem and optimizing area uses, whilst minimizing environmental impacts.
Siirinart Rajini Ecosystem Center for Mangrove Forestation PTT transformed 62 hectares of abandoned shrimp farms in Prachuap Khiri Khan Province to a national and regional learning center for mangrove ecosystem. The center is a model of sustainable forest management in collaboration with communities and public sectors. In 2018, the Center received over 50,000 visitors generating income for the communities due to tourism and catching aquatic animals. Sirinart Rajini Ecosystem also became part of the Natural Resource and Environment Protection Volunteers in Pak Nam Pran Sub-district, Pranburi District in Prachuap Khiri Khan Province. The network includes the Ban Klong Kao Mangrove Forest Conservation Group and Pak Nam Pran Fishery Farmer Group who join forces to improve the local environment. The groups implemented the River Pran Conservation project to conduct monthly activities including water quality assessment and trash clean-ups from Kaeng Krachan Dam to the mouth of the river, and organized coastal cleanup activities nearby the mouth of the Pran river every Friday. The network was awarded an outstanding provincial network, outstanding regional network level, and was ranked the third best conservation network in Thailand by the Department of Environmental Quality Promotion, Ministry of Natural Resources and Environment.
For more information about the different PTT reforestation projects please visit: www.pttreforestation.com
Supporting the Natural Resource and Environment Conservation Network
PTT promotes and supports the natural resources and environmental conservation in various areas. The aim of the support is to strengthen the awareness of community-level environmental conservation on the significance of sustainable natural resource conservation in their area. The efforts focus on building engagement within communities, regardless of gender and age. Notable projects are as follows.
Green Globe Institute
The Green Globe Committee is responsible for determining the institute's direction, knowledge development and selecting awardees to be recognized as natural resource conservation champions. PTT has taken parts in driving and supporting the Institute for over 20 years. Presently, there are networks in all six regions of the country at community. Today, Green Globe Institute has expanded its network to community level, and covers individuals and youths in 6 regions in Thailand, in order to conserve the forest of over 340,800 hectares across the country. www.greenglobeinstitute.com


The Vetiver Network


Initiated from planting vetiver to prevent landslides by PTT Group in 1996, the project has been continuously developed. Since 2006, the Network have organized competition among the projects on developing vetivers and promotion of vitiver planting in accordance to the Royal Development Project in collaboration with the Chaipattana Foundation, Office of the Royal Development Projects, and the Department of Land Development. The project helps to promote conservation and usage of vetiver for individuals who are interested, encourages knowledge management and capacity buildings on sustainable and self-reliance management. In addition, initiates members to share knowledge on soil and water conservation, and vetiver based product development. These actions are completed on a regional and national level. To ensure a smooth running project, PTT has constantly been supporting and coordinating necessary operations. Today, the network has more than 10,000 members who can generate the total income of 3.3 million THB per year.
Water, Forest and Khung Bang Kachao Conservation Project
Khung Bang Kachao is an important green area related to various stakeholders that is facing changing environment, which is influence by internal and external factors. Thus, sustainable development of the area requires collaboration from various sectors. PTT continues to take part in driving the Social Collaboration among relevant organizations. In 2018, PTT co-established OUT Khung Bang Kachao Project in collaboration with 34 organizations consisting of public sectors, private sectors, civil societies, academic institutions and communities. . The organizations had a shared goal to flourish Khung Bang Kachao area into a fertile and balanced green are in the city, where communities are happy and economic growth is present. Experience, knowledge and technological innovation from various organizations is used to address the challenges and optimize efficiency. There was a working committee under the supervision of Chai Pattana Foundation, which comprises 1) Committee for Bang Kachao's sustainable development, 2) Sub-Committee for Bang Kachao's sustainable development, 3) Sub-Committee for Bang Kachao's sustainability (Legal), and 4) Working Committee for Bang Kachao's sustainability. There are 7 working committees, comprise of Green Area Working Committee, Water Management Committee, Waste Management Committee, Career Building Committee, Tourism Committee, Development Committee, Development Committee for youths, education and education, as well as Working Committee for Facilitation and Communication. PTT is responsible as the head of Green Area Working Committee to ensure there is 950 Hectares of green areas in 5 years. PTT aims to build a distinctive green area prototype in each sub-district for value added in eco-tourism. This includes expanding areas for organic farming to be 50% of total farming areas. The first phase was set at 64 hectare, in the Forestry Bureau's royal property. There have been collaborations between green conservation networks between 6 sub-district in Bang Kachao. As of 2018, there were 15 organizations joining in to foster green areas. This accumulates to 49.52 Hectares.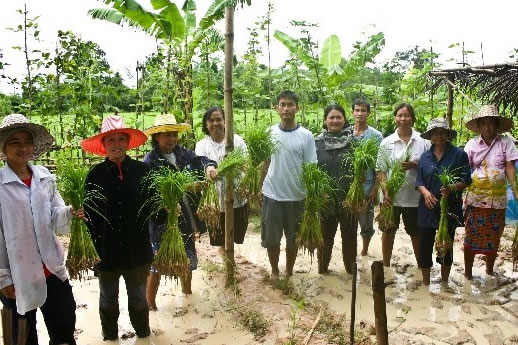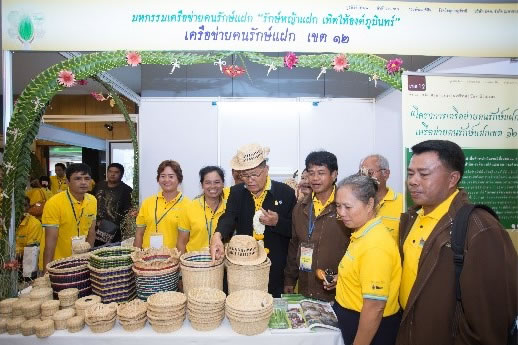 Performance
Progress against Plan
| Plan | 2018 Target | 2018 Operational Performance | 2019 Targets |
| --- | --- | --- | --- |
| Budget contribution and participation in social development | Continue to support budget contributions towards social development activities in three main areas: human resource development, social and community development and natural resource and environmental conservation. | 1,558.51 Million Baht | No more than 2% of Net Operating Profts |
| Creating a volunteer culture in the organization | Encourage employee volunteering in social, community and environmental activities for the benefit of the public, including in their daily lives. | Employees spent over 15,055 hours doing volunteering activities | NA |
| In-kind Giving | NA | 26.64 Million Baht | NA |
| Overhead Management Cost for Charitable Activities | NA | 101.77 Million Baht | NA |