PTT promotes sustainable development goals 12, 14 and 15
through the Group's expertise in forestation of over 25 years. PTT focuses in raising awareness on natural resource and environmental conservation, in tandem with benefits and sustainable usage available from different contexts of forests and green spaces. The work approach is collaborative. There are key projects as follows.
Promote Urban Greenspace and Green Mindset
PTT promotes urban greenspace and green mindset. In 2019, PTT organized 40 years PTT Plant Together event. The event supports five universities, comprises Thammasat University, Rangsit University, Bangkok University, King Mongkut's Institute of Technology Ladkrabang, and Rajamangala University of Technology Krungthep; in hosting an award competition to design green space fitting to each institution's needs. PTT provides the seed money in designing, knowledge from PTT Reforestation and Ecosystem Institution, in collaboration with landscape architects. Advises regarding plants, land suitability, appropriate maintenance and benefits of the plants are provided to participants throughout the entire competition. Aforementioned activities can increase urban green space by 2,694 square meters or 1.7 Rai. The spaces are beneficial as relaxation areas for university students, teachers, university personnel, and any visitors. It is the starting point of inclusive urban green space movement. The competition instills a sense of green mindset to foster even greater quality of life and environment in urban areas.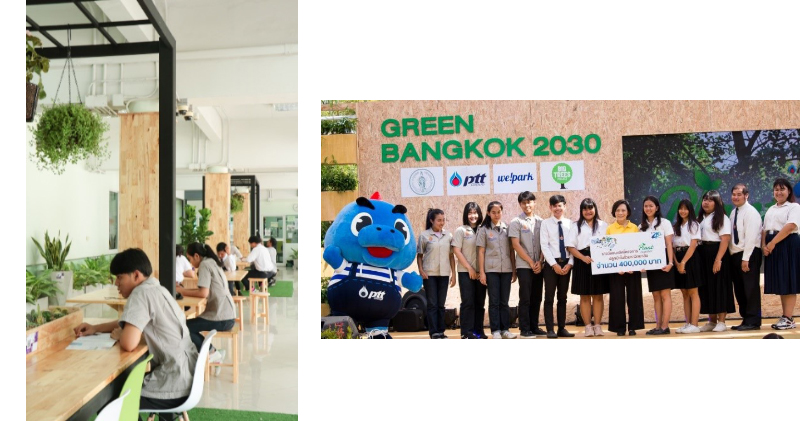 Reforestation for Ecosystem Conservation and Promotion of Domestic Forests
PTT has conserve forests and the environment continuously through community networks, such as Green Globe Institute, Forest Protector Volunteer Network, and Vetiver Network. The Group has extrapolated on the project by increasing green space in the form of domestic forests within the community's own space. Domestic forests refers to creation of forest-like gardening in registered household areas. The combined plantation is beneficial for both the air and food security. This includes plantation of large trees, fruit trees, flower plants, herbs and spices, to name a few. This is consistent to Princess Maha Chakri Sirindhorn's approach for income-generating forests, as well as the national strategy's dimension on environmentally friendly growth for sustainable development. Presently, the areas of operations in Pang Sawan Sub-District, Chum Ta Bong District, Nakorn Sawan, cover 219 Rai. Furthermore, PTT continues to grow and maintain forests areas since 1994, up until now. This totals to an accumulated 1,167,213 Rai. In 2019, there is 2,470 Rai of reforested areas, which absorbs over 2.14 million carbon dioxide tonne of greenhouse gases per year. The forests generates income to community via usage, with values of over 280 million Baht. Additionally, PTT has signed signatories for collaboration with National Science and Technology Development Agencies (NSTDA) to pilot Smart Farming Prototype system in Wangchan Forest Learning Center. Sensor system for humidity, light, temperature, in addition to ventilation and control system, have bene installed to serve as prototype for innovation deployment in tandem with knowledge in reforestation. The objective is to aid farmers in targeted areas or interested persons in their development.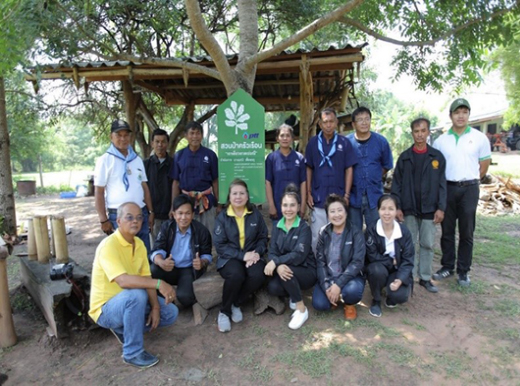 Foster learning and understanding of diverse ecosystem



Promote learning through three learning centers
comprises Sirinart Rajini Ecosystem Learning Center, Wangchan Forest Learning Center, and Urban Forest Learning Center. On average, there are over 17,000 visitors per month. It is the center of knowledge sharing and learning space for diverse ecosystem for organizations and interested personnel. It provides inspiration and instill green mindset.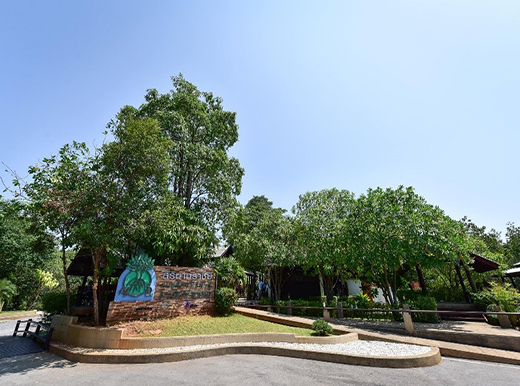 Sirinart Rajini Mangrove Forest learning Center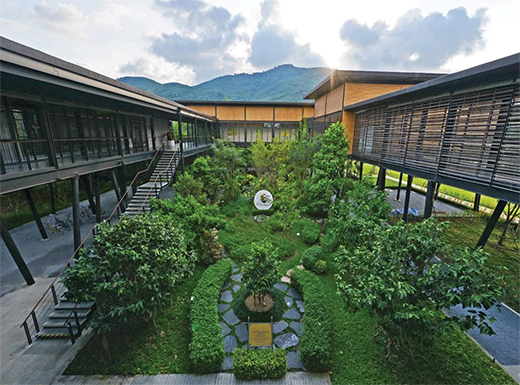 Wangchan Forest Learning Center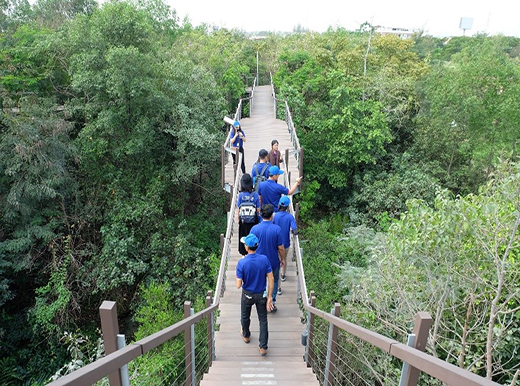 Urban Forest learning Center
Usage and Studies through Natural Trail and Cycling Trail at FPT 49 Reforestation Area;
PTT collaborates with Department of National Parks, Wildlife, and Plant Conservation, as well as Armed Forces Development Command, to develop the 800 meters natural trial route and cycling route, up and down, "Pradoo Pa Songplook" (Pradoo Pa Tree planted by His Majesty the King). The total distance is 7 kilometers. FPT 49 plot is located in ที่ protected areas, Khao Pu Luang Forest, Lum Nang Kaew Sub-District, Pak Thong Chai District, Nakhorn Radchasima. The area opens for visitors daily from 8.30-16.30. The objectives is to celebrate His Majesty King Rama X's coronation, as well as providing citizens, both urban and suburb, benefits from the forest's cycling activities and natural trail routes. It serves as a learning center for reforestation and ecosystem, as well as a place of communal relaxation.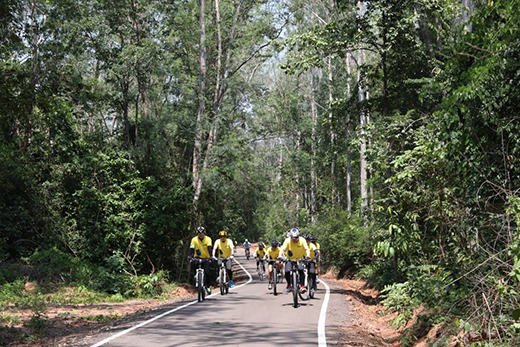 Integrated social Collaboration Mechanism at Bang Kachao
PTT participated as a co-founder of Our Khung Bang Kachao in 2018. The project was founded based on collaboration between governmental sector, private sector, civil society, and communities; a total of 34 organizations. The project is under the management of Chaipattana Foundation and aims to create green spaces and foster Kung Bang Kachao's green growth. Green growth comprises of three key components, environment, economic and culture. It focuses on elevating quality of community's life and environment for the better. The project serves as a pilot for Thailand's urban green space. There is continuous progress tracking with Bang Kacho's Sustainable Development Project for parts PTT is responsible for, which is Green Space Working Committee, Coordination and Communication Working Committee. In 2019, there was progress in conserving and developing 400 Rai of green space. There were also collaborative discussions with communities to procure plants and set up appropriate water management system. The aim is to conserve and develop 6,000 Rai of green space in Bang Kachao according to 5-year plan (2019-2023)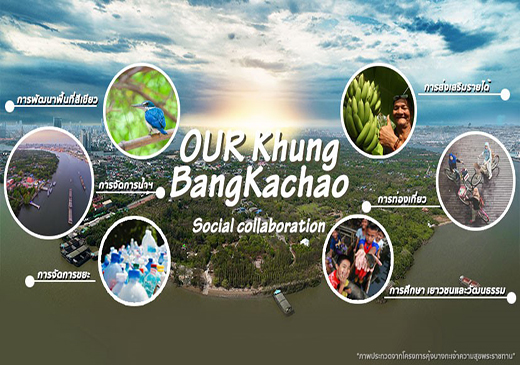 Additional information of PTT's PLANET project is available below.
PTT Reforestation and Ecossytem Institute
Green Globe Institute
Our Khung Bang Kachao