PTT acknowledges the importance of developing human resource, society and community in all aspects. Hence, supports the Sustainable Development Goals number 4, 7, and 8 through the Human Resource, Community and Social Development Project (PEOPLE). Highlighting the focus on developing the quality of education, increasing education opportunities, promotion of clean energy accessibility and developing professional competency to enhance income for the community.
Operating to fulfil SDG Number 4: Creating Quality Educational Opportunities and Increasing Opportunities to Learn at Any Point in Life
The development of human resources is the fundamental factor in advancing the nation sustainably. Thus, PTT has supported nation's youth in accessing quality education and the ability to self-discover. Translating into the development of fundamental frameworks, creating opportunities for education as well as enhancing competency and creativity. PTT collaborated with other organizations involving local authorities, public and private sectors and various networks through the following projects.
Enhancing and Developing the Quality of Education
Vidyasirimedhi Institute of Science and Technology and Kamnoetvidya Science Academy
To encourage the educational development for youth in science, technology, and innovation, PTT Group established Vidyasirimedhi Institute of Science and Technology (VISTEC), to produce human capital for research, promote the innovation research and development in responding to the needs of the country, and support job creation in the science field. The establishment of Kamneotvidya Science Academy (KVIS), has created educational opportunities, provided society with beneficial academic services, and fostered scientific and technological curiosity in youths at high school level.
Vidyasirimedhi Institute of Science and Technology
Vidyasirimedhi Institute of Science and Technology accepts 170 students for undergraduate and graduate studies, and had its first class of 13 graduates in 2017. Furthermore, Vidyasirimedhi Institute is committed to producing researches that would enable innovation for the greater good of society in many aspects, as follows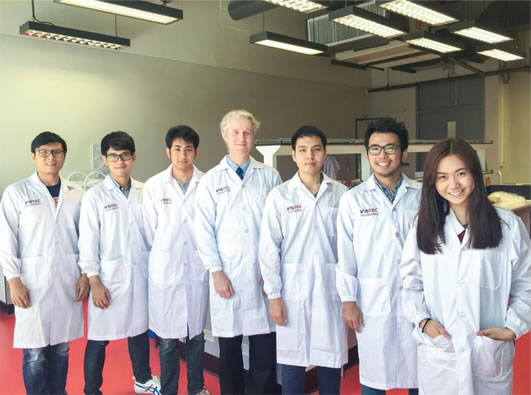 Advanced Functional Materials : Develop researches on advanced functional materials comprise of materials' surface development, to test the effectiveness in reactions, reducing environmental impacts and product budget at an industrial-scale. This includes development of capsules and ingredients in the medicine or chemical reactants, aiming for reactions with greater effectiveness, for example.
Energy Science and Applied Technology : Developmental researches on energy science and applied technology, such as development of composites to serve as energy storage, development of catalysts to increase Bio-Oil's quality, development of Zeoilite, a crucial catalyst in the distillation process within petroleum chemical industry, the design and development of ion-inducing substance , and development of molecular-level reactions for increased effectiveness.
Biological Inspired Engineering and Sustainable Technology : Develop researches to ensure sustainability in application of naturally sourced materials, such as designs of scrubber in wastewater treatment system of pig farms; using locally sourced and reasonably priced materials, such as coconut spathe and nylon net, including development of absorbents from paper waste, development niche catalysts for biodegradable polymers production according to application, development of catalysts changing carbon dioxide to valuable chemicals, fuel, and production – with contributions in mitigating climate change impacts.
Data Science and Engineering : Development of digital data management and application, through connections with different tools via Internet of Things. It would be applied for usage in various fields, from engineering, sport science, architecture, urban planning, public health, information management, education, and industries.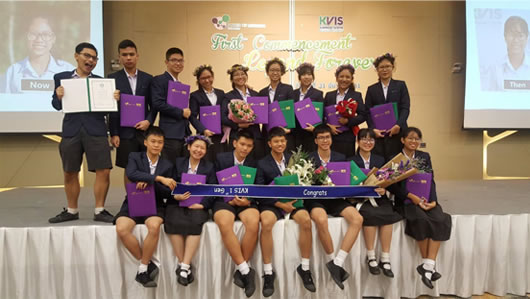 PTT Group recognizes the value in promoting youth development to create leading researchers, inventors and innovators in the future. Due to this ambition, Kamneotvidya Science Academy was established. Kamneotvidya Science Academy offers secondary education for exceptional students in the field of mathematics and science. Programs are taught in English such that student have the opportunity to continue their studies to doctorate and post-doctorate levels at leading universities around the world. In addition, the Academy provides technical support and services about studying the field of mathematics and science to students, teachers, guardians, private and public organizations, communities, schools and the general public.
Presently, 3 students cohorts have joined to study at the Academy. For the academic year 2017-2018, 216 student have been accepted into the Academy.Overall, the first cohort, high school graduates, from Kamneotvidya Science Academy consist of 71 students have graduated. For more
information, please visit: www.kvis.ac.th
Pracharath School Project
PTT Group has continued to support education per governmental policy. As of 2018, there were as many as 82 public schools becoming the new addition to Pracharath schools. The school focuses on knowledge building and teaching skill enhancement for teachers of academic curriculums. This comprises, Science Technology Engineering and Mathematics Education (STEM Education), leadership, morals. This was complemented by capacity building for students' entrepreneurship through life quality development programs. Target schools' basic infrastructure was also supported through the Power of Learning Foundation.
Petro Camp to Champ Petro
PTT organizes the Petro Camp to Champ Petro to promote knowledge of petrochemical industry, gas separation process, and energy to participants. The purpose of this camp is also to foster creativity in young people. In 2018, PTT organized this camp for the 13th year with a total of 57 participants from 13 high-schools across the country. The selected participants joined the "Petro Camp to Champ Petro" to learn more about petroleum science and environment. PTT collaborated with King Mongkut's University of Technology Thonburi to select some of the participants and grant scholarships to study at the Department of Chemical Engineering and Environmental Engineering at King Mongkut's University of Technology for four years. Since the start of this collaborative program, 63 students have received scholarships and 27 students have graduated.Some of the undergraduate students continued to study for Master of Energy Technology and Engineering while some of them are working in public and private sectors.
Youth Greenovation Awards
Ministry of Science and Technology and PTT Group organized the "Youth Greenovation Awards 2018" opened for all students from all levels to compete for a trophy from Her Royal Highness Princess Maha Chakri Sirindhorn. All participants were encouraged to demonstrate their creativity in inventing green and practical inventions with the opportunity to add more value to Startups and Social Enterprise projects. In 2018, there were 500 teams across 1,500 participants, whereby 45 teams received rewards with a combined prize of 732,000 THB.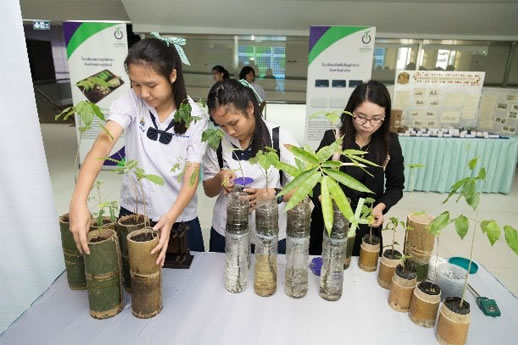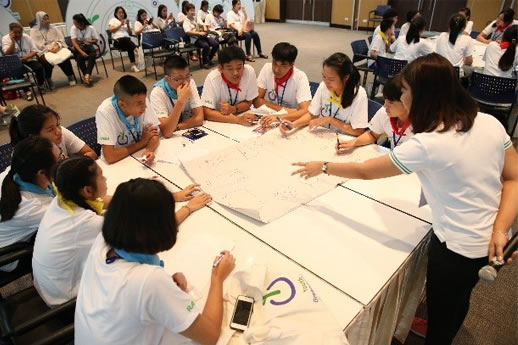 PTT 21st Century Exemplar School for Learning Project
PTT supports in creating educational opportunities for youths around its operating area in order for youths to access standardized education. During the first period, a collaboration agreement between PTT Group Rayong, District Office for Primary Education Rayong and Lam Plai Mat School was signed to operate the 21st Century Exemplar School for Learning between 2017-2020. The project intents to promote and revitalize learning methods with schools under the Office of the Basic Education Commission (OBEC) as an example to others. Including the reformation of learning methods, system development to move organization's executives, developing teacher's competency, elevating the environment, communication methods and collaboration from parents and communities. With these actions in place, an environment that strengthens student's intelligence and behaviors is created. These essential qualities such as analytical, calculation, language, technological and survival skills are vital in daily existence. Holding such skills ensures that youths are able to handle future changes in the economy and society. In 2018, 17 schools have joined the project. As for 2019, there are plans to expand into four other schools located in close proximity of PTT's operation. PTT anticipates 5 more schools, with further support on 2 prototype schools in their energy curriculum. The latter 2 schools are Wat Noen Kraprok School and Wat Ta Guan School.
PTT Art Project
PTT encourages youths to develop their creativity and express it through different forms of artwork. PTT collaborated with Silapakorn University to organize the 33th PTT art exhibition for 2018 under the theme "Pride of Thailand". Granting opportunities for artists of all level to express their honor and pride in being Thai through the different media. Over 632 people were interested across the nation, additionally, there was a total of 785 art pieces submitted.
As a result, 24 awards were granted in a ceremony presided by Her Royal Highness Princess Soamsawali. Additionally, PTT collaborated with Thaksin University, Khon Kaen University and Chiang Mai University in organizing the contest. There were over 1,000 submissions from the different regions.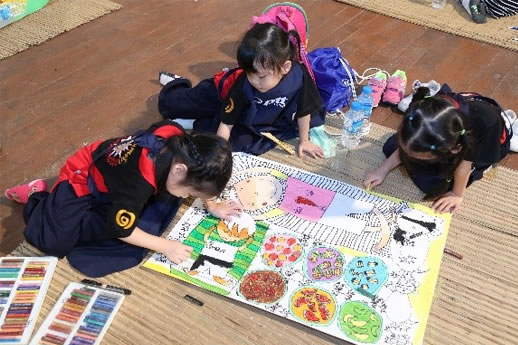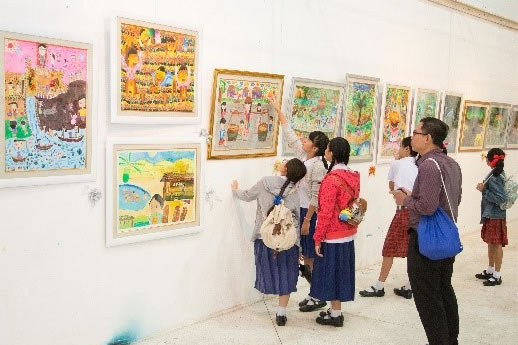 Operating to fulfil SDG Number 7 and 8: Creating Accessibility to Clean Energy, Increasing Professional Competency and Opportunities in Enhancing Community's Income.
PTT is committed in promoting a sustainable economic growth by developing the community's well-being according to the sufficiency economy philosophy. This aids the development of professional competency and increase in manufacturing process's efficiency while being still being environmentally friendly. Thus, the growth can be achieved by adhering the operational framework of a Social Enterprise model to strengthen community's capabilities and become sustainable
Sourcing of Local Coffee Beans for Amazon Cafe
The project aims to support the development of farming and producing coffee seeds in an environmentally sustainable way, as well as creating a channel to sell coffee seeds at a fair price from 8 communities and enterprises in Chiang Rai province. Sarn Palung Social Enterprise and Cafe' Amazon operate the social project in order to support community to have stable revenue, fair trade, reduced risks from fluctuating coffee prices in additional to supporting local employment. In 2018, there were 2 communities participating, comprising of 40 families with 89.6 hectares of coffee plantation. The project was able to create revenue of 1,200,000 Baht/ Year for the community. Moreover, the project became an exemplar for other communities to follow in the future.
Cafe Amazon

for Chance
PTT has created opportunities to building capacity, job opportunity and creating income for people with hearing disabilities who graduated from Rajasuda College, Mahidol University to become baristas under Caf? Amazon. The Baristas will be professionally trained according to Caf? Amazon's standard. Branches where serviced by hearing disability baristas, have adjusted the method of working and ordering by using innovations of automatic grinding machine (Hybrid Machine) and Duo Screen, in order to facilitate, reduce error and increase the speed of work. The profit from revenue generated will contribute as funds to expand the branched in the future.
In 2018, this project has brought new opportunities to12 individuals living with disabilities. There were 10 individuals with hearing disability, and 2 with learning disability. They serve as barista in 4 branches.; Office of the President and Faculty of Environment and Resource Studies at Mahidol University Salaya, Art Gallery at Ban Chao Phraya Branch, and Sky Lane at Bangkok Suvarnnabhumi International Airport. All 12 individuals had an increase in income by 50%. PTT aims to expand the branch to 8 branches within 2019. The profits from the project will be used to open additional branches, and invested as a fund for capacity and vocational development for those with disabilities.
Clean Energy for Community Project
PTT adapted its knowledge and expertise in the field of science, energy, technology and organization management to support the community's sustainable economic growth. PTT encourages communities to become strong, have access and be self-reliable in terms of clean energy. Hence, the clean energy for community project utilizes organization's knowledge and expertise to assist and operate community development, specifically in analyzing local resources, planning and designing the self-managed programs according the community's infrastructure. Working together with the community ran technological development, different types of clean energy applicable to the community context have been introduced as follows:
Biogas
PTT advanced the Community Biogas System from Pig Farming Project in Tha Manao Sub-district, Lopburi Province through an array of community engagements to analyze the capability of clean energy, design and develop the system. In addition, a community working committee was established to manage users of the gas produces from animal manure. The project not only helped the community to reduce costs by delivering biogas to more than 671 households hence replacing the use of LPG, but was also resolved issues regarding the smell originating from the water discharged by pig farms. Moreover, the community has registered with Thailand Voluntary Emission Reduction Program (T-VER) for municipal waste, sewage and material waste. The program holds a 7-year certification for carbon credits.
Moreover, PTT expanded the project to two other sites by using the experience from the biogas system in Tha Manao Sub-district also known as Tha Manao Model. Expanded sites include Kham Khaen Sub-district, Mancha Khiri District in Khon Kaen Province and San Sai Sub-district, Phrao District in Chiang Mai Province. The project promotes communities to reduce the dependency on the main energy source and reduce odor and wastewater issues from pig manure. Presently, all three communities are exemplars as the public has been involved in the production of local energy
Biogas system in Tha Manao Sub-district, Chaibadan District, Lopburi Province (2015- Present)


In 2015, the project registered with T-VER, receiving carbon credits for a total of 7 years. Greenhouse Gas emissions was reduced by approximately 737 tons of CO2 equivalent per year. In 2018, the total number of operated households was 111 households, hence reduced the community's expense on energy by 360,998 baht per year.

Biogas system in Kham Khaen Sub-district, Mancha Khiri District in Khon Kaen Province (2015-Present)


The biogas system from pig farms in Kham Khaen Sub-district registered with T-VER, whereby receiving carbon credits for a total of 7 years and is able to reduce greenhouse gas emissions at approximately 403 tons per year. Contributing to the reduction of impacts from odor and wastewater. Hence reducing greenhouse gas emissions by 210 tons of CO2 equivalent per year. Nevertheless, 35 households in the community are able to reduce energy related expenses by 172,512 baht per year.

Biogas system in San Sai Sub-district, Phraow District in Chiang Mai Province (2015- Present)


The biogas system from pig farms in San Sai Sub-district helped temples and communities accounting for 37 households to replace the use of LPG with biogas. Reducing expenses related to energy for the community by 116,168 baht per year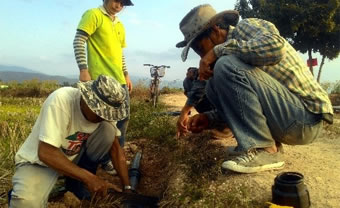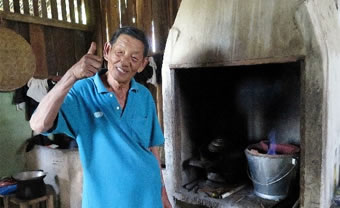 Hydraulic Ram Pump
From taking care of numerous communities around the country, PTT realizes that many locations in Thailand still faces issues in accessing clean water for domestic and agriculture purposes. PTT therefore developed a technology for managing water using clean energy, such that communities can utilize natural resources appropriate to their typography. As well as resolve, such issue sustainably.
In 2013, PTT first developed the hydraulic ram pump at Khanun Khee Village, Tha Khanun Sub-district, Thong Pha Phum District in Karnchanaburi Province in order to address the issues regarding water shortages due to the increase in community's water consumption. Khanun Khee Village is a village along the East (Thai-Myanmar) natural gas pipeline. Working together, terrains were explored and designs of the hydraulic ram pump which does not require the use of electricity or fuel was developed. The project was able to solve issues regarding community's access to water and shortages efficiently.
Consequently, lessons learnt from operating the project in the mentioned areas were flourished and evolved into a water management model for various terrain features. PTT expanded the project into different locations across Thailand, totaling at 17 locations, enabling communities and numerous departments to access and benefit over 225,661.25 cubic meters of clean water for domestic, agriculture and forest fire prevention. Notably, PTT continues to improve the hydraulic pump. In 2018, the pup designed was effective enough to pump water up to higher areas of 350 meters, across the distance of 2,300 meters. There are also plans to expand and extrapolate the projects into areas with water scarcity in a consistent manner. This was in tandem with PTT Hydraulic Ram Pump for increased effectiveness and value added.
Floating Solar Photovoltaic Panels
PTT acknowledges the concerns regarding water management for agricultural purposes, particularly for being responsible for the cost of transporting water from the source to point of use. Majority of the farmer community depends on the High Speed Diesel (HSD), directly translating to the high base cost and environmental impacts. Thus, PTT deliberated with local communities regarding this issue to identify a solution together. Using the organization's expertise in energy management, the thought of using floating photovoltaic panels emerged. The panels utilizes an appropriate clean energy source with respect to the context of agriculture in Thailand to deliver water from areas accessible by electricity to the point of use. Positively effecting the farmers located in different areas of Thailand as they are able to expand, improve efficiency of the land used for planting and increased their income. In 2018, the project had an active role in 11 communities with 500 households benefitting and generating a total of 135,000 units of electricity per year. The community was able to reduce over 885,000 Baht per year of energy related expenses while greenhouse gas emissions reduced by 78.58 tons of CO2 equivalent per year.