Sustainable Development Goals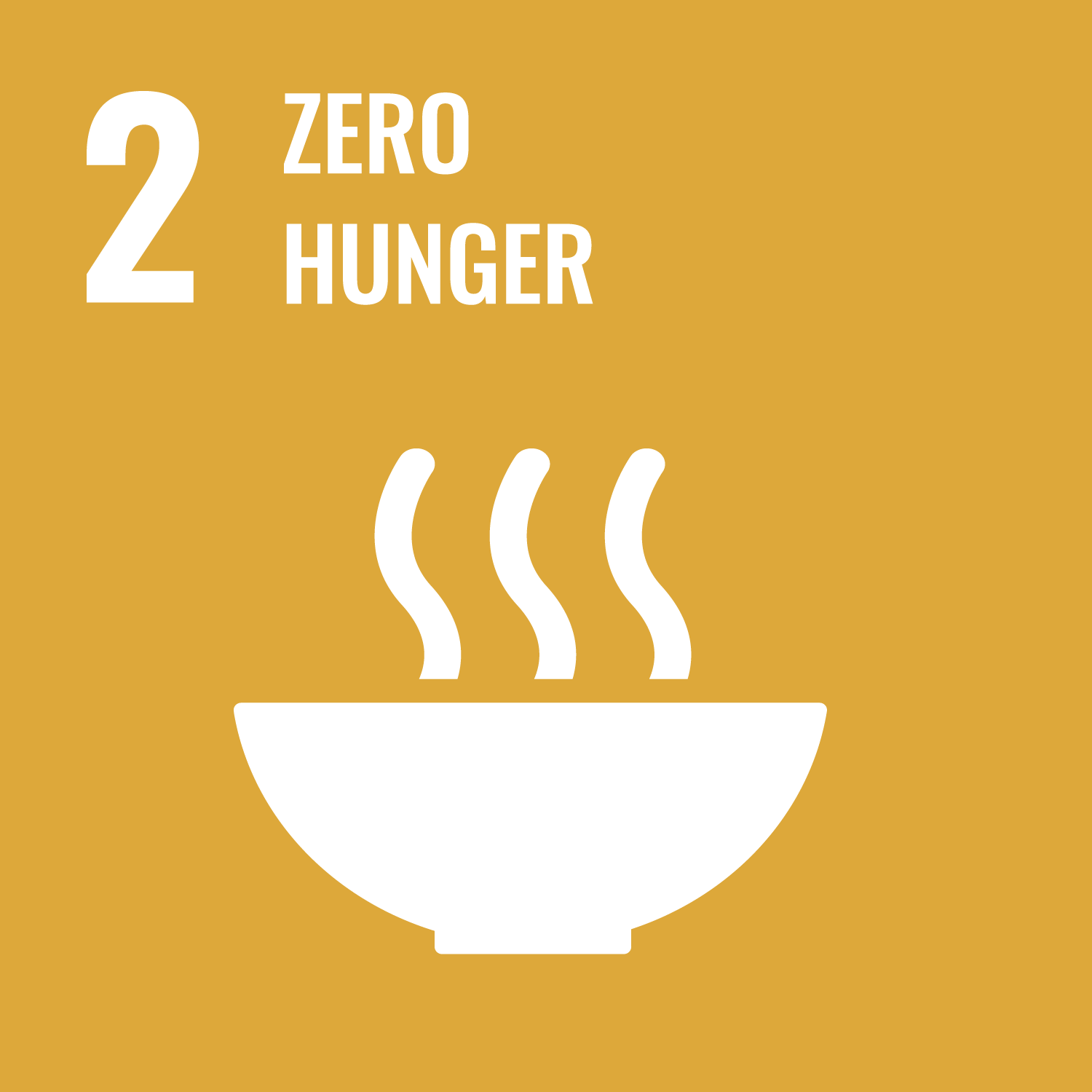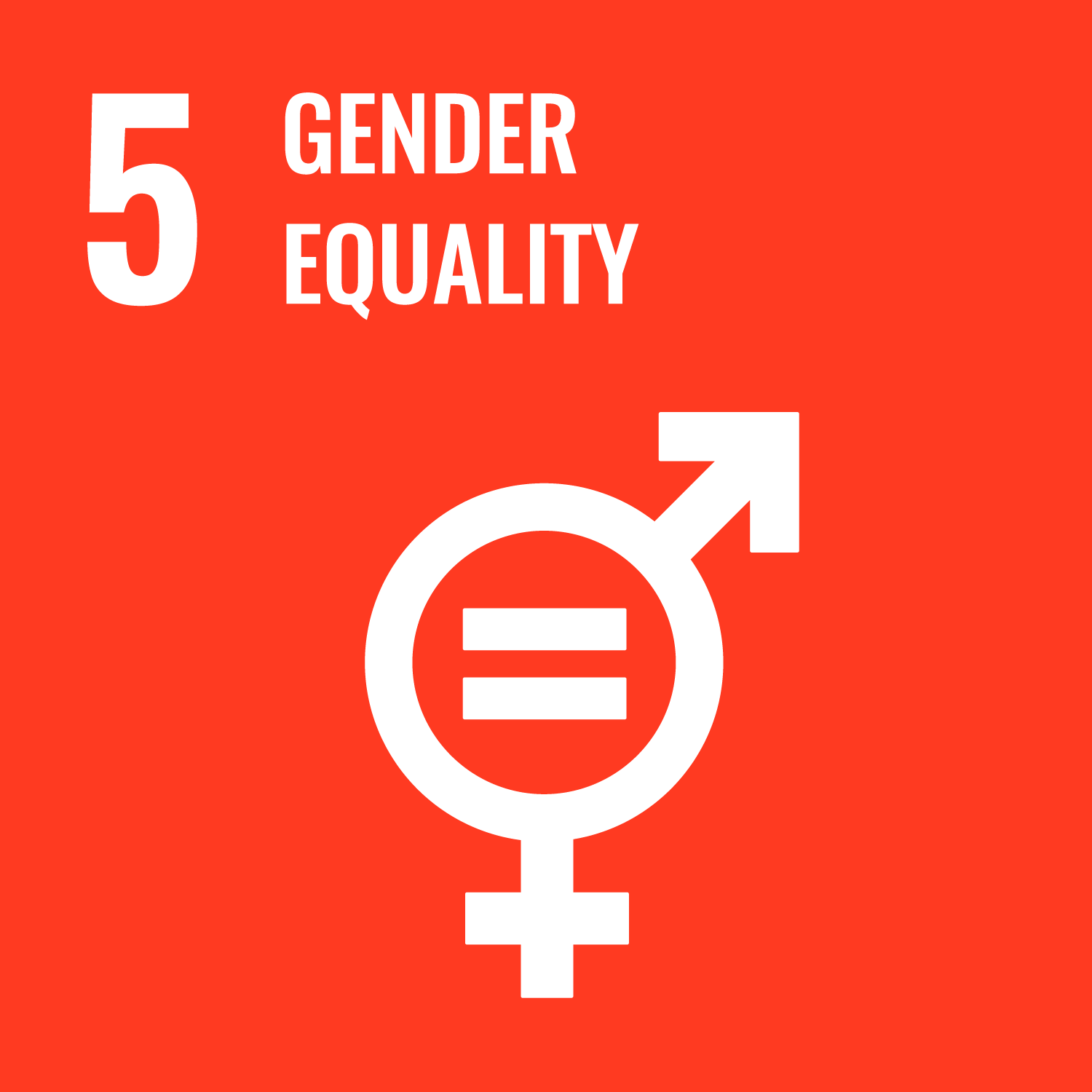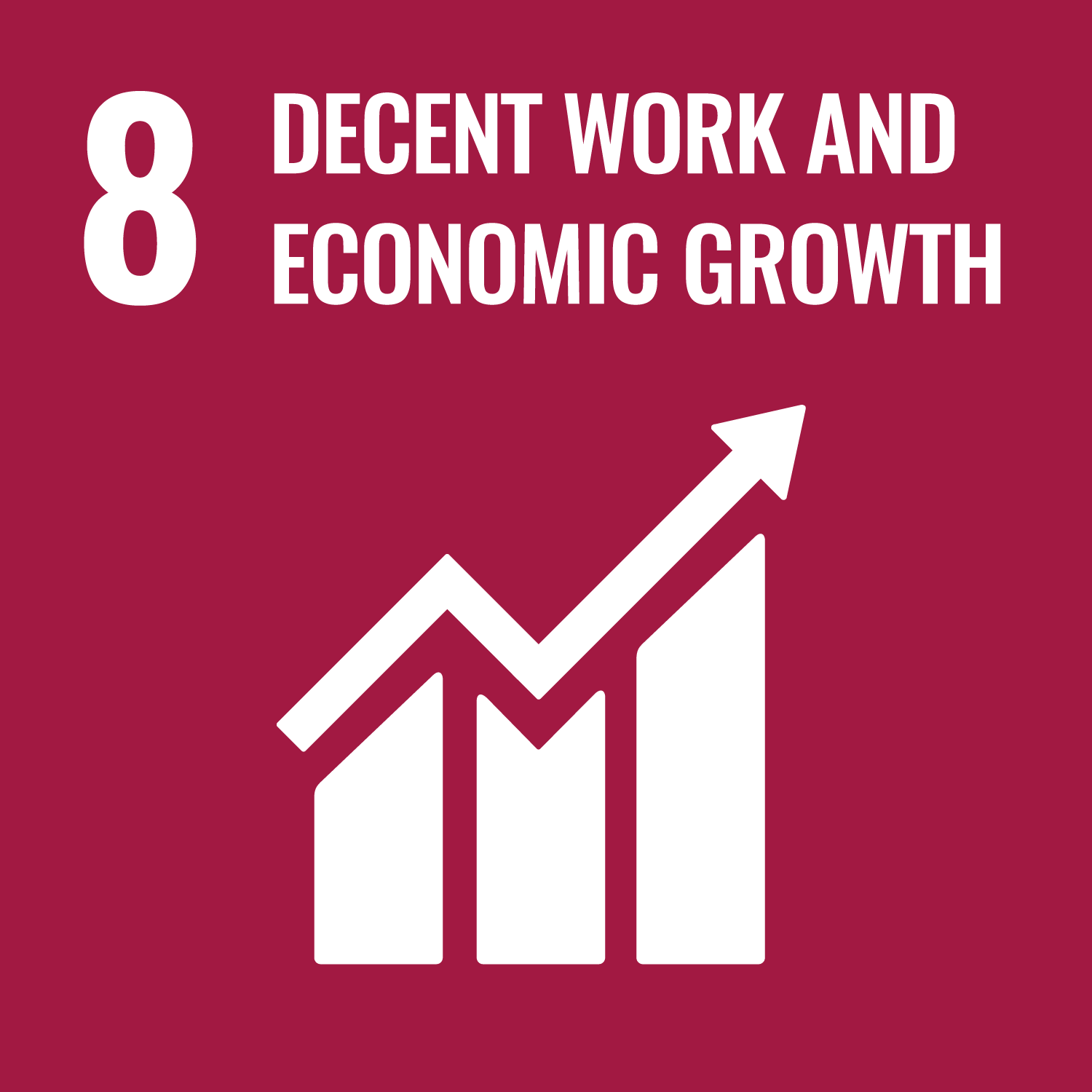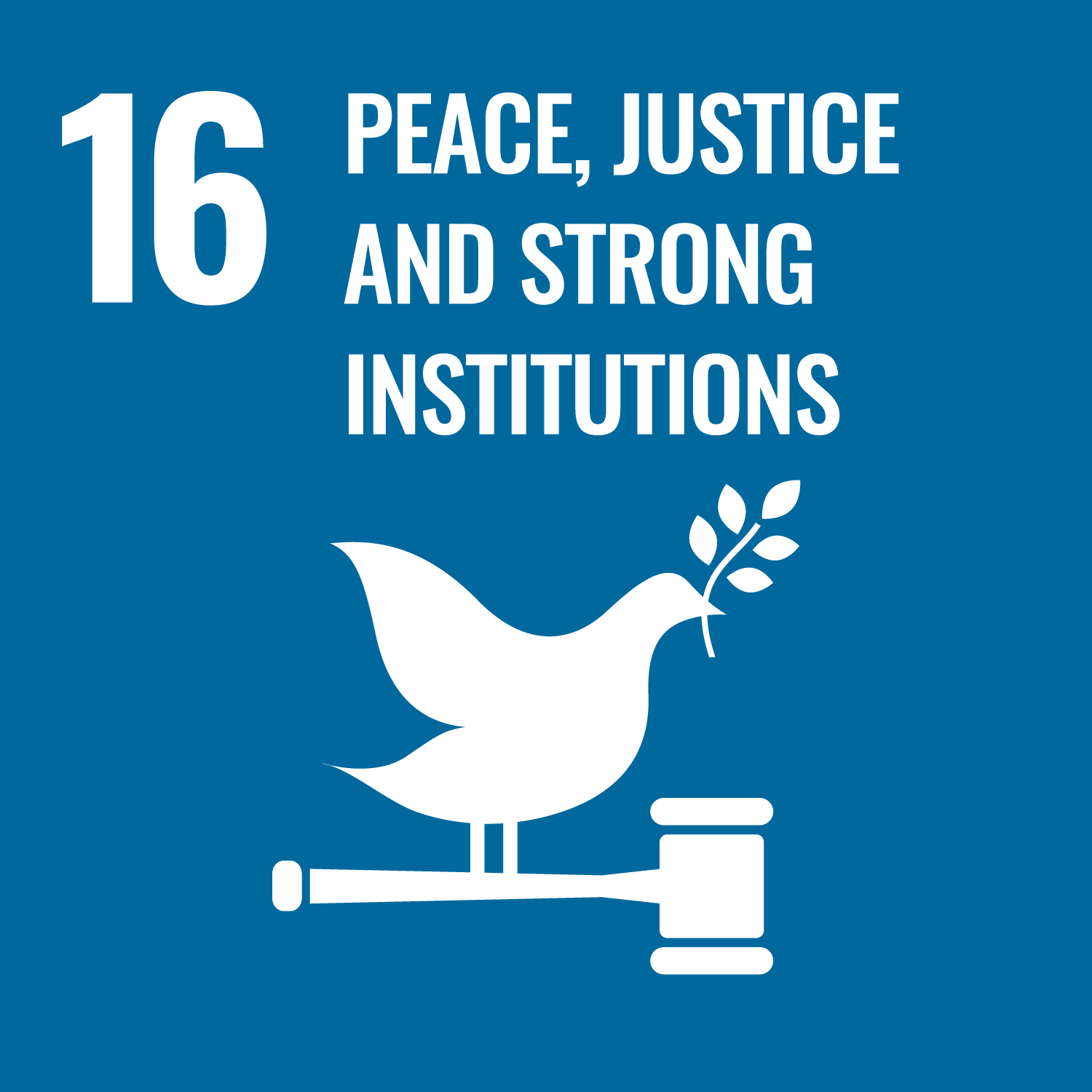 Opportunities and Challenges
The past few years have seen significant progress in the field of business and human rights, including the introduction of new laws and developments in legal requirements and standards, reflecting an increase in business expectations on human rights practice among government and civil society. In 2019, the Thai government announced the 1st National Action Plan on Business and Human Rights (NAP), effectively establishing Thailand as the first country in Asia to have achieved tangible progress in business and human rights. The plan notes several challenges that are relevant to PTT Group's business activities, including: labor rights; increasing state enterprises' awareness of the UN Guiding Principles on Business and Human Rights (UNGPs); consultation with communities in areas with large-scale investment projects, especially special economic zones, and managing impacts; public procurement; and access to grievance mechanisms and remedy. Furthermore, we are also facing expectations from investor. There has been an increase in initiatives that assess businesses' human rights management to high standards of practice, such as The Corporate Human Rights Benchmark (CHRB), which comes with recommendations and questions for companies and requires that companies improve their performance in human rights. Thus, PTT Group has made certain that the aforementioned stakeholder expectations are used to inform the continuous development of our human rights management processes.
Management Approach
Human Rights Management
Commitment
PTT is duly aware of human rights as a critical part of organizational sustainability and is committed to operating our activities on a foundation with respect to human rights. We aspire to align our practices with the human rights principles. Expressed in international human rights law and standards, such as the United Nations Universal Declaration of Human Rights (UNUDHR), the United Nations Guiding Principles on Business and Human Rights (UNGP), and the International Labour Organization (ILO) Declaration on Fundamental Principles and Rights at Work. PTT has joined the United Nations Global Compact and the Global Compact Network Thailand (GCNT), and also participated in sharing inputs and feedback with the Thai government to support the development of the National Action Plan on Business and Human Rights and the 4th National Human Rights Plan.
PTT is committed to respecting human rights in all our business activities, as stated in the PTT Public Company Limited Human Rights Statement and the PTT Public Company Limited Compliance Policy. Human rights issues are included as one of the priorities of the PTT Sustainability Management Standard. We drive compliance with these standards across PTT Group subsidiaries, requiring that all subsidiaries disclose risk assessment results and risk mitigation plans to promote transparency.
Furthermore, to ensure that our practices align with our commitments, PTT has integrated the Human Rights Statement to the
Social Strategic Direction in the PTT Master Plan on Sustainability Management, Social Responsibility, and the Environment, 2021 – 2025
. As part of this strategic direction, we have set a target to limit the number of human rights complaints to 0 by 2030. We have also translated material sustainability issues that may affect human rights – such as climate change, occupational health and safety, anti-corruption, and supply chain human rights monitoring and assessment – to key performance indicators (KPIs) at different levels. These include corporate KPIs that measure the performance of high-level management, and operational level KPIs for relevant departments. Progress and performance on the KPIs are reported on a quarterly basis to the Board committees that are relevant according to the governance structure.
Human Rights Performance Indicators for Management
Indicator

Material sustainability issues that have potential human rights impacts and have been selected as indicators

Scope

Performance Indicators from the State Enterprise Assessment Model

(

SE

-

AM

)

Greenhouse gas emission intensity

Included as part of PTT's President and Chief Executive Officer's performance indicators. The President and CEO is also a member of the PTT Board.

Organizational Performance Indicators

Greenhouse gas emission intensity
Effectiveness of employee and contractor safety management

Senior Executive Vice president and below
Departmental Performance Indicators

Effectiveness of human rights management
Greenhouse gas emission intensity
Effectiveness of employee and contractor safety management

Senior Executive Vice President/ Executive Vice President

/

Vice President, according to relevant roles and responsibilities

Roles and Responsibilities of the Board of Directors and Management Executives
The Board of Directors of PTT has assigned the Corporate Governance Committee (CGC) responsibility for overseeing PTT Group's sustainability policy and management, including human rights management, covering the entire of PTT Group's supply chain, and extends from the management level – which includes the Governance Risk and Compliance Management Committee – to the departmental level, with the Executive Assistant to the CEO leading sustainability management. The Sustainability Strategy Department oversees human rights management and leads the development of relevant processes for PTT and PTT Group. This is then translated into practice by responsible teams at the corporate level, alongside relevant departments, for effective and efficient results throughout the organization. Relevant departments include human resources; safety, security, health, and environment; corporate social responsibility; procurement; and compliance. Performance is regularly reported to the Corporate Governance Committee every quarter.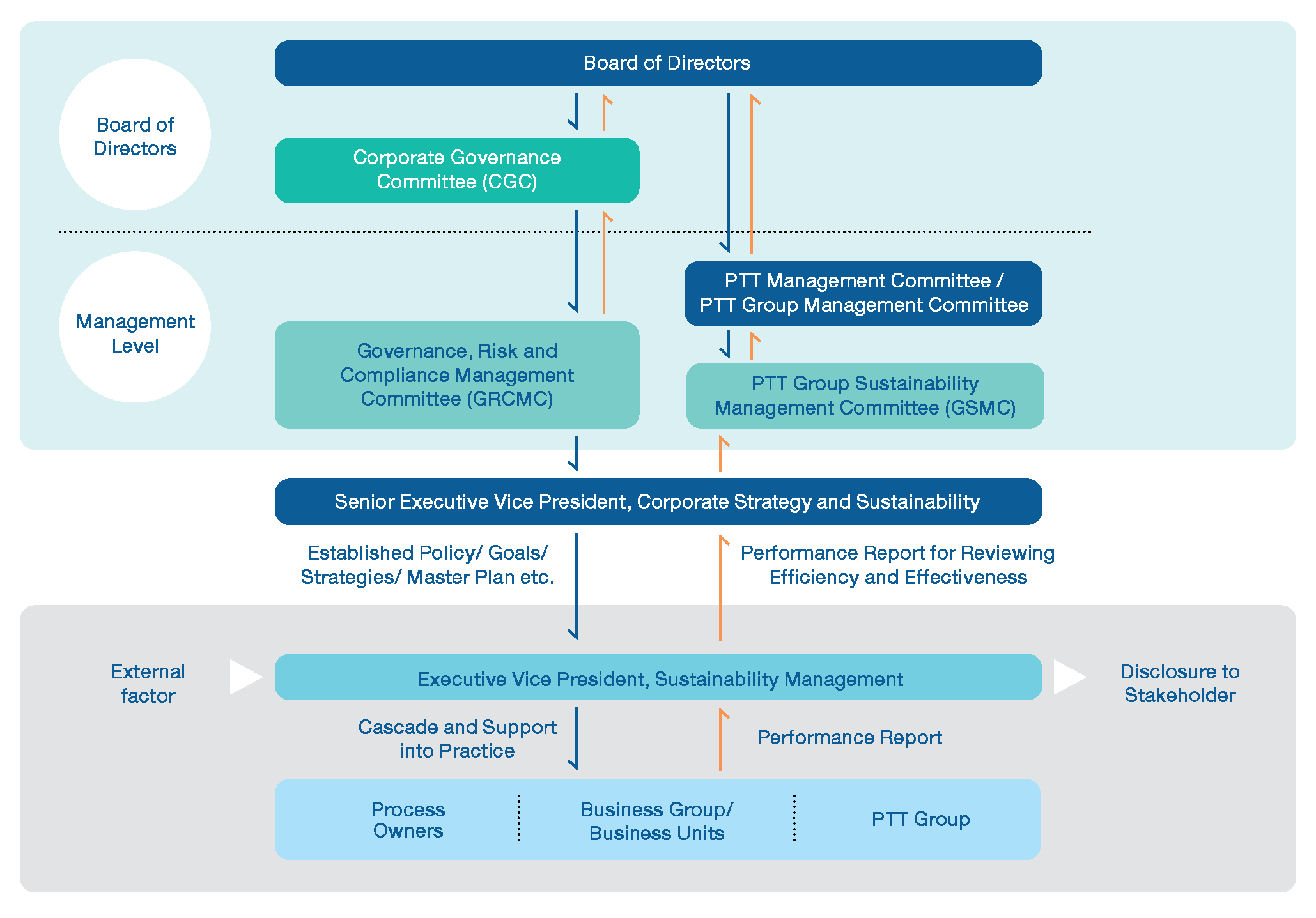 The Corporate Governance Committee monitors progress and provides feedback on annual plans and targets, human rights risk assessment results, and risk management plans The Committee has approved a review of the PTT Group Human Rights Management System to add additional guidelines on corporate governance, compliance, and human rights impact assessment that covers stakeholders across the supply chain.

Communications and TrainingGRI410-1
PTT is invested in ongoing efforts to increase employee awareness and understanding of business and human rights. We send communications materials such as news articles, magazines, and internal PR emails that update employees on our human rights announcements/policies, principles, guidelines, management system, as well as case studies from other businesses. In addition, we have developed the PTT Group Sustainability Management Course and the PTT Integrated Management System (PIMS) Basic Training Course, which are both applicable for relevant employees at all levels. Both courses cover the basics of business and human rights and provide best practice examples of conducting business with respect for human rights. Since we first started organizing this training in 2014, we have trained a total of 52 cohorts. In 2020, we also developed online versions of the training. Furthermore, to strengthen employee awareness and understanding of how they should integrate business ethics, anti-corruption principles, and respect for human rights in all their tasks and across different contexts, PTT has added an online course on the "Compliance Policy of PTT Public Company Limited". This is a mandatory course for employees of all levels, and is included as one of the key performance indicators for managers at the departmental and divisional levels and above. Moreover, in 2021, PTT started using podcasts as a new means to communicate human rights activities to all employees.
In 2020, PTT management executives and employees from departments that were relevant to human rights activities – namely, the Compliance Department, Corporate Social Responsibility Department, Strategic Sourcing Department, Land Acquisition Department, Safety and Security Department, Customer Relations Department, and Corporate Communications Department – attended a seminar on "Business and Human Rights". The seminar covered an overview of business and human rights at the global level, policy trends and government direction, and the implications of the business responsibility for state enterprises.
Furthermore, in 2021, the Senior Executive Vice President (SEVP) of the Office of General Counsel took the lead in advancing business and human rights through communicating and sharing PTT's business and human rights management and practices with our partners and networks. The SEVP presented during a focus group session that was organized as part of the Securities and Exchange Commission's (SEC) Business and Human Rights for Businesses in the Thai Capital Market Project (Phase 1), and for the "Using Good Governance to Promote Gender Equality in Management" lecture series organized by the Department of Women's Affairs and Family Development. The lecture series served to increase awareness and understanding of human rights, promote gender equality, and drive the application of said principles into practice to maximize benefits for stakeholders.

PTT includes a stipulation in security contractor agreements that requires all security personnel to be trained on the skills and knowledge that are necessary for their work. Human rights are a key component of this training. This means all security personnel must be trained on topics such as the basic human right to safety and security, and nonviolence principles in security activities, including in handling perpetrators. Security guards must be aware that they do not have the right to detain anyone except for perpetrators on PTT premises. Security personnel must also be trained on the presumption of innocence, meaning that the person accused must be presumed to be innocent until it can be proven that they have violated the law. Overall, in 2021, there were no human rights complaints regarding PTT's security personnel.
Suppliers and Business Partners in the Supply Chain
PTT works with suppliers and business partners across our supply chain to advance respect for human rights and compliance with PTT's human rights guidelines. Firstly, supplier selection is informed by an assessment that includes not only product quality and financial performance, but also environmental, social, and governance (ESG) criteria. This is inclusive of both suppliers with previous contracts and new suppliers. Suppliers who score below the expected standard will not be approved to be included in the PTT Approved Vendor List (PTT AVL).
In addition, we have established the Sustainable Supplier Code of Conduct with four priorities that cover human rights principles, including business ethics, corporate social responsibility, environmental responsibility, and safety. The Code of Conduct is enforced in suppliers who have signed agreements with PTT valued at 2 million baht and above, and/or agreements for work that may create safety and environmental impacts. We have been monitoring and tracking supplier performance through organizing regular supplier assessments and audits since 2016, especially for critical suppliers with high risks. If non-compliance with the Code of Conduct is identified, suppliers are required to establish corrective action plans. However, if the non-compliance is persistent and/or repeated, PTT may also end the contract.
Human Rights Due Diligence
PTT Group Human Rights Management
GRI407-1
Since PTT developed the PTT Group Human Rights Management System in 2016, our human rights practices have been guided by this management system. The system serves as a framework to guide human rights management in PTT's business activities. It is comprehensive of all PTT Group activities in the value chain that may create impacts on human rights, including but not limited to mergers and acquisitions, construction, as well as decommissioning. PTT has formally announced the use of this system and communicated it to all PTT Group subsidiaries to adapt and apply as appropriate to their contexts.

Overview of PTT Group's Human Rights Management
Human Rights Risk and Impact AssessmentGRI407-1, GRI408-1, GRI409-1, GRI412-1, GRI413-2, GRI414-2
PTT has integrated human rights risk identification and assessment into different risk assessment processes across the organization led by relevant teams, such as:
Due diligence processes for mergers and acquisitions;
Environmental impact assessments for large construction projects, under legal requirements;
Identification and evaluation of environmental aspects, and hazard identification and occupational health and safety risk assessment, in line with ISO standards, in all operations; and
Enterprise risk assessment and internal controls.
All of the aforementioned risks will be managed with mitigation measures and management plans, with progress systematically reported to management in relevant departments.

PTT Group's Human Rights risks have been included as part of the enterprise risk management, and are under the responsibility of functional level management. Today, relevant units at functional level are managing human rights risks effectively through a risks management plan and reporting to relevant committees. This comprehensive management approach resulted in zero human rights complaints. However, in case of high impacts and severity, PTT will consider management of human rights risks at a higher level, including business unit & support functional level and corporate level, respectively.
In light of continuously increasing stakeholder expectations regarding businesses' responsibility to respect human rights, PTT has referred to the UNGPs to develop a human rights risk assessment process that is comprehensive and holistic of all activities in our value chain.

We assess the residual human rights risks of each department and throughout PTT Group's value chain and new business relations. Through this risk assessment, we identify salient human rights issues and impacts on all stakeholder groups, including employees, subcontractors, communities, and vulnerable groups. We consider the likelihood of each impact at both the national level and operational level. This assessment helps us consolidate and report organizational human rights risks, while also reporting on human rights risks for all projects.

PTT assesses human right issues and risk level every two years, or frequent as needed. The latter case includes when there are sudden changes in human rights risks, business activities, operating guideline/standards. This ensures all relevant risks have been assessed thoroughly, and ascertained in effectiveness of control measures and management system.
Human rights risk assessment includes the following steps:
1. Define the scope of business activities.
2. Define the human rights context.
3. Identify/ assess human rights issues at the operational level and rights issues at the individual level.
4. Assess risks.
5. Identify risk mitigation measures and controls.
6. Assess residual risks.
7. Monitor and review performance.
Human rights risks are assessed based on a criteria of two aspects – level of impact and likelihood.
Risk Criteria: Impact
PTT's Human Rights Risk Assessment
The level of human rights impact reflects a variety of factors, including size, scope, and irremediability.
Level of Impact
Type of Impact

Critical

Human rights impact covers a wide scope of area or population, extending beyond the area of operations.
The company cannot control or mitigate human rights impacts to remediate the affected victims and restore them to their original condition.
The impact/ incident related to human rights requires the support of an independent, trusted third party to mediate the issue.

Major

The company is complicit in assisting or supporting an activity that resulted in human rights violation

(

legal complicity

).

The human rights impact was caused by the activities of the company or the activities in the company's supply chain, and created impacts on stakeholders in the area of operations.
The company has a human rights conflict with a vulnerable group

.

Moderate

The company benefited from activities conducted by external parties that resulted in human rights violation

(

non

-

legal complicity

).

The company cannot respond to the human rights concerns of internal or external stakeholders

.

Minor

Potential human rights impacts and concerns raised by internal or external stakeholders are resolved, with prevention measures put in place

.

The company

'

s grievance mechanisms are effective

.
Risk Criteria: Likelihood
The level of human rights impact reflects a variety of factors, including size, scope, and irremediability
| Level of Impact | Type of Impact |
| --- | --- |
| Likely (>25%) | Incident occurs within the area of operations several times per year (>25%) |
| Possible (10-25%) | Incident occasionally occurs within the area of operations occasionally (10-25%) |
| Unlikely (1-10%) | Incident rarely occurs within the area of operations, but it is possible (1-10%) |
| Rare (<1%) | Incident has occurred within the industry, but it is very improbable that the incident will occur in the company's area of operations (<1%) |
Rights Holders and Vulnerable Group
PTT addresses the following groups of rights holders during the due diligence process: employees, suppliers, third-party employees, contractors, business partners, local communities, customers/consumers, and vulnerable groups (migrant labor, women, indigenous people, LBGTQI, people with disabilities, underprivileged people and children).
PTT Group first conducted human rights risk assessment in 2015. The assessment covered core business activities implemented by PTT – equivalent to 100% of operations and covering our natural gas business and our international trading business. In 2019, to align with the PTT Group Way of Conduct, the scope of the human rights risk assessment was expanded to include business activities invested through PTT Group subsidiaries. Thus, including PTT and our 16 subsidiaries, there are 17 companies in total governed under the PTT Group Human Rights Management System. These 17 companies together represent 50 locations across 21 countries, with business activities in Petroleum Exploration and Production Business, Petrochemical and Refining Business, Oil and Retail Business, Coal Business, Electric Utilities Business and Technology and Engineering Business, as well as other new businesses.
PTT Group's salient human rights issues include: the security and occupational health and safety of employees and subcontractors; labour rights; supplier working conditions; communities' quality of life; and indigenous rights. The human rights risk assessment revealed that PTT Group's business activities have medium to high human rights risks in 11 locations across 4 countries, including Thailand, Indonesia, Australia, and Algeria. All 11 operations with medium to high human rights risks have been designated with risk management plans to mitigate the risks and potential impacts on stakeholders, and progress on the planned measures is reported to
management executives and Governance Structure
every quarter.
PTT Group Human Rights Issues
Labor rights

Community

Security

Environment

Customer and Consumer

Corporate Governance

Working Conditions
Freedom of Association and Collective Bargaining
Forced and Compulsory Labor
Child Labor
Safe and Healthy Working Conditions
Discrimination (e.g., equal remuneration, discrimination, etc.)
Sexual Harassment
Modern Slavery and Human Trafficking

Standard of Living and Quality of Life
Community Health and Safety
Community Engagement
Cultural Heritage
Minorities Including Indigenous Peoples
Resettlement

Security Management
Security Training

Water Management
Impact of Pollution
Waste and Hazardous Materials Management
Preservation of Biodiversity
Energy Management

Consumer Health and Safety
Customer Data Privacy

Anti-Corruption
Compliance with Human Rights Laws and Regulations

PTT Group Human Rights Risk & Impact Assessment

Human Rights Risks

Percentage of operations assessed in the last three years (2018-2020)


Percentage of operations where high human rights risks have been identified

Percentage of risks with mitigation plans and processes

Risk mitigation plans for operations identified with risks

Operations under PTT

'

s management control

Labour Rights
Community Rights
Supplier Practices
Environmental Impacts
Security and Safety
Customer and Consumer Rights

100
0
100

Maintain compliance with PTT Human Rights Management System

.

Improve supplier practices regarding sustainability and human rights

.

Organize training and build awareness of business and human rights

.

Review the human rights policy and establish measures to prevent

Contractors and Tier 1 Suppliers

Occupational Health and Safety
Working Conditions and the Workplace Environment
Community Rights
Environmental Impacts

100

0

100

Obtain insurance for buildings and assets

.

Develop employee capacity building plans

.

Compile statistics on safety at work

.

Develop plans for drug and alcohol testing

.

Prepare first aid kits

.

Joint ventures where PTT has invested through PTT Group subsidiaries

Community Rights
Supplier Practices
Environmental Impacts

100
22
100

Closely monitoring on risk and environmental management during the operation
Monitor and maintain stakeholders' engagement, including local communities and government parties
Maintain dependable safety practices
Improvement of supplier audit dimension
PTT identifies stakeholder groups who are potentially affected by its operations through stakeholders' need assessment via engagement channels such as meeting, grievance centres, and survey and recommendation forms. For balanced management, the needs will be prioritized by the importance to the company and stakeholders. In 2020, the result of assessment showed the issues with high risk on human rights management, consisting of Climate Change (environmental and community rights), application of a circular economy approach (environmental rights and customers and consumer rights), and value creation for society (community rights).
Grievance Management and Remediation
Grievance ManagementGRI411-1

PTT established grievance mechanisms to take both internal and external complaints. We use a variety of channels that accommodate both Thai and English to ensure that all stakeholder groups can easily submit complaints at any time. In this way, PTT is open to all types of complaints, including concerns and recommendations from stakeholders who may have been affected by our business activities. For PTT Group subsidiaries abroad, stakeholders can contact the company through the company website and social media channels of that region, which also accommodate local languages of that country.
Stakeholders
Grievance Mechanisms
Employees

State Enterprise Employee Union of PTT Public Company Limited
Human Resource Management Departments in each business unit
Labour Relations Department, through the Labour Relations Complaint System, which can be contacted both online and through phone calls
Employee representatives of the Labour Relations Committee
Joint Consultation Committee (JCC)
Online channels, including through e-mail (pttvoice@pttplc

.

com) or the Labour Relations and Ethics Hotline

Suppliers, Customers, and External Stakeholders

PTT Customer Relations Call Center (1365)
Complaints can be mailed directly to PTT's President and Chief Executive Officer, Audit Committee, Executive Vice President,Office of Corporate Audit, Executive Vice President, Corporate Human Resources, or Executive Vice President, Company Secretary and Corporate Relation, and the Investor Relations Department.
A variety of online channels, such as www.pttplc.com, www.pttbluecard.com, the PTT News Facebook page, We love PTT, PTT Blue Society, or the PTT Blue Card mobile phone application
Supplier meetings

Communities living around PTT's area of operations

Each operational area has set plans for community visits. During these visits, the PTT community relations team staff listen to the complaints, concerns, and expectations of stakeholders, and record any impacts that our activities may have caused to stakeholders. Based on this information, we then establish mitigation measures and develop grievance mechanisms and communications channels for each location.
PTT recognizes the importance of protecting complainants and human rights defenders. We have established procedures to protect complainants and informants, and put in practice measures to ensure their safety and access to justice. PTT has defined a timeframe to make certain that our grievance management procedures are effective. For complaints raised by employees, we have established an expected timeframe for each stage at a maximum of 30 days. Complaints raised by external stakeholders will be investigated and assigned mitigation measures. Then, progress will be reported to the complainant within 7 working days. In 2021, there were no human rights complaints or complaints raised concerning non-compliance with human rights law. Therefore, no remediation actions were taken in 2021.
PTT Group
'
s Grievance Mechanisms

Remediation
PTT considers it a non-negotiable that we protect and remediate those who have been affected by our activities. To that end, we have set up complaint channels in each operation that are designed to be specifically used for emergency and crises. We have also defined procedures to ensure that affected individuals have immediate access to remedy. This includes both financial remedies – such as financial reparations and assistance – and non-financial remedies – such as the preliminary support and remediation given by emergency complaint centers and counsel or support given by experts. PTT has prepared communication channels to systematically take feedback and complaints from stakeholders.
Affected individuals can submit complaints through complaint centers set up in each operation, or through PTT's Call Center. PTT will then investigate the root cause of the complaint, and then implement mitigation and protection measures. In the event that we cannot conclude the incident during the prevention and remediation process, PTT will establish protection and remediation measures through working with the tripartite working committee. This committee will comprise representatives of different stakeholder groups, including local administrations, community leaders, and relevant government agencies. Together, the committee will determine an appropriate and effective approach to manage the complaints to meet all parties' expectations.


Human Rights Complaints
Information updated in March 2022