Human Rights Governance
Commitment
PTT is mindful of human rights' importance to corporate sustainability. PTT has therefore laid down the foundation to ensure respecting human rights as PTT's fundamental practice, while upholding human rights principles as stipulated by the laws and international standards. This comprises the United Nations Universal Declaration of Human Rights (UNUDHR), the United Nations Guiding Principles on Business and Human Rights (UNGP), and the International Labour Organization (ILO). In conjunction, PTT has also joined in as part of the United Nations Global Compact (UNGC) and the Global Compact Network Thailand (GCNT). Additionally, PTT is also active in providing information to public sector, which supports the drafting of National Action Plan on Business and Human Rights (NAP) and the 4th National Human Rights Plan.
Notably, PTT has announced its Sustainability Management Policy and Framework, and established Human Rights Issues as a part of the Group's Sustainability Management Framework. PTT has encouraged other companies in the group to apply and operate in line with the management framework, which requires disclosures of risk assessment and risk mitigation plan for transparency.
Reference: PTT Human Rights Statement
Embedding Human Rights Culture
Top Management and Senior Responsibility
Regarding the Group's Human Rights performance, PTT's Board of Directors has assigned Corporate Governance Committee to oversee PTT Group's Sustainability Management and Policy, which covers human rights management throughout PTT Group's supply chain. This is overseen by Organization Management and Sustainability Function, comprises Senior Executive Vice President and Executive Vice President for Sustainability Management. Furthermore, Corporate Management Department is assigned to manage performance in line with the Group's Human Rights Management System. Performance is reported to Corporate Governance Committee quarterly. This includes communicating policies to responsible functions, whose duty is to ensure effective compliance to human rights management approach.
Furthermore, Corporate Governance Committee closely monitors progresses and provided recommendations on operational plans, annual targets, results of human rights risks assessment, and risk management plan. In 2018, the Committee approved the review of PTT Group Human Rights Management System, which is expected to complete in 2019. Furthermore, significant human rights performances are also reported directly to PTT's Board. This may comprise issues such as climate change management, safety, and anti-corruption.
​Governance Structure
Human Rights Performance Indicators
PTT Board of Directors*
Greenhouse Gas Emission Intensity
Total Recordable Injuries Rate (TRIR)
Senior Executive Vice President for Organization Management and Sustainability
Greenhouse Gas Emission Intensity
Lost Time Accident (LTA)
Executive Vice President for Organization Management and Sustainability
Greenhouse Gas Emission Intensity
Lost Time Accident (LTA)
Vice President for Corporate Management System Department
Greenhouse Gas Emission Intensity
Lost Time Accident (LTA)
Key Performance Indicators set in accordance with the State enterprise Performance Appraisal (SEPA) and Corporate Key Performance Indicators are set to correlate with performances of the President and Chief Executive Officer, who serve as a members of the PTT Board of Directors.
Communication and Training
To foster understandings in business and human rights, PTT continues to raise awareness to all employees through internal journal articles, magazines and public relations emails. The content is drafted to ensure reader's ease in comprehension and cover contents about human rights principles, approaches, management systems and case studies from other businesses. PTT also conducted PTT Group's Sustainability Management and PTT Integrated Management System (PIMS) training courses. The content covers human rights performances in business sector, as well as best practices in business operations with respects to human rights. The trainings commenced in 2014. As of now, there have been 47 classes of participants. The number of participants is equivalent to 78 % of all employees.
In 2017, PTT conducted an academic seminar titled 'Business and Human Rights' for executives and employees in functions relevant to human rights performances. This includes Corporate Regulations and Laws, Social Enterprise, Strategic Procurement, Land Ownership, Safety and Security, Customer Relations, and Corporate Communication Functions. The seminar's content covers overview of international human rights management, the government's directions, and how human rights issues can be cascaded from the businesses to state enterprises.
For training of security officers, PTT stipulated that the security companies must provide necessary trainings to the security officers in line with the company's Term of References. Emphasis is placed on prevention of human rights violations, e.g. raising awareness that security and safety are basic human rights for all, avoiding the use of violence against others, and no use of violence against offenders. Moreover, security officers do not have the authority to make arrests, unless the offenders committed the offense on PTT's property. The accused are presumed innocent until proved guilty.
Business Partners throughout Supply Chain
PTT supports and encourages PTT's business partners to operate with consideration and respect to human rights, and in compliance with PTT's Human Rights Guideline. Suppliers are screened according to Environment, Social and Governance (ESG) criteria, in addition to fundamental criteria of quality and finance. Notably, PTT adopted the Supplier Sustainable Code of Conduct which covers issues on environment, labor rights, business ethics, etc. The Code of Conduct is enforced on suppliers with the contract values at over 2 million baht, and/or whose work affects safety and environment. This includes vendors who wish to register as suppliers with PTT. There are also performance monitoring, particularly for critical suppliers and suppliers of high risks, to ensure their operational improvement and avoid social and environmental impacts from their operations.
Human Rights Due Diligence
PTT Group's Human Rights Management
In 2016, PTT has set up PTT Group Human Rights Management System to serve as a guideline for management of human rights issues related to PTT Group's business operations. It also supports PTT Group's efforts in applying the necessary human rights management processes that covers all of PTT Group's activities which may incur human rights impacts throughout the operation cycle. These activities include merger and acquisition, construction, and decommission. PTT has announced its adoption of the system, and communicated to companies within PTT Group accordingly to ensure appropriate adoption of the system.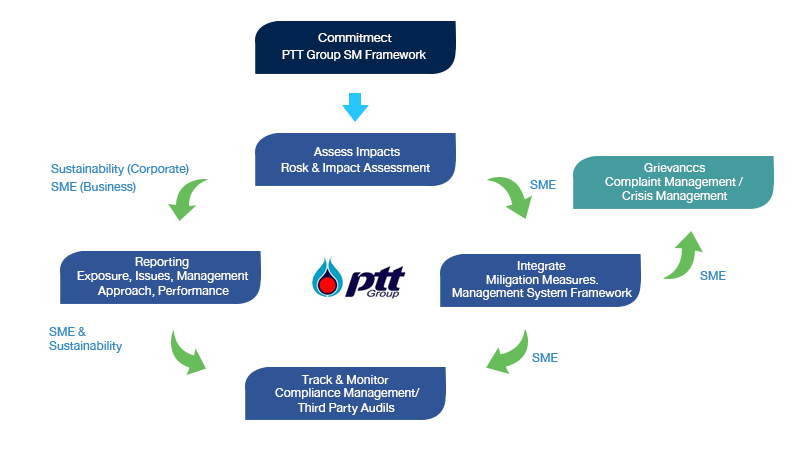 PTT Group's Human Rights Management
Human Rights Risks Assessment
PTT Group's Human Rights risks have been included as a part of the enterprise risk management. It was allocated as risks at functional level. Today, relevant units at functional level are managing human rights risk effectively, through risk management plan and reporting to relevant Committees. This comprehensive management approach resulted in zero human rights complaints. However, in case of high impacts and severity, PTT will consider management of human rights risks at a higher level, including business unit & support functional level and corporate level, respectively.
PTT has conducted human rights risks assessment for PTT Group since 2015. The latest review of operational areas and risk assessment was conducted in 2018. This risk assessment addresses various operations in industry groups and operational areas. The assessment covers 117 operational areas in 29 countries where PTT operates. The process covers identification of key issues, impacts on vulnerable groups, and the likelihood of impacts at the national-level of operations. Vulnerable groups include women, indigenous people, LBGTQI, underprivileged people and children. The objective behind this risk assessment is to consolidate corporate human rights risk reports, in conjunction with project-level human right risks reports.
The process of human rights risk assessment is as follows.
1. Define the Group's business boundaries
2. Set the context on human rights
3. Identify/Assess human rights issues at operational areas and related rights at individual-level
4. Risk Assessment
5. Identify risk controls and mitigation
6. Residual Risk Assessment
7. Monitoring and Reviewing
Human right risks are assessed on two factors: impacts and likelihood
Risk Rating Scale: Impacts
The human rights impact depends on its scale, scope, and the ability of remediation.
Impact Level​
Description of Impacts​
1.

Critical

Human rights impacts affect a larger scale of population groups beyond the scope of operational areas
The Company is unable to control or mitigate human rights impacts to restore the ability of an individual to enjoy his or her human rights
Impacts / Situations of human rights abuses require the involvement of independent, trusted expert advice from outside to aid companies in mediating issues

2.

Major

Operation is knowingly providing practical assistance or encouragement that has a substantial effect on the commission of human rights violation (Legal Complicity)
Human rights impacts were caused by the Company's operations or value chain, impacting stakeholders in operational areas
The Company has human rights-related conflicts with Vulnerable Group

3.

Moderate

The Company receives benefits from human rights violations in the hands of other entity (Non-legal Complicity)
Business fails to address human rights-related concerns raised by concerns raised by internal or external individuals or groups

4.

Minor

Potential human rights impacts raised by internal or external stakeholders are resolved/prevented, using the Company's effective grievance mechanisms.
Risk Rating Scale: Likelihood
Likelihood Level​
Description of Likelihood
1.

Likely (>25%)

The event has occurred in the operation several times per year (>25%)

2.

Possible (10-25%)

The event occurred in the operation several times (10-25%)

3.

Unlikely (1-10%)

The event rarely occur in the operation, but possible to occur (1-10%)

4.

Rare (1-10%)

The event occurred several times in the industry of the operation but unlikely to happen in the operation (<1%)
PTT identifies stakeholder groups who are potentially affected by its operations through the company's sustainability materiality assessment process. The process assesses the needs of all stakeholder groups through various channels, including meetings, complaint mechanism, and questionnaires. The issues identified in the process will then be prioritized in accordance with its significance to the company, and to the stakeholders, to ensure the balanced management of all material issues. As shown in the list of PTT's materiality, four issues out of the top five issues are significantly related to human rights. This includes climate change, security and emergency management, corporate citizenship, and human rights management.
Grievance Management and Remediation
Grievance Management
PTT has developed grievance mechanism to receive complaints through internal and external channels, in order to ensure accessibility of all stakeholders and ensure the process that addresses all kinds of grievances, which also include human rights grievances.
Stakeholders
Channels to submit complaints and grievances
Employees

State Enterprise Employees Union of PTT PLC
Human Resource Management of each business unit
Employee Relations Division, through employee relations complaint system via phone or internet
Labour Relations Committee meeting, through employee representatives
Joint Consultation Committee (JCC)
Through pttvoice@pttplc.com, Employee Relations grievance system

Suppliers, Customers, and External Parties

PTT Customer Relations (Call Center 1365)
Submit complaint letters directly to CEO, Audit Committee, Executive Vice President, Office of Corporate Audit, Executive Vice President, Corporate Human Resource, or Vice President, Office of the President and Corporate Secretary, and Investor Relations.
Through various online channels, such as www.pttplc.com; www.pttbluecard.com; and Facebook pages of PTT News, We love PTT, PTT Blue Society, PTT Blue Card Application, etc.
Supplier meetings

Communities surrounding PTT's operations

• Assign community relations officers to engage with local communities in accordance with the plan in each operation, to receive complaints, discuss needs and expectations, and listen to potential impacts from PTT's operations. All feedbacks will be used to improve the operation, design better complaint receiving process, and develop communication channels that are suitable to each area.
PTT is cognizant of the significance of whistleblower protection. PTT has an established procedure on whistleblower protection, including protection measures and fair process. The procedures and measures also cover witness and individuals who provide information or evidence. The company also sets up reasonable timeline for complaint management. For each step along the process, complaints received from employee must be manage within 30 days, while complaints received from external complainants must be investigated, resolved, and notified to complainants of its resolution and progresses within 7 working days. In 2018, there was no complaints incurred from human rights violations, or non-compliance practices against human rights laws.
Remediation
PTT prioritizes protection and remediation procedures for all individuals affected from its operations. The company provides channels to receive complaints particularly in crisis and emergencies in all areas of operations, set the process for expedient access to remedy, both as financial remedies (compensation, financial supports), and non-financial remedies. Non-financial remedies may include establishing emergency point to receive grievances and complaints to provide initial remediation, providing advices or recommendation supports from specialist, as well as providing communication channel to listen to concerns and complaints from stakeholders.
PTT has open channels for all affected individuals to report their complaints at the complaint mechanism of each project, or through PTT call center. For each complaint received, PTT will analyze the causes, find solution, and identify prevention measures. In case that the prevention and remediation processes cannot accommodate initial solution, PTT will designate the mechanism on prevention and remediation through grievance mechanism in the form of a tripartite taskforce. The taskforce consists of representatives from stakeholders including representative from local administration bodies, community leaders and relevant government agencies. This is to ensure that the case is properly and effectively managed, for the satisfaction of all parties.
Performance
Performance summary
PTT adopted human rights risk assessment plan which considers all risks related to vulnerable groups, including employees, supplies, children, indigenous groups, migrant workers, outsourced workers, local communities, women, LGBTQI, and people with disabilities. From the latest assessment in 2018, business units that provide services, trading and marketing are at low-risk, while downstream businesses including petrochemical and power generating businesses are at medium-risk, and upstream businesses including petroleum extraction and production, coal mining, and gas pipelines are at high-risk. The identified risks include labour rights, unsafe working conditions, health impacts, and community rights. It was found that in 9 areas of operations or 8% of all assessed operational areas in 4 countries including Thailand, Cambodia, Laos, and the Philippines, have human rights risks that requires close monitoring. Of all the high risk areas, the percentage of sites with mitigation plans in place is 100%.
Potential Human Rights Risks identified
% of total assessed areas in the last three years
% of total assessed areas where risks have been identified
% of risk with mitigation or remediation process implemented
Mitigation plan for risk areas
Own operation (including Joint Ventures where PTT has management control)

Labour rights
Community rights
Supply Chain
Environment
Security and Safety
Customer and Consumer rights

117 sites from 117 sites, accounted for 100%
8
100

PTT Group Human Rights Management System Implementation
Improvement of Supplier Code of Conduct in Human Rights Dimension
Business and Human Rights Awareness and Training
Improvement of human resources policy and employment practices against discrimination

Contractors and Tier I Suppliers

Safety and Occupational Health
Employment and working environment
Community Rights
Environment

30 sites from 30 areas, accounted for 100%
1
100

Building and asset insurance
Employees' Individual Development Plan
Collect data and statistics of occupational safety
Drug and alcohol screening plan
Provide first-aid supplies
Provide information on updated status of all fire extinguishers
Set goals of energy consumption reduction, and GHG emission reduction
Monthly record of the use of water, electricity, and fuels.

Joint Ventures with no management control

Community rights
Supply Chain
Environment
Case Study: Human rights and Natural Gas Pipeline Project Operations
As a national energy company, PTT has the mission to operate networks of natural gas pipelines, in line with the natural gas transmission system and infrastructure, to ensure energy security and values contributed to the national economy. The company recognizes and places strong considerations on potential human rights impacts incurred by the projects throughout its operations. To address this challenge, PTT conducts Human Rights Due Diligence (HRDD) process, in accordance with the principles of United National Guiding Principles on Business and Human Rights. The process covers steps in assessing risks and impacts on human rights from the construction of the three pipeline routes, as follows:
Nakhon Ratchasima Onshore Transmission Gas Pipeline Project (extension phase) covers 5 sub-districts, 4 districts in Nakhon Ratchasima province. The total length of the pipeline is 33 kilometers.
Onshore Transmission Gas Pipeline project no. 5 covers the areas of 104 sub-districts, 29 districts in 8 provinces, including Rayong, Chonburi, Chachoengsao, Prachinburi, Bangkok, Pathum Thani, Phra Nakhon Sri Ayutthaya, and Nonthaburi. The total length of the pipeline is 415 kilometers.
Onshore Transmission Gas Pipeline project from Pipeline Operations Station Ratchaburi - Wangnoi 6 covers 34 sub-districts, 8 districts in 4 provinces, including Nonthaburi, Nakhon Pathom, Ratchaburi, and Kanchanaburi.
Please find further information here.
From the assessment, identified human right risks in accordance with human rights framework in Thailand, human rights risks identified in the industry group, and human rights risk at individual level are as follows:
Scope / context of human rights risks
Identified human rights risks
National Level: Thailand
(Reference: Human Rights Watch World Report 2018)

Freedom of Expression
Lack of Accountability for Politically Motivated Violence
Human Rights Defenders
Refugees, Asylum Seekers, and Migrant Workers
Anti-Narcotics Policy

Industrial group level: Oil and Gas Industry
(Reference: Business & Human Rights Resource Center and OHCHR)

Health and Safety
Security of Operations
Supply Chain Management
Community Rights (Standard of living and Local and indigenous peoples' rights)

Individual level:
(Reference: Guide to Human Rights Impact Assessment and Management by IFC)

Rights not to be subjected to slavery, servitude or forced labour
Rights to work
Rights to enjoy just and favorable conditions of work
Rights to health
Rights of minorities
These identified human rights issues were assessed of levels of risk by considering two aspects, including likelihood and potential impacts. After the levels of risk are identified, PTT sets up risk control and mitigation plan, through integrating human rights risk within project management. These efforts ensure that all identified human rights risks are monitored and controlled at the level of risk appetite. The control measures include but not limit to local community engagement, and engagement of relevant stakeholders who may be affected by PTT's operations.
PTT conducted the Environmental Impact Assessment (EIA) and organized sessions to listen to concerns and opinions from surrounding communities. The hearings was a significant step to identify best approach for project implementation and adjust the gas pipeline route for effectiveness of the construction whilst gaining trust and acceptance from stakeholders. The company also set up monitoring mechanism, conducted satisfactory surveys, and followed up on complaint cases on a monthly basis.
In respond to human rights concerns from potentially affected stakeholders, PTT has established channels of communication for easy access, such as emergency hotline in all operational sites, coordination mechanism with community leaders, and PTT Contact Center via phone and website. The company also assigns community relation officers to regularly meet and consult with communities and related stakeholders on a monthly basis, to follow up on concerns and complaints, as well as monitor expectations and satisfactions of relevant stakeholders. All feedbacks obtained from these processes are used as inputs for project improvements and to find solutions to effectively minimize concerns among communities and stakeholders.