Sustainable Development Goals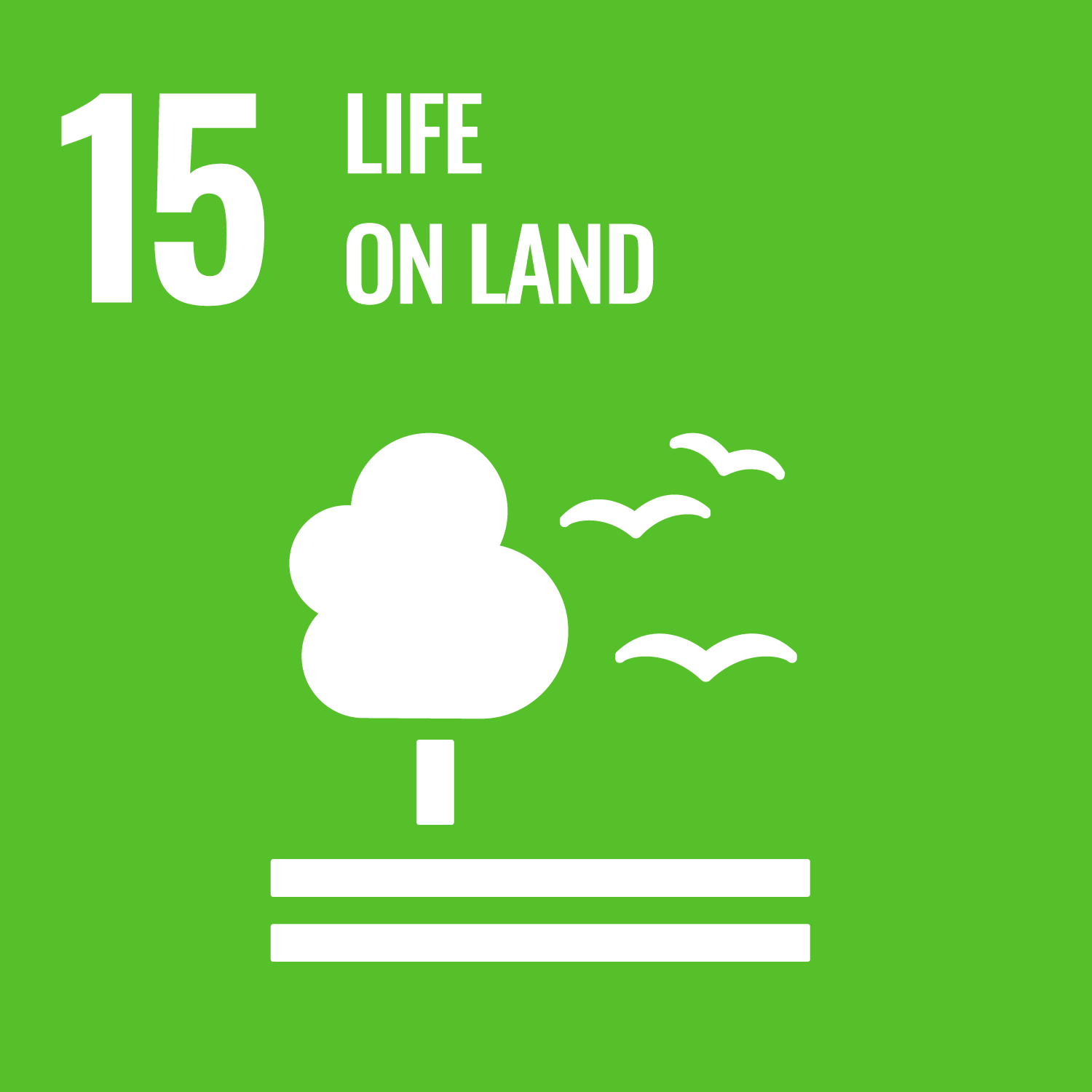 Opportunities and Challenges
Biodiversity is an integral part in creating equilibrium in the ecosystem. It creates stability in all lives' livelihood, including humans. Furthermore, it appears there is a growing trend in utilizing biodiversity as the foundation for economic growth and national competitiveness capacity. However, due to urbanization and industrialization at present, there are factors that can impact and threaten biodiversity, such as land use change, environmental deterioration, climate change, to name a few. This may result in sensitive and non-adaptive species gradually becoming extinct from natural resources. This may cause a chain of effects, damaging to lives and assets afterwards.
PTT is fully cognizant that business and operations throughout the business value chain, may induce both positive and negative impacts to the environment. This includes biodiversity and ecosystem services, which is something globally aware and increasingly prioritize.
Management Approach
Biodiversity Management
Biodiversity management is one of the material issues PTT has included in the PTT Group Quality, Security, Safety, Health and Environment (QSHE) Policy. The policy aims to promote, protect and minimize environmental impacts, while preserving biodiversity and the ecosystem. PTT incorporates biodiversity issues into its decision-making processes and business operations throughout the business value chain in order to avoid and minimize any potential risk which could negatively impact biodiversity and vulnerable ecosystem services within the project areas. To this end, the following approaches are implemented:
Integration of biodiversity risk management in accordance to PTT Group's QSHE Policy;
Management of areas with vulnerable biodiversity, or those in nearby, to ensure compliance with required regulations, standards, and work procedures established for PTT Group's ecosystem service and biodiversity management;
Demonstrate commitment to achieving a no-net-loss of biodiversity in scope of management control; and
Enhance biodiversity values, beyond the scope of operation areas and vicinity, through community investments or partnerships with external organizations, such as Mangrove Forest Ecosystem Learning Center, Wang Chang Forest Learning Center, to name a few.
PTT Group Biodiversity Statement
PTT's main objective for biodiversity management is the protection and mitigation of negative impacts to biodiversity. PTT has thus announced this PTT Group Biodiversity Statement, developed since 2013, and has received revisions to ensure compliance with present context. It was announced for re-enactment in 2020. The Statement serves as operational principles for PTT Group companies, ensuring streamlined biodiversity management across the entire organization.
PTT Group Biodiversity Statement GRI103-1
PTT Group Biodiversity and Ecosystem Services Standards
In 2016, PTT has prepared Biodiversity and Ecological Services Management Standard. It has reviewed the content to be in compliance with present corporate context, It was re-enacted in 2020, and helps clarify the processes outlined in the PTT's Biodiversity Statement. The management standard is aligned with international biodiversity standards i.e. International Finance Corporation Performance Standard 6 (IFC PS6), Biodiversity Conservation and Sustainable Management of Living Natural Resources (2012) and Business and Biodiversity Offset Program (BBOP), to name a few.
In addition, PTT has prepared the Biodiversity and Ecosystem Services Guidelines, whose content encompasses risk assessment approach, biodiversity loss assessment for new projects. It also lays out PTT's current biodiversity management practice, development of biodiversity action plans for PTT businesses, for operations poses potential of high biodiversity impacts. PTT monitors and evaluate results, conducts annual performance review against established Biodiversity and Ecosystem Service Management Standards, in tandem with set targets
Biodiversity Risk Assessment for Project Development and Operations
The primary objectives of biodiversity management is to prevent damages and minimize negative impacts on biodiversity, according to PTT Biodiversity and Ecosystem Service Management Standards. The Standard stipulated for analysis and assessment of biodiversity risks since project development stage, by integrating it as part of the studies and Environmental Impact Assessment (EIA) Report preparation. The aim is to define appropriate preventive and mitigation measures. Risk assessment is conducted for every stage of the project's life cycle, scanning for any risks that could potentially affect the biodiversity and ecosystem services. Furthermore, PTT conducts risk assessment across all of PTT Group's operation sites in Thailand in order to establish a clear PTT Group's overview strategic plan. The Plan should effectively align with strategic goals. Assessment factors used for risks towards biodiversity value covers geographical location, relevant environmental conditions, activity characteristics and types, as well as differing context, scope, and severity for each stage of the project's life cycle. PTT has made it compulsory for project of high-level risks to develop biodiversity action plans in order to mitigate potential impacts on flora, fauna and the environment.
Biodiversity Impact Assessment for Project Development
PTT requires all projects under PTT's operations to assess biodiversity impacts and establish corresponding mitigation measures and conservation activities to compensate and aim for no-net-loss of biodiversity. In addition, PTT requires that biodiversity impact assessments be conducted for projects that have expanded scope by incorporating research of biodiversity data into consideration and revision of impacts resulting from the project's modification. PTT supports its subsidiaries in implementing and complying with biodiversity management as a minimum standard.
Assessing impacts on biodiversity is part of the EIA report preparation required by Thai law and is carried out by external experts. This includes impact assessment as well as preventive and mitigation measures prior to and during the construction and during the operational period by considering impacts from the projects on biodiversity and ecosystem services within the project areas.
In addition, PTT supports communities and other stakeholder groups to share their suggestions, concerns, and preventive or mitigation measures for environmental impacts with PTT through stakeholder engagement activities or questionnaire surveys distributed during the preparation of the environmental impact assessment.
Environmental Impact Preventive and Mitigation Measures
PTT adopts environmental impact preventive and mitigation measures as a tool for controlling and verifying operations in order to prevent and mitigate impacts caused by its operations. Relevant functions must consider appropriate environmental impact preventive and mitigation measures for each area where the project will be developed, such as minimizing slash and burn areas, rehabilitating forest areas, selecting the least harmful transportation routes, and working with wild animal experts in case animal evacuation is required.
PTT communicates preventive and mitigation measures against environmental impacts, as well as conducting public hearings with stakeholders in every step of the environmental impact study as required by the Office of Natural Resources and Environmental Policy and Planning (ONEP). Meanwhile, relevant functions are responsible for preparing and submitting environmental impact preventive and mitigation measures, as well as performance monitoring reports to ONEP every six months for each stage of the project cycle.
PTT discloses the findings of the biodiversity studies of the project areas, the biodiversity assessment results, and the environmental impact preventive and mitigation measures of all projects. Stakeholders are informed of such information during stakeholder engagement activities.
Establishment of Government Policy Network and Biodiversity Knowledge
PTT collaborates with the Office of Natural Resources and Environmental Policy and Planning (ONEP) to formulate sustainable biodiversity conservation and protection strategy, including public relations and campaigns to educate and raise the awareness of the public with regard to the value and importance of biodiversity.
PTT has established the biodiversity knowledge network to serve as a channel for knowledge-sharing on biodiversity management to external parties, such as local communities, government agencies, academic institutions, private entities, etc. This was a collaboration with the Biodiversity Research and Training (BRT) Program.
Highlight performance
Progress


2020 Plan and Target
2020 Performance
2021 Plan

Reviewed 2020 PTT's Biodiversity Management Statement
Revised risk assessment tools to cover more factors with impacts
Developed Biodiversity Guideline

Enact PTT 2020 Biodiversity Management Statement
Revised biodiversity risk assessment tools
Biodiversity guideline

Biodiversity and ecosystem service management approach
Biodiversity risk assessment
Biodiversity work plan
Biodiversity loss assessment

Develop Biodiversity Action Plan for high-risk operational sites
In 2020, PTT has developed biodiversity assessment approach for No-Net-Loss. This helps PTT achieved the goals for No-Net-Loss. No-Net-Loss Assessment tools were developed, enabling baseline identification of each operation sites' biodiversity value. Additionally, models, illustrating impacts on biodiversity loss and forecast of offset management's results, have been developed. The model also illustrates losses that occur at pilot sites, which will be used for further implementation within PTT Group. This comprises Nakhon Sawan Natural Gas Pipeline Project. Following impact assessment and monitoring, it appears the mitigation measure's sufficiency remains high – with minimal impacts of limited significance.
PTT Group Biodiversity Target

PTT Group biodiversity target includes the percentage of biodiversity action plan (BAP) for all high risk assets and percentage of no-net-loss for new assets in high risk areas within 2024 for PTT Group oil & gas companies and in 2025 for other flagship companies.
Biodiversity Risk Assessment ​GRI OG4
PTT's survey of biodiversity risk assessment scopes to only PTT operational areas in Thailand, focusing on assessing potential risks on each site's biodiversity values. The assessment bases from distance of the location from protected areas, or biodiversity hotspots, also looking into the types and impacts of the potential risks. In 2020, PTT has made additional updates to PTT's biodiversity risk assessment tools, ensuring it covers more factors. PTT has assessed and reviewed risks in 5 sites under PTT's operation. One high-risk area has been identified, 'Khanom Natural Gas Separation Plant.' In Nakhon Sri Thammarat. Biodiversity Action Plan (BAP) was conducted to mitigate operation's impacts regarding biodiversity performance. Operation plan consists of work plan details, objectives, duration and responsible functions for each step. Furthermore, PTT has conducted additional risk assessment of natural gas pipelines. Presently the assessment results are being reviewed.
| | Number of sites | Area (Hectares) |
| --- | --- | --- |
| Overall | 5 | 208.16 |
| Assessment | 5 | 208.16 |
| Exposure | 1 | 7.52 |
| Management Plan | 1 | 7.52 |
Biodiversity Survey for Biodiversity Database
PTT has conducted biodiversity survey to explore diversity and numbers of flora and fauna surrounding PTT operation areas. The surveys enables analysis and collection of biodiversity data for each operation areas for development of baseline biodiversity data. PTT also creates work plan regarding environmental management in order to restore and strength biodiversity, as well as preservation of local environment. The species surveyed include avians, mammals, reptiles, amphibians, insects, aquatics, plants, and crustacean. From the surveys, operational areas selected based on risk assessment and community's issues, comprise Khanom natural gas separation plant, Phuket aviation depot, Song Khla petroleum storage, Saraburi oil storage, and Pitsanulok oil storage. The project's consultants, as assembled by Bird Conservation Society of Thailand (BCST), include universities and NGOs.
Following the survey around Khanom natural gas separation plant, an endemic biennial plant distinctive to Thailand was discovered. It was titled Muang-Khanom (Microchirita involucrate (Craib) Yin Z.Wang var.gigantiflora C.Puglisi). It was discovered only in Khanom district, Nakhorn Sri Thammarat. Furthermore, a new family of nocturnal butterfly was also identified around Saraburi Storage. Its scientific name was Gatesclarkeana thailandica. It was endemic only Thailand.
Collaboration with Biodiversity Network
In terms of biodiversity performance, PTT has collaborated with a platitude of external organizations, such as Forestry Bureau, Ministry of Natural Resource and Environment, Marine and Coastal Resource Bureau, Bird Conservation Society of Thailand, Kasetsart University, Songkhla Nakarind University, National Science of Technology Development (NSTDA), Siamensis and Save Wildlife Thailand, to name a few. This includes local communities. PTT has been conducting projects on biodiversity exploration to study and consolidate data on various fauna and flora around PTT's operation sites in different seasons. This includes organizing seminars on biodiversity exploration around PTT's operation sites. This allows community representative and local agencies to share their opinions. Furthermore, PTT has also organized Forest Protection Volunteers in collaboration with Royal Forest Department and Department of National Park. In 2020, there are trainings to expand Forest Protection Volunteers for community's youths around reforestation areas PTT planted. This encompasses scale-up to activities to protect and preserve forest areas, to promote and conserve natural resources. Activities comprise creating fire barriers around the forests, construction of dams, waste collection, to name a few. This is part of the efforts to promote and protect biodiversity and ecosystem sustainably.
External partner/institutions
Description
Collaboration in biodiversity
management / assessment
Biodiversity Management Department, Ministry of Natural Resources and Environment

Developed draft of Biodiversity Act ...
Develop Thailand's master plan for biodiversity management

Reviewed and exchanged information to develop management framework, biodiversity statement, and PTT biodiversity management work plan. This links to Thailand Biodiversity Act. ... and Thailand's Master Plan in Biodiversity Management.

Working Committee on rare and endangered marine lives

Develop monitoring and assessing approach for marine lives, which are protected species, rare and endangered species.
Develop conservation and management plan for marine lives, which are protected and endangered

Provided information on rare and endangered marine lives, to be used for biodiversity risk assessment in PTT operation sites. This includes Khanom Gas Separation Plant, as well as providing supporting information for development of conservation and management plan of protected and endangered species

Department of Forestry
Department of Marine and Coastal Resources
Bird Conservation Society of Thailand
Kasetsart University
Prince of Songkla University
National Science and Technology Development Agency (NSTD)
Siamensis
Save Wildlife Thailand

Organizations with specialization in biodiversity, such as rare wildlife, endangered animals, to name a few. There is also knowledge in promoting natural resource conservation.

Support experts in providing consultation and information in biodiversity risk assessment
Joined biodiversity exploration project to study and consolidate information on fauna and flora around PTT operation sites.