Sustainable Development Goals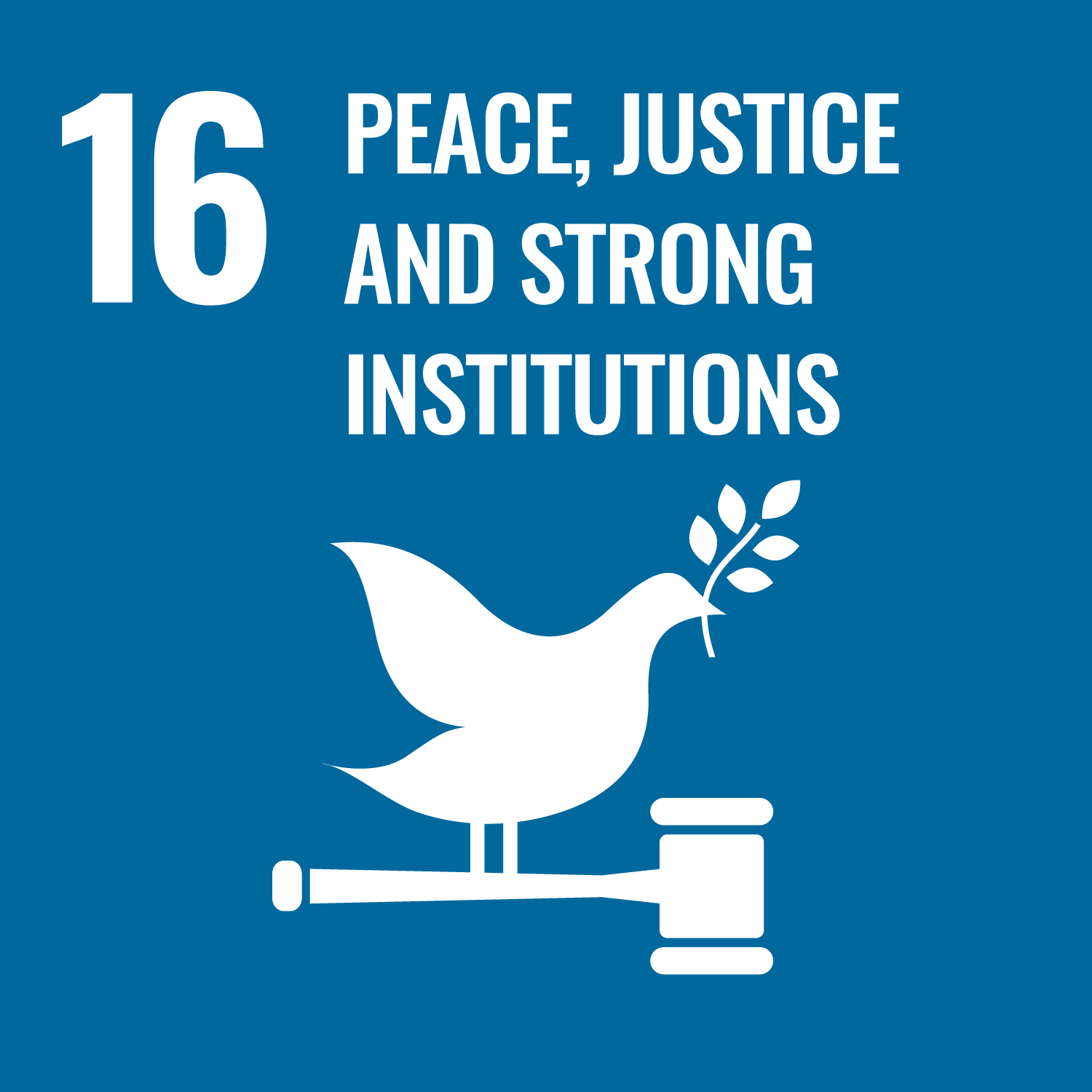 Opportunities and Challenges
Being the national energy company with status as a state enterprise and a listed on the Stock Exchange of Thailand, PTT realizes its mission of having a good and transparent management with equitable treatment of all stakeholders. The Company aims to develop itself as a role model in corporate governance, compliance with laws, rules, regulations, notification, the corporate governance principles of listed companies issued by the Securities and Exchange Commission (SEC) and the Stock Exchange of Thailand (SET), and the practice guideline of the State Enterprise Policy Office SEPO). PTT believes that the corporate governance principle is a management system that will create fairness and confidence among all stakeholders, enable the Company to have appropriate, efficient and effective operations, and promotes the corporate competitiveness and sustainable growth. The honest and transparent operations as well as Anti-Fraud and Corruption of all forms practice are the key factors promoting the Company's competitive advantages in both short and long term. Such practice will also increase confidence among the investors, financial institutions and business partners to work with the Company and jointly increase value for the shareholders and balanced benefits of all stakeholders.

The objectives of internal control and risk management are to create trust among stakeholders towards PTT's operational efficiency, effectiveness, accountability, and compliance to related laws, rules and regulations. The Company has in place the internal control system that is sufficient and appropriate for the assessed risk level. The Company considers the importance of the internal control, both at corporate and operational levels, which is in line with international standards related to internal control, the assessment of the sufficiency off internal system issued by the Stock Exchange of Thailand (SET), and the guideline on appropriate internal control measure issued by the National Anti-Corruption Commission (NACC). PTT has regularly prepared the summary of its internal control system's efficiency and effectiveness assessment and submitted it to the regulating organizations on annual basis.


Management Approach
Fair PracticesGRI 102-17 , GRI 205-3
PTT Board of Directors prioritizes conducting businesses on the foundation of honesty, fair and traceability, as well as Anti-Fraud and corruption, including anti-bribery. Therefore, PTT is committed in driving the business according to good corporate governance, Ethical Standard and Code of Business Ethics, and PTT Group's Sustainability Management Framework. In order to continuously improve efficiency. PTT Board of Directors is well aware that transparent and ethical business establishes trust for all groups of stakeholders, and facilitates corporate sustainable development.

PTT has in place a grievance policy to receive, address and resolve grievances in a timely manner, ensuring fairness and transparency as well as confidentiality of the information provider' grievance provider. Employees who report a grievance can track its status visa the employee relations grievance system. The communication channels through which external parties can submit regarding violations of the Code of Business Ethics including the Customer Relations Center, 1365 Contact Center, Corporate Communications Function, the Office of the President and Corporate Secretary, Corporate Governance Regulation and Promotion Department and the Investor Relations Department.

Additionally, PTT has established a channel for "Whistleblowing against Corruption' at www.pttplc.com and through "PTT Voice" (pttvoid@pttplc.com) as a means for stakeholders to communicate if they witness or encounter any corruption-related behaviors in the organization. Reported information are directed to the responsible functions to process per established procedures. PTT has prepared the PTT Public Company Limited's Rule on Complaints and Whistleblowing against Fraud, Malpractice, Misconduct, and Non-Compliance with Laws or Organizational Regulations B.E. 2562 (2019) The measures enable formulation of appropriate criteria and practice regarding complaints, whistleblowing and non-compliance against laws or corporate rules alike. This ensures transparency and streamlined approach throughout the entire organization. PTT has also implemented measures to protect any complainant or whistleblowers who provided relevant information and evidence on the matter.
In 2020, the Company received six complaints through the whistleblowing channel. The investigation process, however, showed that no cause of corruption was found in five complaints and the remaining one case, which is about non-compliance with PTT's regulations, rules and notification, is under process

The Company also found five cases of disciplinary offenses of employees, which infringed the Code of Ethics caused by carelessness, not telling the truth, breach of PTT's rules, regulations and orders, intended delay in operations which caused damages to PTT. The Company has investigated and punished the persons according to the personnel management regulations.
Code of Conduct
The Corporate Governance, Ethical Standards and Code of Business Ethics Handbook, or CG Handbook, is a set of guidelines defining the standards of good business ethics to which PTT's employees are required to adhere. The CG Handbook covers good corporate governance practices and provides clear explanations of shareholders' rights, responsibility to stakeholders, and transparent disclosure of information and responsibilities of the Board of Directors, including guidelines for the Business Code of Conduct and Ethics. It extends to cover legal compliance; international human rights principles; prevention of money laundering; political neutrality; interests and conflicts of interest; confidentiality and use of insider information; treatment of customers and consumers; Fair Business Competition; procurement and treatment of suppliers; community, social and environmental responsibility; treatment of employees; treatment of creditors; internal controls and auditing; receiving and offering customary gifts, assets, or other benefits; safety, health and the environment; intellectual property and use of information technology; grievances related to corporate governance; and compliance with the no-gift policy whereby all related parties are required not to offer gifts to any PTT employees in all occasions. All Board of Directors, executives and employees must sign an acknowledgment of the CG Handbook in order to demonstrate a commitment to embracing and applying best practices. In this way, the CG Handbook acts as a disciplinary guideline all employees strictly adhere.

The Corporate Governance Committee is tasked with the responsibility to grant policies and management approach regarding corporate governance, operational risk management and internal control, legal and regulatory compliance, Anti-Fraud and corruption, including anti-bribery, sustainable management, as well as society, community, and environmental management. This ensures that PTT has an active campaigning to promote the importance of adhering to good corporate governance principles. PTT organizes for Governance Risk and Compliance Management Committee (GRCMC), of which senior executive vice president serves as the chair. The said committee serves as the focal point in PTT's Anti-Fraud and Corruption Operation Center (ACOC) in State Enterprises, which responses to the state's policy and working directions. The Center works to ensure integrated approach in instilling values, preventing and tackling corruption within PTT. good corporate governance and Corporate Ethics Department establishes PTT Annual Action Plan for good corporate governance and Anti-Fraud and Corruption. This action plan has been approved by Corporate Governance Committee and PTT Board of Directors. Relevant functions then take actions according to the plan and policy. The functions also organize various forms of activities to foster responsibility per good corporate governance principles to the Board, Management, employees and relevant personnel. These activities comprise GRC Camp, PTT Group CG Day, CG Tips communication, CG Do & Don't, CG Lesson Learned through E-Mail on "CG Intranet" available in PTT Intranet. There is also "CG Channel" available on PTT Workplace website. Learning through CG E-Learning system is also available for employees in all areas as a channel to thoroughly study good corporate governance principles and code of ethics on their own. E-Learning uses a number of simulations to foster awareness on the importance of ethics in businesses. Employees can apply what they have learn in their routine practice, as appropriate. There are also evaluations at the end of each lesson. Furthermore, ethics in business is recognizes as one of the employees' competency, affecting their career advancement and annual performance evaluation.
Anti-Fraud and Corruption GRI 415-1
PTT has implemented PTT Anti-Fraud and Corruption Policy, as well as No Gift Policy in all season. PTT develops systems, mechanisms and measures to govern personnel's duties. PTT also creates atmosphere and control environment to emphasize on morals and ethics at works, per good corporate governance principles; promote refutation against all forms of corruptions, direct and indirect. PTT focuses on raising awareness tangibly and continuously at all levels, from the Board, Management, employees, and relevant personnel. PTT Anti-Fraud and Corruption policy's scope addresses the following definitions.
Fraud:

refers to any actions taken for benefits through illegal means, either for themselves or others. The actions include the following.




Asset Misappropriation

Financial Statement Fraud

Corruption comprises refer to the act of giving, proposing/ committing/ promising to give, receive or request for payments, assets or other benefit inappropriately. Such action maybe towards the state officials, private personnel, or relevant personnel, whether directly or indirectly. The action resulted in aforementioned individuals taking actions beyond their duty, or neglecting it – in order to attain or preserve inappropriate business or other benefits

PTT Personnel:

refers to the PTT's Board, Management and all level of employees

PTT Related Personnel:

refers to workers, representatives, subsidiaries, or any personnel working for or on behalf of PTT, whether they have the authority in this capacity or not.
For the second consecutive term, PTT is a member of Private Sector Collective Action against Corruption (CAC) having had membership since 2014. This affirms that PTT has been acknowledged by external functions for the capacity in transparent and traceable business operations; committing to fight against all forms of corruptions.

Furthermore, PTT is a politically neutral organization. It is not PTT's policy to provide financial support to any political party. PTT is transparent in providing charitable donations and sponsorships, as stipulated in its Anti-Fraud and Corruption measures covering the formulation and review of Anti-Fraud and Corruption policies, internal audit reporting, relevant performance reviews, Fraud and Corruption Risk Assessment and appropriate reviews of Anti-Fraud and Corruption measures. PTT actively communicates with stakeholder groups in order to prevent potential incidents of Fraud and Corruption in the organization and to build trust amongst external parties who can be confident in the organization's reputation for transparency.
TransparencyGRI 102-25
PTT maintains transparency in every aspect of its operations. Regarding financial aspects, PTT reports its financial performance in the Annual Report and Annual Information Registration Statement/ Annual Report 2020 (Form 56-1 One Report), which is required to be submitted to the Securities and Exchange Commission (SEC) on a yearly basis. In addition, to evaluate employee compensation, PTT defines the compensation criteria for employees, top management and the Board of Directors, which are published in the Annual Information Registration Statement/Annual Report 2020 (Form 56-1 One Report). For internal control, PTT conducts Control Self-Assessment (CSA). There is internal control assessment integrated with comprehensive risk assessment, addressing compliance to laws, regulations, rules, operational risks, and GRC Assessment-related risks in every process and support process. In addition, performance is reported through Annual Information Registration Statement/Annual Report 2020 (Form 56-1 One Report), which are verified by an external organization. These practices reflect PTT's good corporate governance and transparency.

PTT requests that all employees disclose any conflict of interests, whether their own, their relatives, or any related individuals, that may contract PTT's interests. This is reported through an annual conflict of interest report, and upon an incidence. Furthermore, good corporate governance and Corporate Ethics Function consolidates information and prepare a summary report on conflicts of interests for the highest Management of each business line. The report is also presented to Corporate Governance Committee annually. Additionally, the information serves as a baseline information when there are grievances on conflicts of interests at work. It also aids supervisors in appropriate task allocation to employees, according to principles of transparency, business ethics on conflicts of interest and stakeholders.

Additionally, PTT has also deployed technology to aid in monitoring transparency and conflict of interests in the work process since 2014. PTT develops Continuous Control Monitoring and Auditing System (CCMS), which will report if findings meet criteria on suppliers and employees' relations. The system summarizes for supervisor for verification and development of appropriate next steps. This Monitoring and Auditing system is reviewed and improved annually. In 2020, there have been further development per users' feedback, as follows.
Improve condition on reporting the detailed findings from the system to support quick information review
Merge identification information as founded from CCMS with reported information of employees in the conflict of interest systems, so that information review is quick and accurate
Performance
Progress
Work plan
2019 Target
2020 Target

2020 Performance

2021 Target

Development of PTT and PTT Group Anti-Fraud and Corruption Policy

Completed the review PTT Group's and PTT's Anti-Fraud and Corruption Policy and introduced on 21st June 20219
Implemented PTT Group's 2019 management approach to strengthen governance of subsidiaries within PTT Group for mutual growth, transparency and sustainability

Improve requirements and practice guideline on grievance and whistleblowing against corruption, so that the process is more effective and reassure stakeholders from all sectors

Improve requirements and practice guideline on grievance and whistleblowing against corruption, which is in the approval process of related committees

Review and implement

Corporate Governance, Ethical Standard and Code of Ethics manual (CG manual)
PTT Group's and PTT's Anti-Fraud and Corruption Policy
Fraud and Corruption Risk Management Guidebook

Certification as a member of the Private Sector Collective Action Coalition Against Corruption

(

CAC

)

Communicate and drive business partners to join in the Coalition via supplier seminar programs

Recertify for the second term of membership in CAC
Join CAC Change Agent to promote suppliers' acknowledgement and participation in CAC

Complete the application for 2nd Re-certification of membership in CAC
Communicate with business partners to join in the Coalition via annual supplier seminar programs

Pass the 2nd Re-certification for membership in CAC
Code of Conduct
Effective communication on good corporate governance principles and business ethics results in increased employee understanding on CG and their ability to apply such principles into their work. Given this, PTT would be able to operate business ethically, under a strong governance structure, and reduce risks from violations of business ethics.
Training about Business Code of Conduct and Ethic, including "good corporate governance Knowledge" Course for all employees during orientation. There is a CG E-learning system deployed as a learning media on good corporate governance and Anti-Fraud and Corruption practice. This is available for all employees at all sites. The course uses stimulated scenarios to help employees learn, gain greater awareness. Employees are able to apply their learning in practical situations as appropriate. There is also a test to evaluate employees' understanding upon completion of the program. In 2020, the Company made CG E-learning part of the corporate KPIs on non-compliance for both executives and operational level employees, requiring executives and all employees to participate in CG E-learning.
Communicate at meetings and various seminars, such as video clips of PTT's directors and executive interviews, lectures in the MD on Board, Secondment Development Program and On Boarding Compliance Program Reunion, etc. Such communication creates awareness for management and all employees on good corporate governance, risk management, and compliance to the laws, regulations and rules.

The topic also emphasizes on adherence to CG principles, as well as Anti-Fraud and Corruption measures.

GRC Camp is ongoing for the 7th consecutive year to develop PTT employee representatives selected to be the business line's GRC Agent. They communicate and share knowledge on good corporate governance, risk management, compliance to laws, regulations and rules, to colleagues. They apply knowledge for routine work as appropriate. In 2020, Virtual Camp (onsite/online) format was organized. Executives participated by sharing knowledge and experience on GRC with the participating employees and encouraged them to apply as appropriate. At the same time, corporate culture on business integrity was instilled among employees through special guest's lecture.
PTT Group CG Day is ongoing for the 12th consecutive year, reflective of PTT's priority to align corporate governance approach of PTT Group's own subsidiaries. PTT appoints PTT Group Corporate Governance Committee

to achieve this. PTT Group has a target to elevate the standard of good corporate governance in PTT Group to be at the same level. Similarly, the target includes aligned development of work plan, proactive public relations through "PTT Group CG Day" continuously. Such activities serve to campaign, promote and disseminate good corporate governance of PTT Group's flagship companies, such as PTT, PTTEP, GC, TOP, IRPC, GPSC and OR to stakeholders in all sectors. Stakeholder comprise Stock Exchange of Thailand (SET), Securities and Exchange Commission (SEC), Thai Institute of Directors (IOD), Office of Ombudsman, suppliers, the Board, management, and PTT Group employees.
| | |
| --- | --- |
| Employees' CG understanding | Employees' Satisfaction on CG Communication |
| | |

Anti-Fraud and Corruption
Every PTT employee can become a whistleblower (person notifying any unusual ongoing) to ensure transparency, good corporate governance, and corporate sustainability. In 2014, PTT announces PTT's and PTT Group's Anti-Fraud and Corruption Policy to be implemented across PTT for Management and employees for acknowledgement and to uphold as standard of practice. The policy is disseminated to all stakeholder groups for their acknowledgement and practice. PTT also takes on Certification Process for Private Sector Collective Action Against Corruption (CAC) to certify PTT's status as member of CAC. The process consists of "Self-Evaluation Tool for Countering Bribery" to assess the strengths, comprehensiveness and effectiveness of PTT's Anti-Fraud and Corruption policy and measures. PTT was certified for the second consecutive term on 17th May 2018. Presently, PTT is committed to inviting and promoting business partners, such as suppliers, sales representatives, to be part of the coalition, in order to remove corruption risks in its entity from the supply chain.


Awards
| Year | 2017 | 2018 | 2019 | 2020 |
| --- | --- | --- | --- | --- |
| The NACC Integrity Award | The NACC Integrity Award – Consolation Prize | The NACC Integrity Award | The NACC Integrity Award | |
| Integrity & Transparency Assessment: ITA | Excellent level | Excellent level | Level A | Level A |
| Other awards | State enterprise with excellent development towards ethical and transparent operations: 2 Excellent Awards, including Integrity Culture and Work Integrity | Excellent Ethics Award from Thailand's Chamber Commerce's Honorary Ethical Award | - | - |
The NACC Integrity Award and ability to maintain excellent level at the Integrity & Transparency Assessment of government agency by the National Anti-Corruption Commission (NACC) are PTT's pride and testimony of the Company's commitment to operating business by adhering to transparency and integrity, which is beneficial to corporate development and becomes trusted by all stakeholders.
TransparencyGRI 102-25
PTT requests all employees to disclose a conflict of interest report annually and notify suspected conflicts of interest to their supervisors. If a conflict is found, supervisors would develop corrective action plans, for example, by defining temporary measures or rotating employees in order to reduce potential risks.
Percentage of employees completing their conflicts of interest reports