Sustainable Development Goals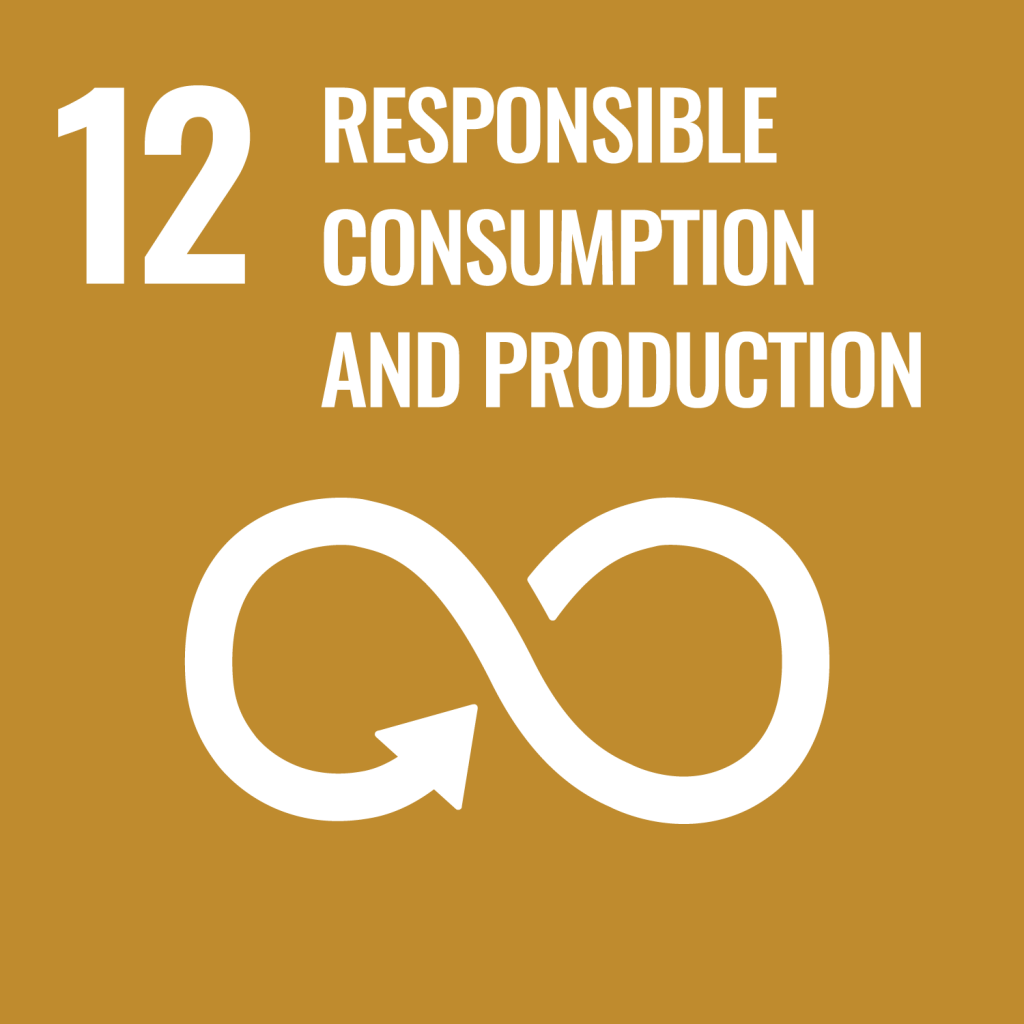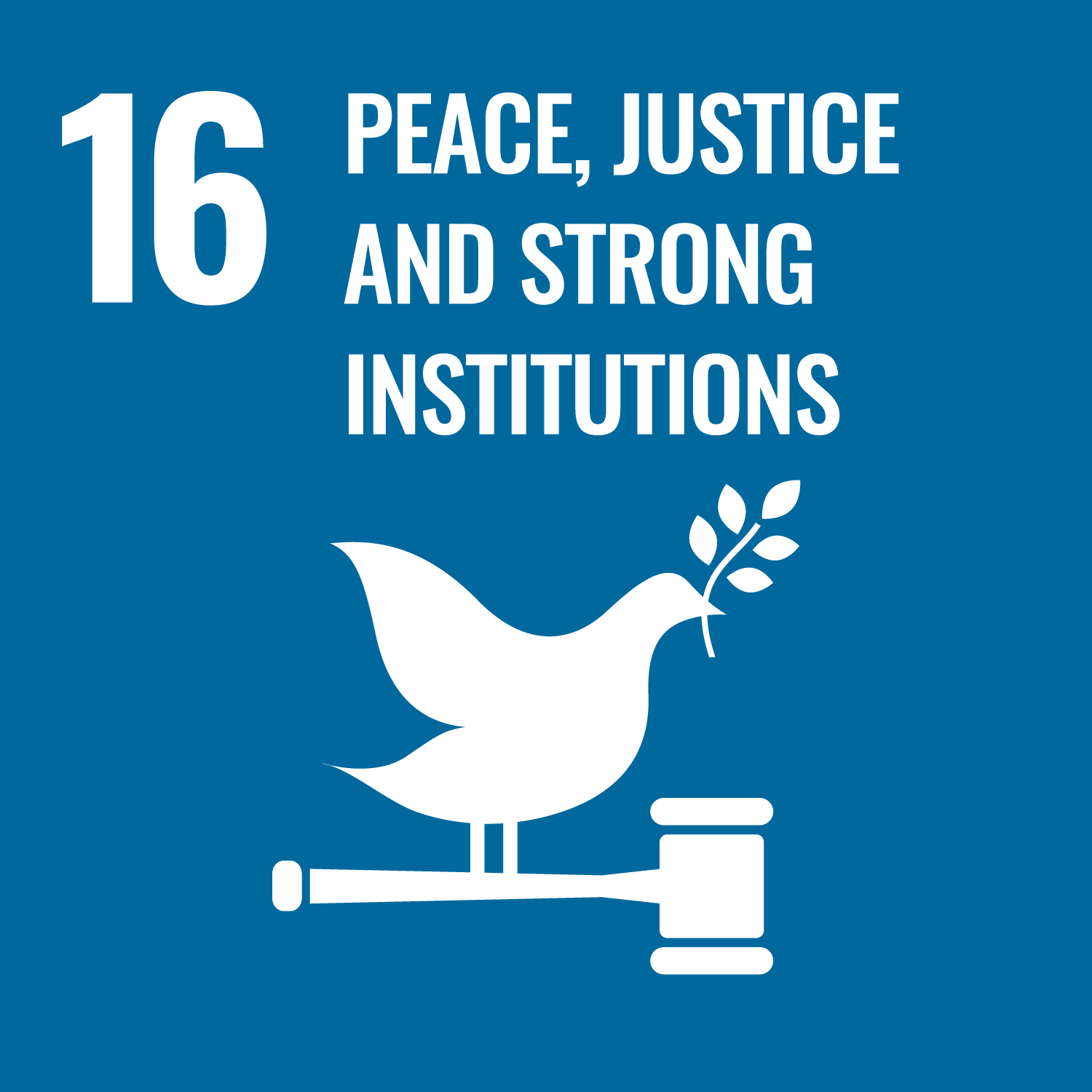 PTT's Stakeholder Engagement Strategic DirectionGRI 2-29
PTT's stakeholder management vision is "to be an organization that Thai people trust, rely on, and join in driving the future towards a clean society and environment." We are committed to fulfilling expectations of all stakeholder groups, whether they are government agencies, communities and society, investors, customers, trade and business partners, PTT's directors and employees. Our mission is to create understanding and to build confidence in both current and future buiness operations, to expand the scope of our engagement, to appropriately respond to expectations on relevant issues, and to strengthen stakeholder relationships and networks.

Based on the aforementioned vision and mission, PTT's strategic direction for stakeholders is defined as "Recognize, Reach, Rely." We strive for stakeholders to understand and recognize their roles, have confidence in our business activities, and be part of the network that supports our operations. The scope of this strategic direction extends to involved parties, both current and in the future, in PTT's operation sites and surrounding areas, whether managed by PTT or not, including joint venture projects.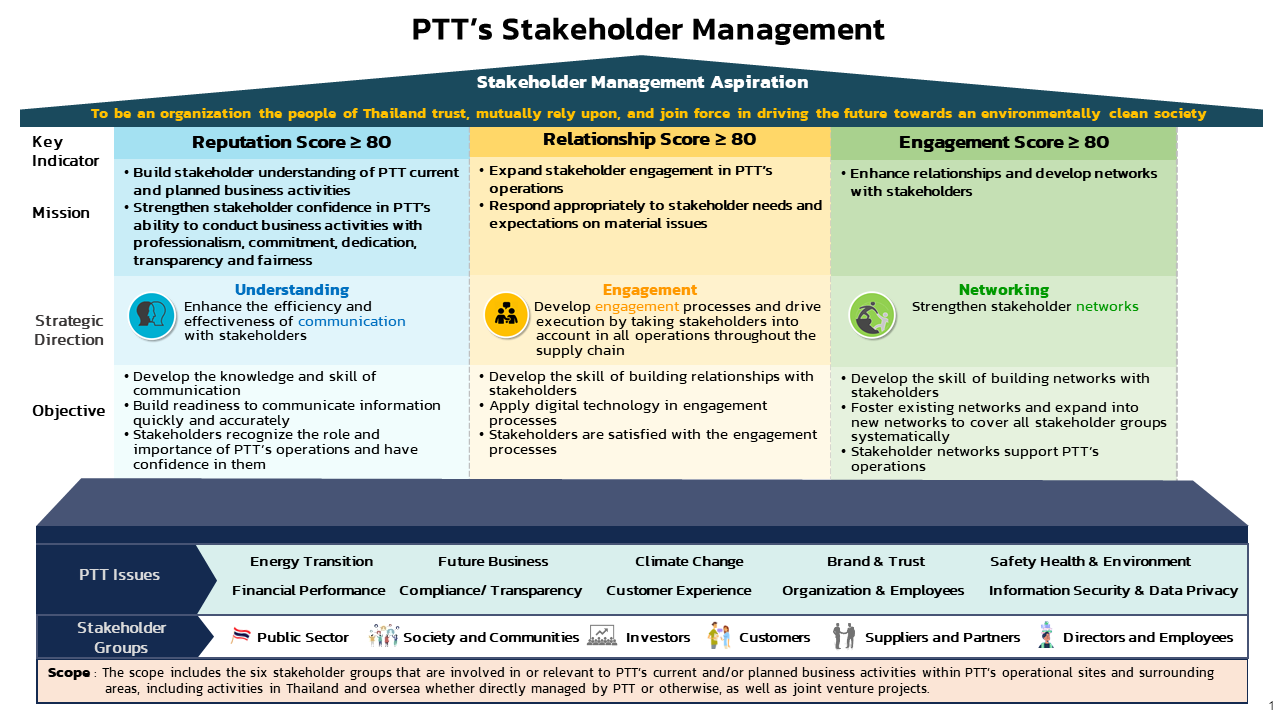 Management Approach
Stakeholder Engagement and Relationship-Building
PTT's stakeholder management approach is in accordance with the AA1000 Stakeholder Engagement Standard (AA1000SES) and State Enterprise Assessment Model (SE-AM). Those who have their roles and responsibility in stakeholder management are as follows:
Responsible persons in the organizational level (Department of Stakeholder Management) set policies and strategic directions on stakeholder management and regulate procedures to build organizational relationship.
Responsible persons in the business lines clarify and give policies, strategic directions and stakeholder management strategies to the operational units for implementation and conclude a plan to establish relationship in the business line level.
Responsible persons in the operational units draw up relationship-building plans and define indicators (Leading KSI/Lagging KSI) to implement, oversee, follow up and evaluate performances in building relationships with stakeholders.
Monitoring and performance reporting are conducted in both organizational level and business lines. The performance report on issues monitored in the organizational level is submitted to the Corporate Plan and Risk Management Committee (CPRC), PTT Management Committee (PTTMC) and Risk Management Committee (RMC) on a quarterly basis for scrutinizing and giving opinion and approval. The performances in relationship building of business lines are also reported to high-level executives of the business lines on a quarterly basis.
Categories of PTT's StakeholdersGRI 2-29
PTT's stakeholders are parties impacted by PTT's business operations, either positively or negatively, or parties who may influence PTT's business operations in the past, present, and future. Stakeholders can be categorized into six main groups as follows:

Public Sector refers to policymakers or regulators, state enterprises, Courts of Justice, independent organizations, the House of Representatives and House of Senate, and international organizations.
Community and Society refer to communities surrounding PTT's operation sites, the general public, youth, academic institutes, the press, local politicians, and nongovernmental organizations (NGOs).
Investors refer to shareholders, bondholders, legal entities and retail investors, securities firms, and securities analysts.
Customers refer to those who are businesses (B2B), consumers (B2C), or government (B2G).
Suppliers and Partners refer to suppliers, distributors, partners, and partnerships or business alliances.
PTT directors and employees refer to PTT directors, management executives, and staff.
Procedures in Building Relationship with PTT's Stakeholders
PTT collects and identifies issues, needs, expectations, concerns of stakeholders. The process starts from value chain analysis of all three main business groups and 15 supporting business lines to identify internal and external stakeholders and issues related to needs, expectations and concerns of each stakeholder group.

Business lines will use stakeholder groups and issues in the organizational level as the guidelines for considering stakeholders and issues of business lines.

Other information is added for consideration as follows:
Stakeholder survey, conducted at least once a year
Key issues on sustainability from assessment of impacts on economy, environment, people and human rights
Analysis on guidelines, trend and global direction
Annual business plan
Recommendations from Enterprise Risk Management Committee (ERMC)
After receiving the results from analysis on needs, expectations, concerns of stakeholders and value chain analysis, each business line formulates plans to building relationship with stakeholders by defining goals, scopes, stakeholders, issues and indicators. It reports progress to the executives of each business line on a quarterly basis for review, recommendations and improvement. The overview of each key issue that needs monitoring in the organizational level and updates on building relationship with stakeholders is summarized and submitted to the Enterprise Risk Management Committee (ERMC), PTT's ad -hoc committee on a quarterly basis. In 2022, there were 10 issues namely;
Brand & Trust Brand refer to stakeholder perception on the company or its goods and products. Trust means credibility, trust, and confidence in the organization's business operations.
Climate Change refers to variation in earth's climate, caused by nature factors or human activities
Compliance/ Transparency refer to complying with law and regulations and transparency in revealing both positive and negative information in business operations.
Customer Experience refers to interactions between customers and the organization as well as business relationships, which includes raising awareness, training, providing support and service and purchasing.
Energy Transition refers to energy restructuring.
Financial Performance
Future Business such as Renewable Energy, Energy Storage, Electricity Value Chain, Hydrogen Technology, Life Science, AI & Robotics
Information Security & Data Privacy by giving protection and obeying the law
Organization & Employee refers to development of organization and employees.
Safety Health & Environment refer to security, safety, occupational health and the environment

Value Chain Analysis of Each Business Line in 2022 can be concluded as follows:
Guidelines for Building Relationship with Stakeholders GRI 2-29
The criteria PTT uses in selecting major issues for monitoring in the organizational level are based on analysis, score calculation and prioritization of issues from 15 business lines (Bottom-up) and the analysis from the organization's perspective (Top-down).

In 2022, three relevant aspects were considered including government policies, organization's vision and needs and expectation of stakeholders. Four key issues monitored in the organizational level were 1) Future Business 2) Climate Change 3) Safety Health & Environment 4) Brand &Trust.

Relationship building plan was drawn up for example the safety health &environment issue of the gas separation plant 7. The major stakeholders were local communities located near the plant and along the gas pipeline. There were issues about safety of life and property, reduction of impacts on environment from the construction and standard control. PTT has the plan to listen to the opinions of local people and state agencies to conclude their concerns and recommendations and to give them updates on the project's progress to raise awareness among stakeholders. PTT has various communication platforms suitable for stakeholders. Information is provided via main channels, comprising 1) Mass Media like television, radio, print media 2) Social Media by selecting contents that suit users of Website, Facebook, Instagram, YouTube, Twitter, Line, TikTok, PTT Insight Application 3) Other Media Platforms like press briefing, interviews, academic conferences.
Key Stakeholder Engagement Performance
Details of stakeholder relations performance in 2022
Table of stakeholder relations performance GRI 2-29, 3-1
Stakeholder Engagement Result
Stakeholder Engagement Score


Stakeholder management results are derived from the stakeholder engagement score, with a target to achieve an "Excellent Level" (≥80 points). PTT's performance from 2019 to 2022 averaged to 85 points, which outperforms the target, reflecting PTT's overall ability to respond to stakeholders in a consistent and highly effective manner.