Sustainable Development Goals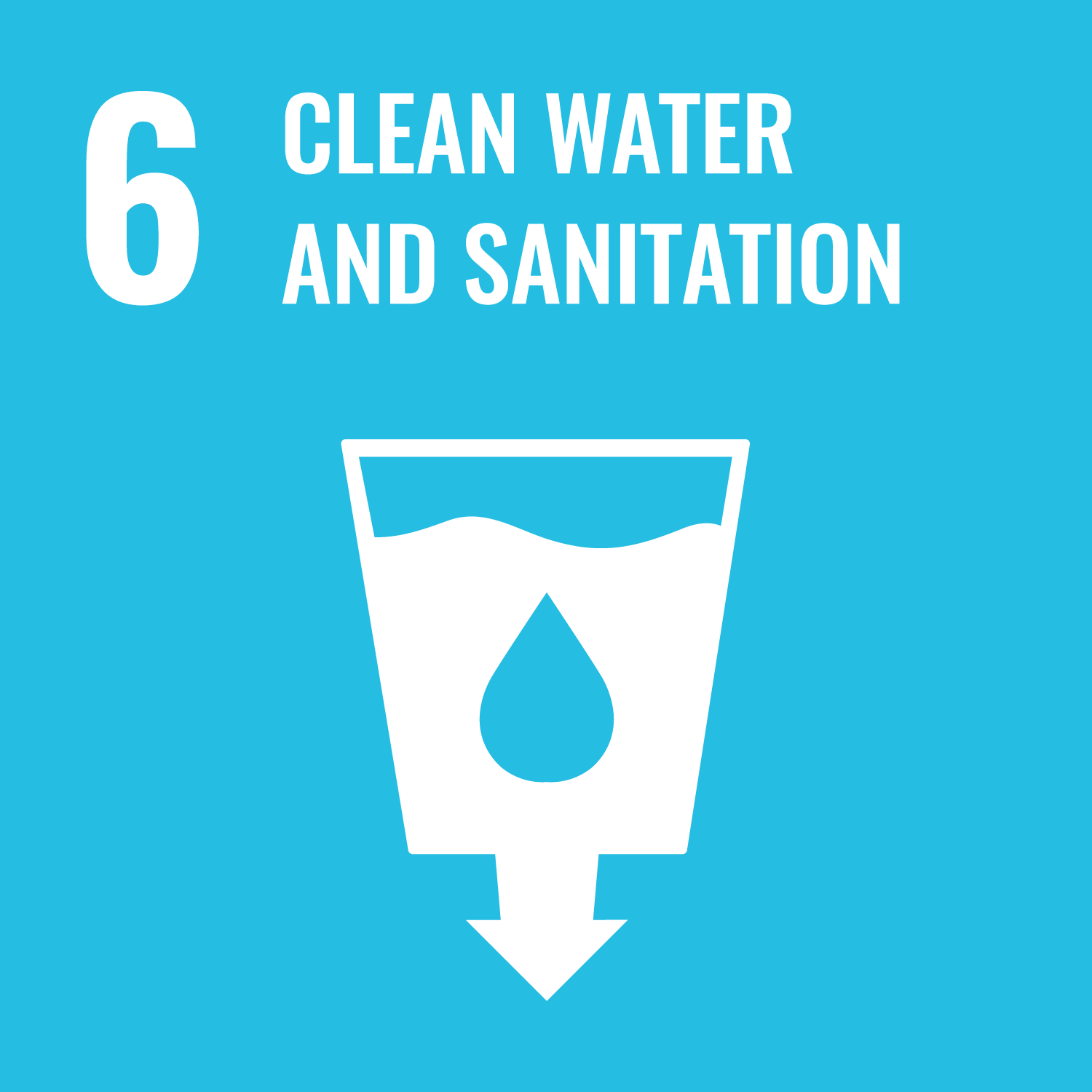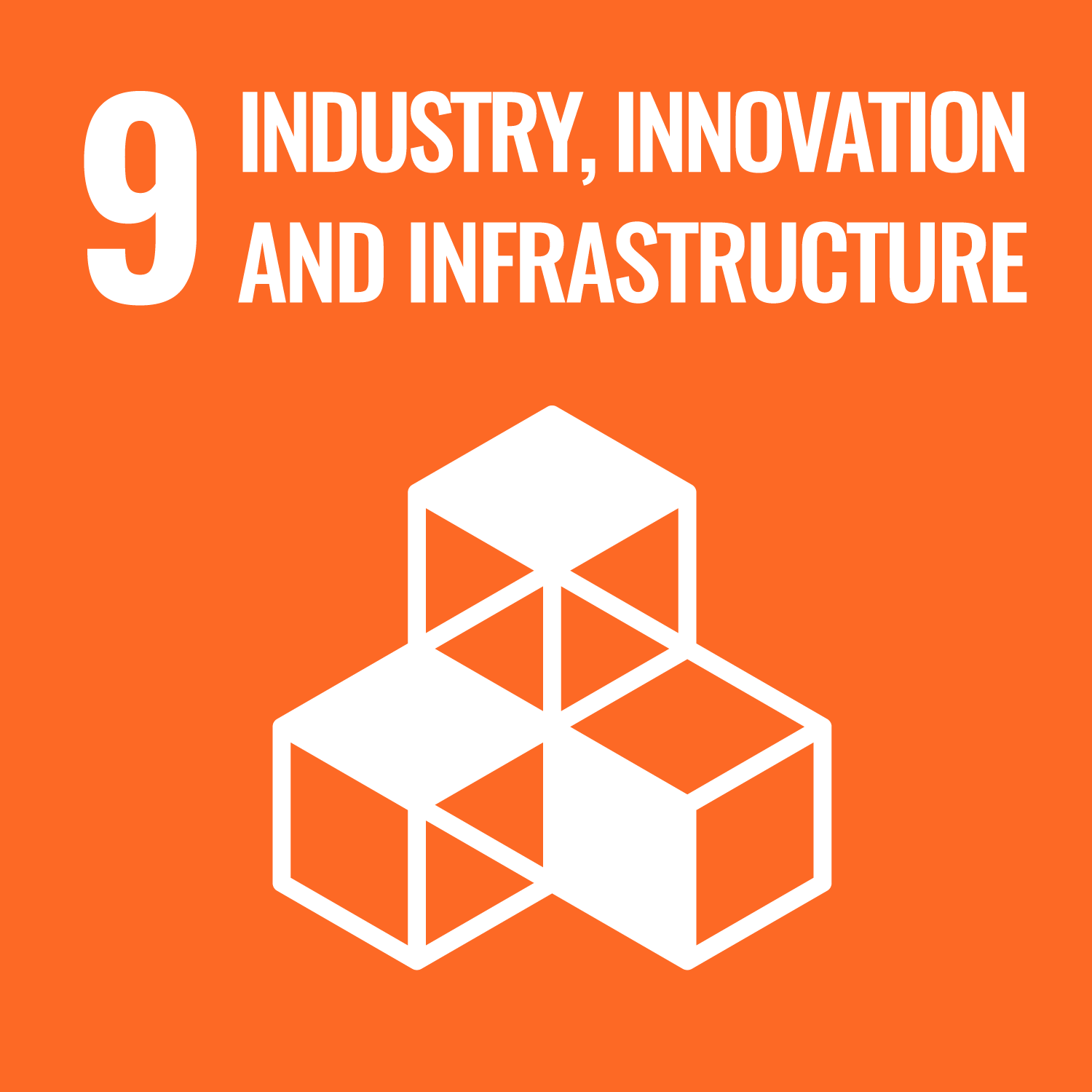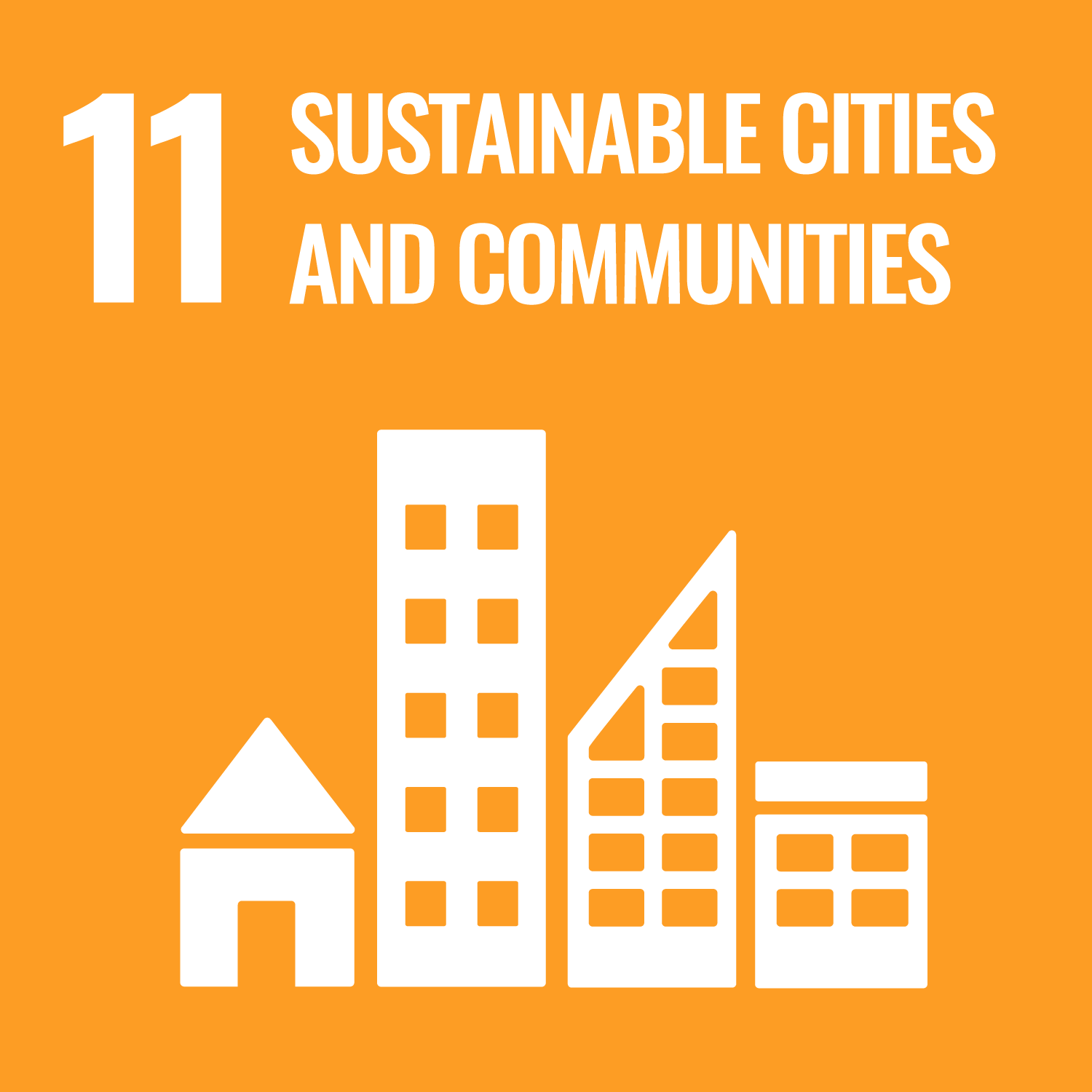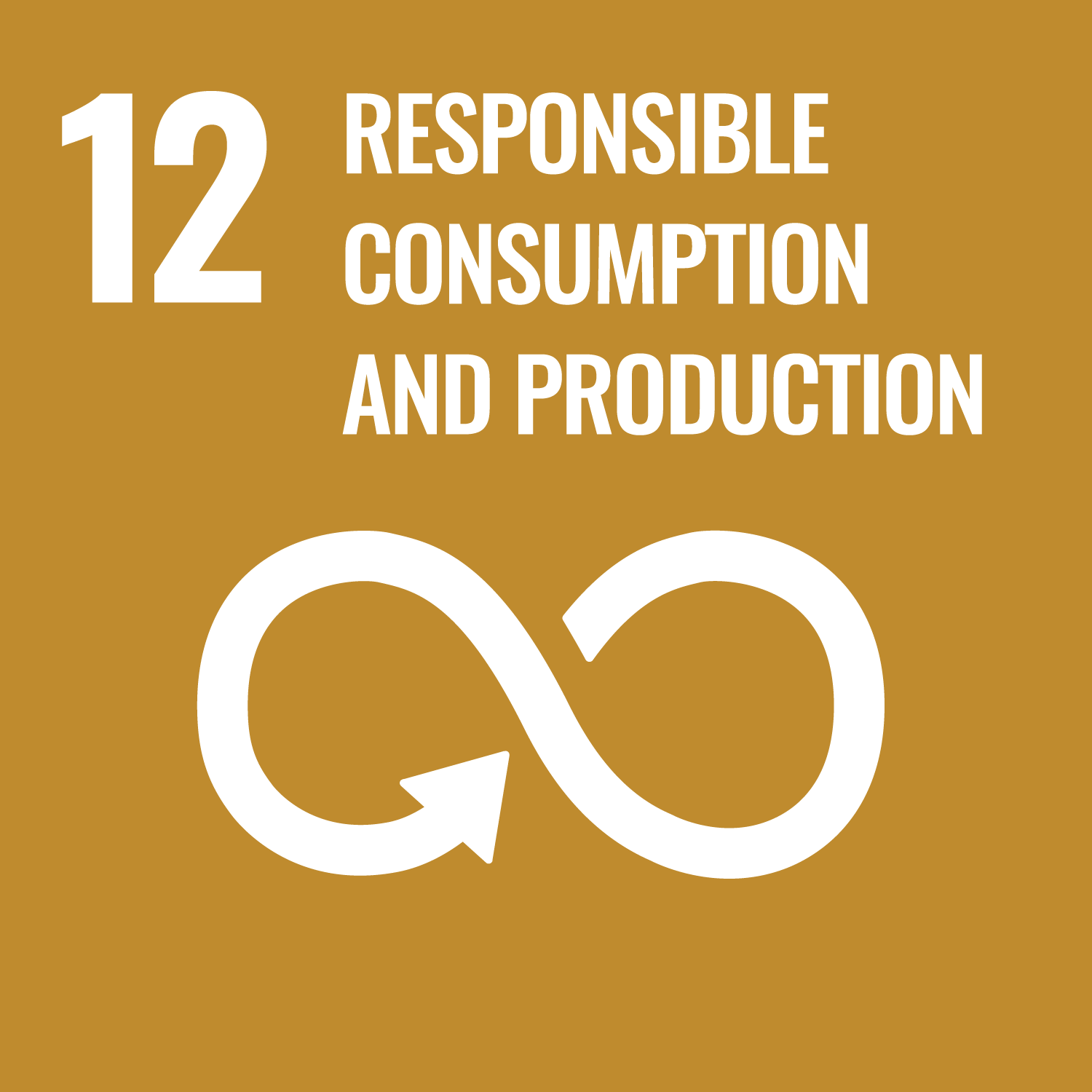 Positive and Negative Implications
Water is essential to general consumption and Thailand's industrial and agricultural sectors. The water demand is likely to increase due to economic and urban expansion. Coupled with factors relating to climate variability, this has resulted in water scarcity, flooding, and water pollution. Therefore, business groups need to accelerate their adaptation, innovation, and increased efficiency regarding water management to demonstrate corporate social responsibility for the environment. While also showing risk and social management capacities regarding their business operations.

PTT recognizes the significance of water as a key resource throughout the company's operational and production processes that pertain to operations within the PTT Group, where large quantities of water consumption are needed. PTT recognizes that effluent generated from PTT's production process may impact the environment, water supplies, the livelihoods of communities, society, and the agricultural sector. In addition, the impacts of climate change contribute as a critical factor serving as the primary catalyst for rapid and severe environmental impacts. Therefore, PTT has declared prioritization for integrated water management as one of its ongoing environmental management issues spanning from water conservation, efficient water consumption, and reduction of water consumption to water reclamation following the Circular Economy framework, as well as promoting awareness of water consumption values. PTT ensures that its operation and subsidiaries will not encroach water rights and availability amongst local communities while adhering to regulations related to the water management guidelines dictated by Thailand National Strategy.
Objectives/Goals
PTT's strategic goals on systemic water management regarding water consumption for efficiency, reducing water consumption within high-risk areas, and management of areas with high water consumption amongst office buildings and the operating regions include the following:
Reducing water intensity by 10% (liters per person per day) for production by 2030 compared to 2013 base-year data.
Monitoring freshwater withdrawal of PTT and its subsidiary groups where collaborative efforts are set to assess the organization's freshwater withdrawal not to exceed 74 million cubic meters in 2022.
Management Approach
PTT's Water Resource Management Policy
PTT committed to elevating the organization's water consumption efficiency as part of its SSHE Management system, established policies, and long-term and yearly target goals. PTT is determined best to regulate water consumption through water reclamation within operations and building offices, where performances regarding water management will be closely monitored and reported to regional executives with quarterly evaluations of the established sustainable governance and structure.


Water Management Procedures
PTT declares water resource management procedures encompassing its organization both internally and externally as follows:
Category
Water Management Activities
External Risk Management

Assess water risks and impacts on PTT business operations on the legal, reputational, and physical risk of water quantity and quality utilizing international standardized risk assessment and analysis tools, such as AQUEDUCT, WBCSD Global Water Tool, CERES Aqua Gauge, and Water Footprint Assessment as well as legal and reputational risk framework of the organization.
Evaluate and formulate risk management plans to minimize water impacts on companies under PTT Group. Case scenarios were conducted to study the potential effects through stimulations of 4 months of raw water consumption reduction: 30%, 40%, and 50% water reduction, where the impact may lead to a temporary production halt.
Continuously assess and monitor the water situation for both water costs and rainfall to use as information to prepare for Water Management, Risk Management and reduce the impact on water consumption in the ecosystem, agriculture, fisheries, community society, environment, and normal business operations.
Cooperation with the Eastern Region Water Management Working Group consisting of Eastern Water Resource Development and Management and private sector representatives to monitor, assess, and analyze water risks on the river basin level according to the government's water management policies, such as formulating mechanisms and structures for water pricing within the EEC area and structural management of water resources throughout main pipelines of the Eastern Region and more.
Monitor water levels in relevant reservoirs, stipulate pre-drought and during drought crisis water management to ensure long-term water availability, as well as consider and innovate for alternative water sources to increase water storage capacities, such as reservoir building, installing desalination units to strengthen water security for PTT Group's production line and mitigate impacts in case of regional drought and water shortage, and to reduce allegations towards industrial sector taking water from communities.
Integrate cooperation for developing secured and sustained water management procedures in the Eastern Region. With target aims to regulate water reserves in Dok Krai, Nong Pla Lai, and Khlong Yai reservoirs in Rayong, including reservoirs for PTT operation sites to retain no less than 240 million cubic meters of water while monitor and provide support to the water resource development projects in the EEC to meet 1,000 million cubic meters per year of water demand by the year 2036.
Collaborate with The Federation of Thai Industries' Water and Environment Institute for Sustainability to drive forward the water management-related policies to solve short-term problems and to create long-term water sustainability in the country.
Commit to the 2Rs principle (Reserve and Re-Visualize) by monitoring the progress of related government agencies' water resource development projects.

Internal Risk Management

Prepare strategic water management plans per PTT Group's Climate and Risk Management strategies.
Set objectives, evaluate, and monitor the organization's water efficiency, such as the target goal of water intensity reduction by 12.6% for production and 10% for offices by 2030 compared to the 2013 base-year intensity provided data, as well as implementing targets to control and monitoring of freshwater extraction of the PTT Group not to exceed 74 million cubic meters in 2022.
Enhance and elevate water management according to the circular economy principles by implementing the 3Rs (Reduce, Reuse, Recycle). To reduce water consumption, increase water reclamation and recycling, re-use effluents to reduce public water source dependency through alternatives such as fresh water from seawater production, development of water treatment innovations, and more.
• External risk management encompasses risks arising from the facility's location and other external factors such as water quantity and budgetary risks, relational policies and law-related risks, and plausible social risks.
• Internal risk management includes monitoring of water consumption, relational evaluations, and effluent quality monitoring.
• GC and TOP are two current organizations producing fresh water derived from seawater in total capacity to supply the production operation as part of the feasibility study to expand generating ability to reduce public water source dependency.

Nevertheless, PTT is aware of the impact that effluent from its operational establishments may pose on the surrounding communities and the environment. Therefore, PTT's quality control of wastewater treatment before discharge strictly adheres to governing regulations established by the Ministry of Industry on the notice regarding Industrial Effluent Standards 2017 and the announcement of the Ministry of Natural Resources and Environment on Effluent Standards from Buildings of Certain Types and Sizes 2005. PTT's treatment of effluents strictly complies with measures cited in the Environmental Impact Assessment (EIA) for industrial-specific reports.
As a result of PTT Group's water risk assessment forecast using tools like AQUEDUCT and WATER RISK FILTER (WRF) SDGs 6.4 indicates that PTT Group's plant locations within the Eastern region are at moderate risk and will be most likely to pose a higher risk in the future. If PTT continues to operate, BAU-styled by its risk score is predicted to increase by 1.4 times shortly.

In 2022, no production plant (the 90 percentile of production plant that having highest freshwater withdrawal (Petrochemical & Refineries and Utility, total 20 facility) located in "Extremely high risk" and "High risk" areas, all water intensive industries (Petrochemical & Refineries and Utility) of PTT Group is located in "Medium to high risk" and "Low to medium risk" Area. However, there are office building, natural gas for vehicle station and natural gas transmission pipeline located in water stress area ("Extremely high risk" and "High risk" defined by the WRI). The consumption of fresh water by these facilities was 0.306 million cubic meters (approximately 0.7% of total freshwater consumption), most of water consumption is mainly used for a water supply in office buildings.
In 2022, although an increase in water extraction has been reported through PTT's manufacturing operations, adhering to the 3R guidelines of water management, this resulted in increased reuse of the 3Rs principles and thinking within its operational activities proven to reduce the impact on resource-based factors while also reducing the impact of water pollution, as well as the impact on the livelihoods on communities and local citizens.
Major Projects/ Key Initiatives
Water Management According to the 3Rs PrinciplesSDGs 6.3, 6.6, 6.a, 12.2, 12.4, 12.5
PTT and PTT Group have adopted the 3Rs principle to enhance effective water source management continuously. The following are vital technologies and projected implemented:
Changing the cooling water system at the power plant from an open system to a closed system. Making it possible to reduce water consumption.
Reuse excess heat from its blowdown tank to cool water consumption reduction in the process of lowering the temperature before discharging effluent to the treatment pond and the use of blowdown water to irrigate plants and trees.
Reverse Osmosis Intermediated water coolant reuse to best maximize water consumption.
Water Reuse Condensate in the steam production process
Implementation of Unit 5 gas separation plant reuses wastewater from the dehydration process as makeup water in the Acid Gas Removal Unit (AGRU) proven to reduce the volume of makeup water used by 17,500 cubic meters per year.
Fresh water production from the seawater project (Desalination) of PTT Global Chemical Public Company Limited and Thai Oil Public Company Limited can reduce water consumption by 10-20 percent.
A feasibility study of water resource management using the Eco-Industrial system, which will extract treated wastewater back to water that can be reused in water management for PTT.
Research and development of Greywater Recycle Prototype to support water consumption reduction by treating wastewater and reuse. In 2022, prototype integration was expanded into one additional area of PTT's headquarters office building, allowing water recycling up to 90 liters per hour to be recycled water quality, meeting the US EPA Guidelines.
Recycled Greywater Prototype Innovation Project

SDGs 6.3, 6.4, 6.5, 6.a
PTT Innovation Institute has contributed efforts to the research and development of the Greywater Recycle Innovation Project. The project has made progress in recycling implants from hand-washing sinks to be treated and reused in sanitary ware through PTT's headquarters pilot project, resulting in approximately 30 liters of water per hour recycled where water quality is reported to meet the US EPA Guideline.
In 2022, expansion development of the Greywater Recycle Prototype allowed for Greywater Recycle Prototype#Gen 2 to be developed as a system. Greywater Recycle Prototype#Gen 2 is reported to be more compact and can be installed in areas with space constraints. In addition, the new prototype was also installed in the PTT Headquarters office building area, allowing water to be reused up to 60 liters per hour, totaling 90 liters per hour. Water quality thus meets the US EPA Guideline standards.
Promotion of Water Footprint Assessment in Accordance to ISO 14046

SDGs 6.5, 6.a
Water and Environment Institute for Sustainability and the Federation of Thai Industries, in conjunction with the Department of Groundwater Resources, had initiated a water footprint assessment project to promote ISO 14046 standards establishment within Thailand's industrial sectors. PTT Group's Water Management Working Group experts participated as technical committees to establish assessment standards and provide technical assistance to PTT Group subsidiary companies that participated in the project. Where support from PTT's Water Management Team allowed for GC and GPSC's products the awarded certified Water Footprint label as pioneering companies, contributing to database development to improve product knowledge, efficiency, and continuous knowledge development.
In 2022, PTT Group continued to uphold and implement innovative measures and management approaches to ensure efficient water consumption.
In Progress Zero Liquid Discharge (ZLD) Installation at Unit 7 Natural Gas Separation Plant
PTT has plans to incorporate high technological advances, namely, Zero Liquid Discharge (ZLD) installation, into its Unit 7 plant. Zero Liquid Discharge (ZLD) technology allows used water to be recycled and reclaimed through its wastewater treatment system. The technology system does not discharge water from the system to outside areas making it ideal for environmental protection and reducing water consumption compared to normal, natural gas separation plants Unit 1.
Strategic Water Resources Management in the Eastern Region

GRI 303-1, GRI 303-2
Regarding managing water resources to also manage risks and opportunities in PTT Group's strategic areas, such as the eastern region of Thailand, especially in Rayong and Chonburi provinces which had a water shortage problem in 2005. The two provinces are the main production line locations critical to business operations. Therefore, PTT has established the PTT Group Water Management Team, which consists of experts in water management and public utility systems of companies in PTT Group, in collaboration with relevant agencies from the public, private, and community sectors, to drive systematic water management in terms of demand and supply. From analyzing and evaluating risks and opportunities, preparing short-term and long-term drought risk management plans, monitoring, evaluating, forecasting, and reporting on water situations in various areas, to developing a strategic plan for water resource management with the 3Rs (Reduce, Reuse, Recycle). The team is also responsible for effectively planning wastewater management, encouraging cooperation, and sharing best water management practices.
In addition, a holistic water management working group (Central water management) has been appointed to support water management in related areas, divided into three sub-working groups.
Water demand management executive committee
Water supply management executive committee
PTT's water management business executive committee
The sub-committees, as mentioned above, are structured to cover PTT Group's water performance, situational, and monitoring operations with objectives in close collaboration and coordination with relevant stakeholders, including strategic decision-making relating to its water businesses. Progress and performance will be monitored and reported to senior executives, including assistant directors, managing partners, downstream petroleum business organizations, and the executive vice president, to summarize the result with the PTT Group Management Committee later on.
Research Project on Water Supply Forecast to Support Water Management in Eastern Region

SDGs 6.3, 6.4, 6.5, 6.a, 17
PTT Group's Water Management Team closely monitored the water situation and forecasted trends in water supply through long-term climate forecast technology and a hydrological model for Rayong province six months, one year, and 20 years in advance, respectively. The study revealed medium to high-risk concerns if PTT lacks appropriate water resource management. To best mitigate said risks, PTT's team participated in the Eastern Region Water Working Team comprised of government agencies, Eastern Water Resources Development and Management Ltd., and private sector representatives to monitor, assess, and analyze water risks on the river basin level, as well as establish measures to counteract said risks. In 2022, water reserve levels and situational in the Eastern Region were reported to remain in a good state. Medium and large reservoirs collected more than 90 of the reserve capacity, providing sufficient water supply for every party in 2022-2023, especially in sectors involving agriculture, fisheries, industrial, and PTT Group's business operations without impacting the community's water supply availability.


Water excellent contest 2022
PTT Group Water Management Working Group, alongside PTT's Water Demand Management Committee, held a Water Excellent Contest in 2022 for PTT Group focusing on the promotion of water use reduction, knowledge on water management covering subjects such as conservation of water resources in conjunction with the circular economy principles. 2022 witnessed nine competing projects from PTT Group and related agencies, which reduced freshwater consumption by 3.4 million cubic meters per year. The entities mentioned above are listed as follows:
Alum Reduction for Ban Kai Treatment Plant – IRPC Public Company Limited
Cooling System for Condensate Returns – Company IRPC Public Company Limited
Heat Recover from Aromatics Plant – PTT Global Chemical Public Company Limited
SWRO and WWTRO Utilization in GC Group – PTT Global Chemical Public Company Limited
Backwash Water Optimization – Thai-oil Public Company Limited
Maximize Desalination Unit During Steam Surplus – Thai-oil Public Company Limited
GSP#1 Plant wide Water Conservation and Management – Rayong Natural Gas Separation Plant PTT Public Company Limited
CUP1: Steam Blowdown Optimization – Global Power Synergy Public Company Limited
CUP4: Improvement Reduce Loss of Service Water During Weekly Test Fire Water Pumps -Global Power Synergy Public Company Limited
Monitoring of Drought Prevention Measure Implementation in 2022 (Data as of 11 January 2023)

SDGs 6.4, 6.a
Monitoring of the eastern region's water situation indicates that the Prasae reservoir in Rayong has accumulated over 262.8 million cubic meters of reserved water (89 %). In comparison, Rayong's three major reservoirs comprised of Nong Pla Lai, Dok Krai, and Khlong Yai, have a total accumulation of 273.6 million cubic meters or 99 %, at which point consideration, Prasae reservoir, coupled with Rayong's three major reservoirs has proven to have sufficient water reserve as well as demonstrated water collection higher than the 10-year average.
In 2021, the PTT group's Water Supply Management Team cooperated with various external entities to exercise drought prevention measures within the Eastern Economic Corridor (EEC). Summarization of water management efforts within Rayong (Nong Pla Lai, Khlong Yai, Prasae reservoirs) and in Chonburi (Bang Phra and Nong Kho reservoirs) between 1 January 2021 – 31 December 2021 as follows:
1) Diversion of Khlong Saphan to Prasae reservoir by the Department of Royal Irrigation with a total accumulation of 2.22 million cubic meters acquired.
2) Diversion of Prasae reservoir to Nong Pa Lai reservoir by East Water with a planned accumulation of 3.58 million cubic meters and a total accumulation of 3.14 million cubic meters acquired.
3) Diversion of Prasae reservoir to Khlong Yai reservoir by East Water and Provincial Waterworks Authority PWA with a planned accumulation of 25 million cubic meters and a total accumulation of 15.45 million cubic meters acquired.
4) Extraction of freshwater from Khlong Nam Hu into Map Ta Phut Industrial Estate by the Industrial Estate Authority of Thailand (IEAT).
5) Diversion of Phra Ong Chaiyanuchit Project to Bang Phra reservoir by PWA during the rainy season with a planned accumulation of 39 million cubic meters and a total accumulation of 14.97 million cubic meters acquired.
6) Diversion of Bang Prakong River to Bang Phra reservoir by East Water during the rainy season with a planned accumulation of 23.6 million cubic meters planned and a total accumulation of 7.77 million cubic meters acquired.
Monitoring of Long-term Water Source Development (Projects in Progress)
Khlong Phawa Yai reservoir, Chanthaburi (2017-2023)
Khlong Hang Maeo reservoir, Chanthaburi (2017-2023)
Improvement of Khlong Yai-Nong Pla Lai reservoir network (2019-2022)
Improvement of Khlong Phan Thong-Bang Phra reservoir (2018-2023)
Feasibility study on freshwater from seawater production (2021), final project meeting scheduled in February 2022
Key Performance Indicators and Awards
Summary of PTT's Operational Progress
Percentage of Reused and Recycled Water Against Total Volume of Water Consumed (freshwater) in PTT Group
| Year | 2019 | 2020 | 2021 | 2022 |
| --- | --- | --- | --- | --- |
| Performance | 9.18 | 7.62 | 6.32 | 8.11 |
The volume of Water Stored for PTT's Operations in Rayong (million cubic meters)
Provided scope of data covers Rayong province's three main reservoirs: Dok Krai Reservoir, Nong Pla Lai Reservoir, and Khlong Yai Reservoir.
PTT's Total Water Withdrawal Volume in 2022 (cubic meters)
| Surface Water | Sea Water | Water Supply | Ground Water | Rainwater |
| --- | --- | --- | --- | --- |
| 35,550 | 84,133 | 1,469,636 | 63,097 | 216,168 |
PTT's Total Water Withdrawal Volume (million cubic meters)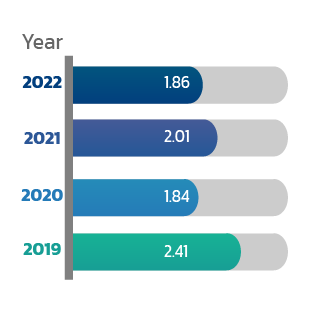 Summary of PTT Group's Operational Progress
Freshwater Withdrawal (million cubic meters)

Freshwater

C

onsumption (million cubic meters)
Please note: The scope of information is inclusive of PTT and companies under its group (GC, IRPC, GPSC, PTTEP, TOP, OR).

Actual cost and opportunity costs from water management related grievance (THB)
| Year | 2019 | 2020 | 2021 | 2022 |
| --- | --- | --- | --- | --- |
| Expenditures | 0 | 0 | 0 | 0 |