Water Resource Management
Water resource is extremely crucial to society, daily life, agriculture and industrial sector. This means large water users, such as business groups, must adapt, speed up their innovation and efficiency in water management. Businesses now have clearer roles and responsibilities as leader in water management. This is treated as responsibility to the environment and society; as well as own risk management.

PTT recognizes the importance of good water management. It has established water management as one of the business-level risks; as well as setting up PTT Group Water Management Team. The team comprises PTT Group's experts in water management and public facilities. The Team is tasked with the responsibility to monitor, assess and report water issues in areas with risks. In the previous year, the focus has been on all operation sites in the eastern region of Thailand. This region suffered from drought in 2005. Another sites in focus are locations of primary production plants significant to business operations. In 2019, Management Team monitors water supply in the east, as well as monitoring and forecasting water demands for the next ten years. The effort was in collaboration with relevant authorities, to ensure effective water management. PTT conducts risk management plan in anticipation of droughts. PTT develops working plans, both short-term and long-term, to present Management of PTT and flagship companies, as well as Risk Management Committee.

PTT Group Water Management Team takes actions per strategic plan in water management according to 3Rs (Reduce, Reuse, Recycle) principles, and wastewater management plan to ensure effectiveness. PTT drives for collaboration and sharing excellent water management within the Group. This includes the efforts to monitor and drive governmental sector's water management in Rayong and Chonburi province. Water management per 3Rs principles is as follows.
Change power plant's water cooling system from an open system to close, this reduced water consumption
Utilize excess heat from blow-down tank, such as reduced volume of cooling water used before release to wastewater treatment. Blow-down water is used to water trees.
Reverse Osmosis Intermediated Project to reused water for cooling, this optimizes the water usage for maximum benefits
Reuse condensate for vapor formation process
Rayong Gas Separation Plant Unit 5 reuses dehydration's wastewater as make up water in Acid Gas Removal Unit (AGRU). This helps reduce volume of make up water by 17,5000 cubic meters per year.
In 2018, PTT conducted feasibility studies for water management through Eco Industrial System. The system drew treated wastewater for reuse, facilitating PTT Group's water management.
Percentage of reused and recycled water against total volume of used water (freshwater) in PTT Group
| Year | 2016 | 2017 | 2018 | 2019 |
| --- | --- | --- | --- | --- |
| Percentage | 4.4 | 11.7 | 14.8 | 15.3 |
PTT Group's operation sites with significant water consumption are located in the eastern region (Chonburi and Rayong province) since 2012. PTT Group's Water Management Team joined the Eastern Region's Water Management Team, comprises governmental sector, Eastern Water Resources Development & Management PCL, and representatives from private sectors. The Team monitors, assesses, analyzes water; as well as setting up measures to promptly address potential risks. Eastern Region's Water Management Team has organized for monitoring of water level in relevant water reservoirs. The team has also set measures for water management for stages prior to drought, and during-drought. There are also measures for long-term water consumption, as well as efforts in considering alternative water sources to increase water reservoir's size for production/ Such approach includes construction of water reservoirs, installation of desalination units, to name a few. These actions foster security in PTT Group's production line, as well as minimizing impacts if there were drought or water scarcity in the area. Accusations regarding industry-induced water conflicts with communities are also addressed. Furthermore, the Team has also joined forces with Water and Environment Institute for Sustainability, Federation of Thailand, in driving forth policies related to the country's water management, both by addressing problems in the short-term and fostering long-water water sustainability.

PTT conducts projects to strengthen for water security, responding to growing demands in areas with water scarcity. There are projects as follows.
Research on Water Supply Forecast to Support Eastern Region's Water Management
PTT Group's Water Management Team monitors water situation and forecasts future water supply. The Group utilizes technology to forecast climate in the long-run, in tandem with meteorological modelling. This was used to forecast water supply trends at primary water reservoir in Rayong by 6 months, 1 year and 20 years.
Promotion of Water Footprint Assessment According to ISO 14046
In 2018, Water Institute for Sustainability, Federation of Thai Industries, in coalition with Department of Groundwater Resources, commences water footprint assessment project to promote ISO 14046 tangibly in Thailand's industrial sector. Experts from PTT Group's Water Management Team acts as technical committee in development of assessment standards. The team also provides technical expertise to PTT flagship companies. The support has been constructive, and PTT Global Chemical PCL's and Global Power Synergy PCL's products received Water Footprint labels for the first time in Thailand. Progress in pilot companies results in development of water consumption baseline. The baseline is helpful for improved efficiency of production process and knowledge development for other PTT flagship companies.
In 2019, PTT Group continues to continuously follow said measures and approaches to ensure that PTT Group's water consumption is efficient.
Monitoring Drought Prevention Measures in 2019
Water reservoir from Prasae Reservoir to Rayong:
Channel water from Prasae Station No.1: Prasae Reservoir to Khlong Yhai Reservoir (maximum capacity at 300,000 cubic meters per day). In 2019, since January, as much as 66 million cubic meters of water has been diverted
Channel water from Prasae Station No. 2: Prasae Reservoir to Nong Pla Lai Reservoir (maximum capacity at 200,000 cubic meters per day). In 2019, since January, as much as 41 Million cubic meters of water has been diverted.
Reserve water from Bang Phrakong River and private reservoirs by diverting into Bang Phra reservoir:
Divert water from Bang Phra Kong River and private reservoir into Bang Phra Reservoir (maximum capacity at 250,000 cubic meters per day). Since operations in January, as much as 26 million cubic meters of water has been diverted.
Infrastructure development program to ensure long-term water security and enhancement of eastern water resources:
Project to increase Klong Yai Reservoir's capacity by 10.1 million m3, from the original 40.1 million m3 (in progress)
Project to increase Nong Kho Reservoir's capacity by 2.6 million m3 from the original 21.4 million m3 (in progress)
Project to increase Nong Pla Lai Reservoir's capacity by 23.9 million m3 from the original 163.7 million m3 (in progress)
Project to develop 4 water reservoirs in Klong Wang Tanod Basin, Chantaburi, comprises Klong Pragad Reservoir, Klong Pawa Yai Reservoir, Klong Hangmaew Reservoir, Klong Wangtanod Reservoir, with total capacity of 308.30 million m3 (In progress)
Project to improve Panthong Irrigation Canal, to take in water from Panthong Irrigation Canal and deliver to Bang Phra Reservoir (in progress)
Project to construct Klong Sapan – Prrasae Reservoir water pumping station, with the capacity of 80 million m3 (in progress)
PTT Performance
Progress againt plan

PTT's Total Water Withdrawal in 2019
(million m3)​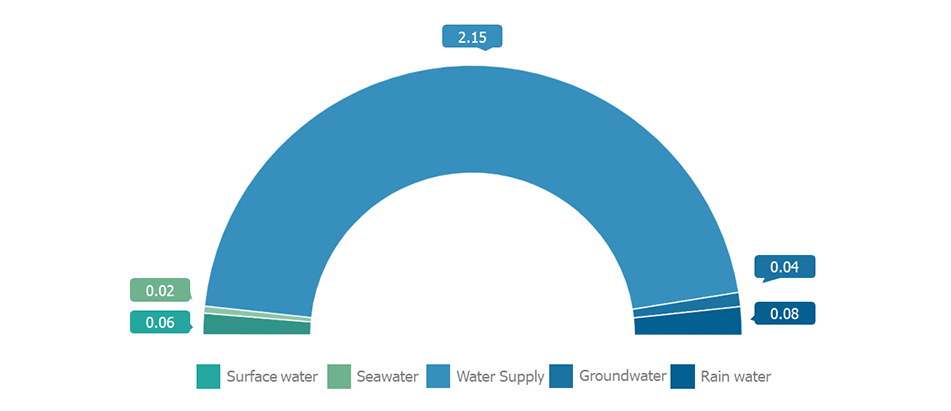 PTT's Total Water Withdrawal
(million m3)

PTT Group Performance
Total Net Freshwater Consumption
(Million cubic Meters)​
Remark: The scope of covers PTT and flagship companies (GC, IRPC, GPSC, PTTEP, TOP, OR)