Sustainable Development Goals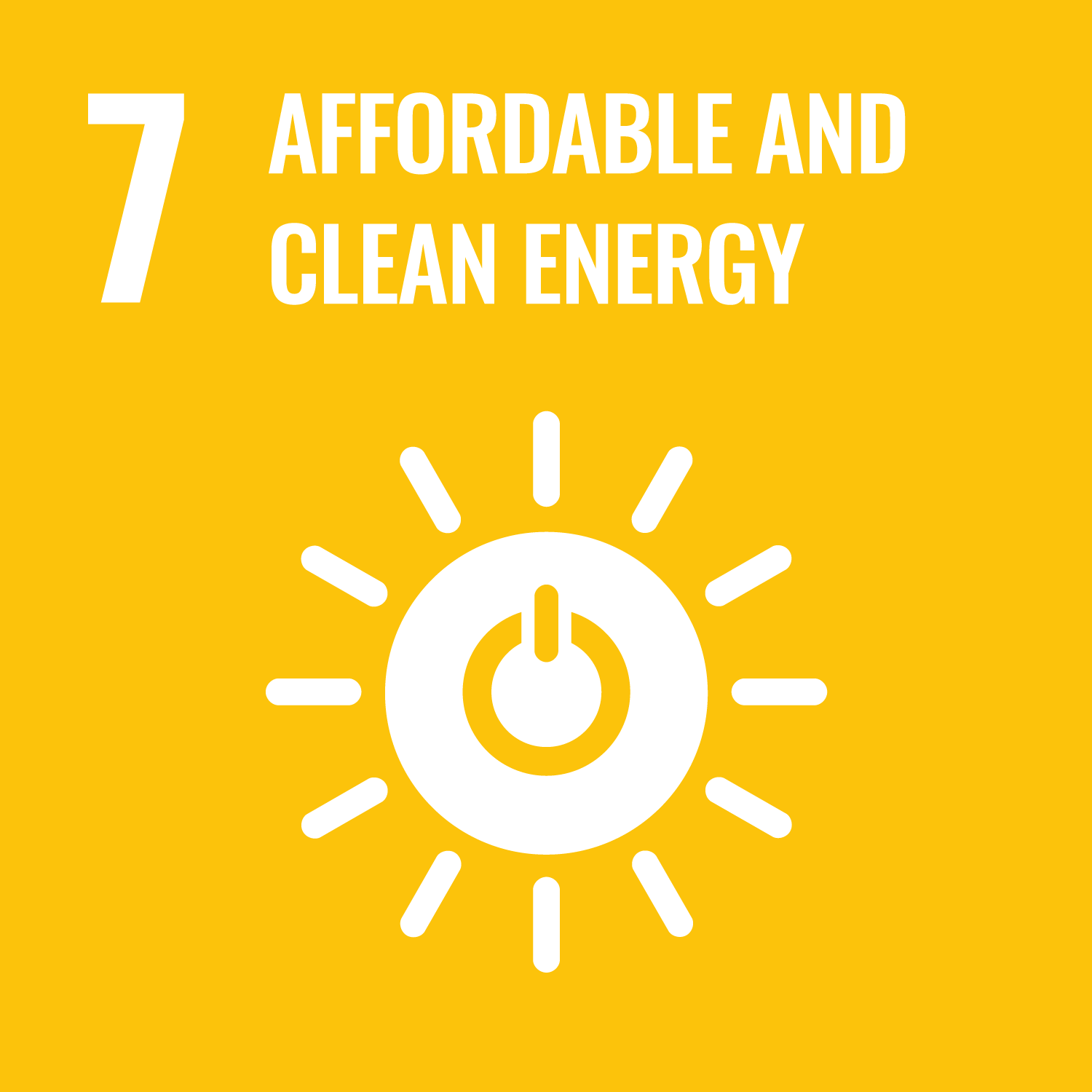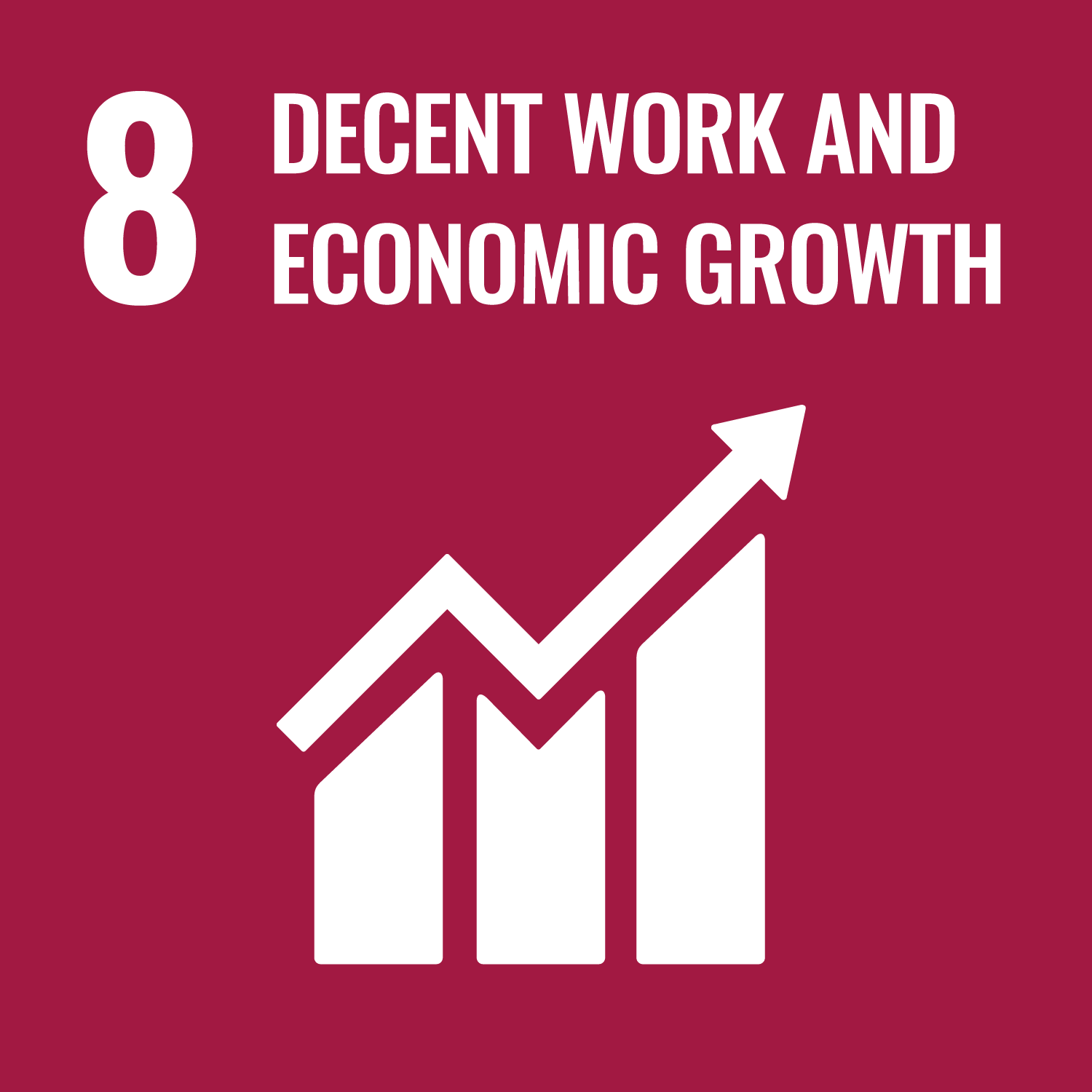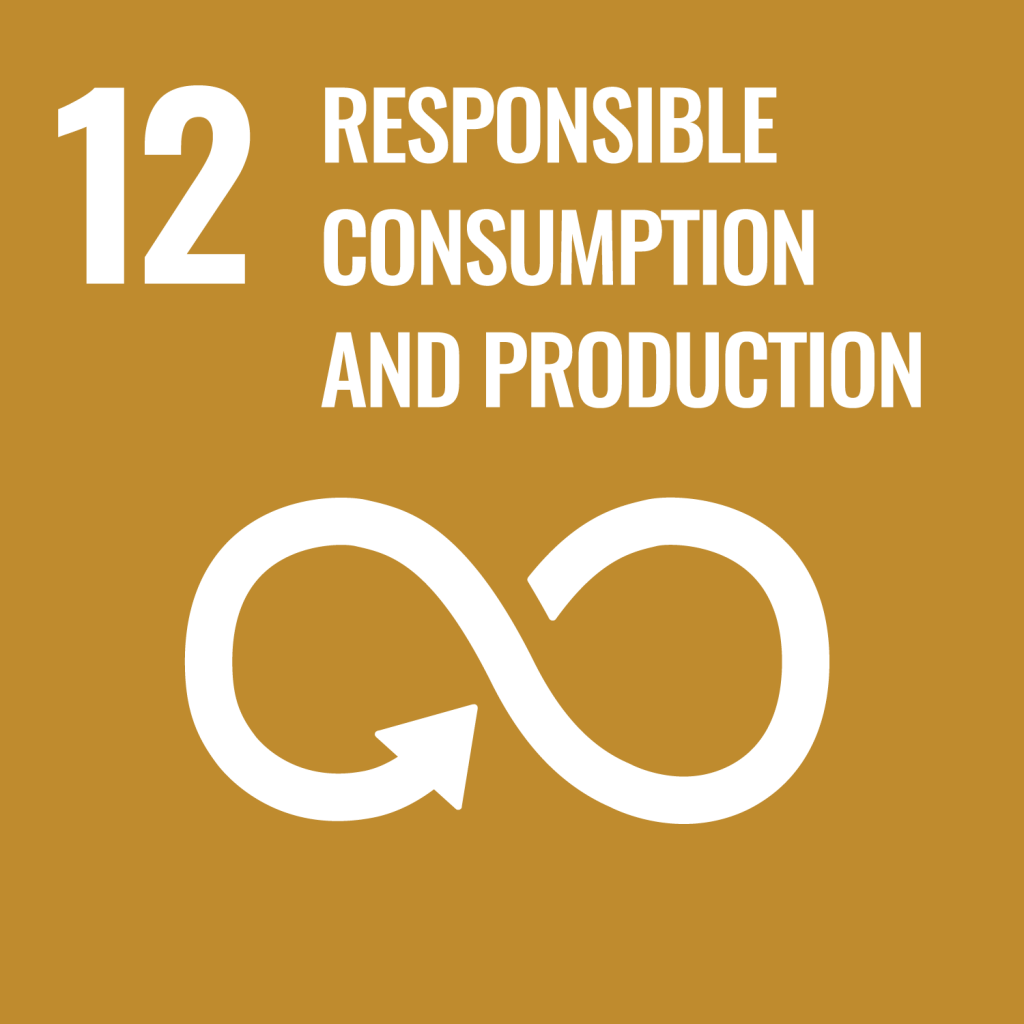 Corporate Strategy
PTT Group Strategic Direction
PTT has revised its vision as "Powering Life with Future Energy and Beyond" while adhering to the mission "To conduct integrated energy and petrochemical business as the nation's energy company whose mission is to equally respond to all stakeholders" as well as the corporate core values, "SPIRIT". PTT has announced PTT Aspiration, "Powering Thailand's Transformation" (PTT), with the goal to drive the country through digital transformation by implementing technology and innovation in all sectors, elevating the country's competitiveness, improving quality of the society, and the quality of life. PTT Group Strategic Direction (PTT by PTT) consists of three elements, namely Partnership & Platform, Technology for All, and Transparency & Sustainability. The strategic direction focuses on creating sustainable growth for all parties with details as follow:
Partnership & Platform – Conduct business through building alliance network while developing PTT's business to become more of a platform rather than a producer/seller. PTT plans to attract alliances with expertise from overseas alongside collaborations with the state enterprises, private sector, Thai entrepreneurs, and SMEs in transferring values from the alliances to consumers, a collective effort in creating new business model and new ecosystem.
Technology for All – Implement technologies, consolidation of knowledge, expertise, innovation, and technology, in every dimension of the operation. This contributes to the creation of a new business model, internal management, as well as an external innovation drive, creating new innovation for the society.
Transparency & Sustainability – Create transparency in business conduct along with sustainable development, create understanding among personnel regarding business operations which are aligned with the Good Corporate Governance Principles, appropriate risk assessment, and compliance. (Governance, Risk, and Compliance: GRC) Business operations are improved to achieve sustainable growth in the following dimension: environmental, social, and governance.


Sustainability Management Strategy GRI102-20
A steady and sustainable business growth requires continuous development and adaptation to disruptive challenges. The business also needs to build resilience by adhering to the principle of good governance, promotes the 20-year National Strategy, and complies with the United Nations' Sustainable Development Goals (SDGs) for the benefit of the organization and society at all levels in every sector – from community, society, to the national level.
PTT Group Strategic Direction (PTT by PTT) has established "PTT Sustainability Strategic Direction" regarding Transparency & Sustainability in 3 dimensions namely Environmental, Social, and Governance (ESG). The key attributes are as follows:
2 Environmental Strategies: Sustainable Production and Consumption
Developing toward Low carbon society and environmental-friendly business operation
Driving resource utilization based on the principles of the circular economy
3 Social Strategies:
People Well-being
Creating social values and uplifting the society's quality of life
Promoting safe working environment and respecting human rights
Powering the workforce to support future business growth
2 Governance Strategies:
Good Governance and Performance Excellence
Operating with good corporate governance and integrity

(

Governance, Risk and Compliance

:

GRC

)

Adapting to changes and accelerating business growth to drive the economy
To stipulate PTT Group sustainability strategic direction, internal and external factors, challenges, national and global trend, as well as stakeholders' opinions and suggestions were taken into consideration. The organization's materiality assessment identifies factors determining sustainability strategic directions, which later conveyed as enterprise and business plan for PTT, business units, and subsidiaries of PTT Groupin response to stakeholders, changes, as well as future challenges comprehensively. Material issue that is a threat to achievement of organization's vision, direction, and strategic objectives are managed through PTT's Enterprise Risk Management Process (ERM) to ensure further development of existing control and mitigation plan.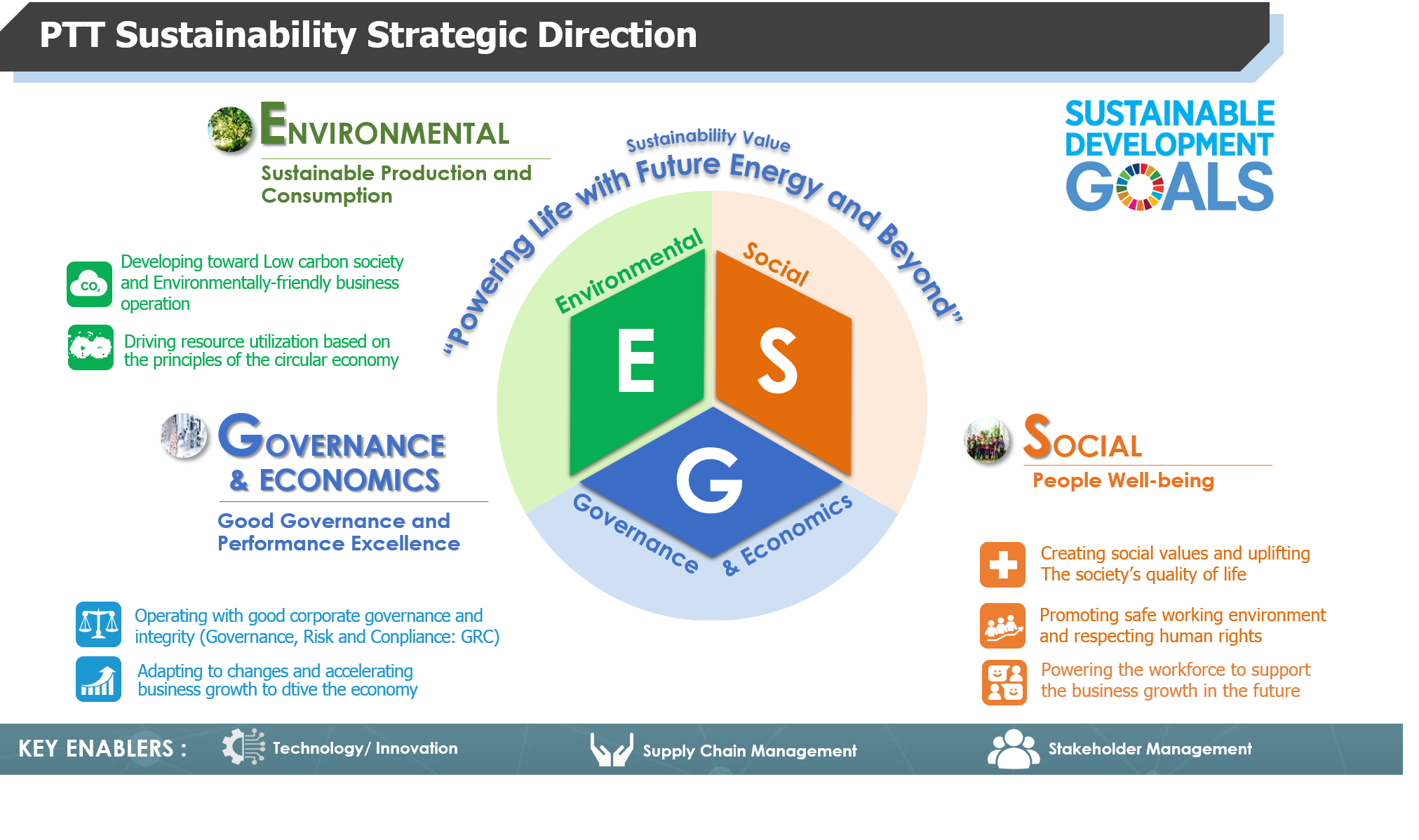 All material issues are systematically managed, with responsible function owners, indicators, and targets set, as well as tangible response plans. Monitoring and sustainability performance assessments are responsible by relevant committees, such as PTT Group Sustainability Management Committee (GSMC), PTT Governance, Risk and Compliance Management Committee (GRCMC), and PTT Corporate Governance Committee (CGC). Information regarding performance of the organization is transparently disclosed through various communication channels, such as Annual Information Registration Statement/ Annual Report 2020 (Form 56-1: One Report) and the company's website.
Additionally, PTT Group's material issue management must remain in alignment and constructive to United Nation's Sustainable Development Goals (SDGs). PTT has set 7 key goals, which are Goal 7, 8, 12, 13, 14, 15 and 16. Relevant objectives, which are in focus, are as follow:
Goal 7 - Affordable and Clean Energy

7.1 By 2030, ensure universal access to affordable, reliable and modern energy services
7.2 By 2030, increase substantially the share of renewable energy in the global energy mix
7.3 By 2030, double the global rate of improvement in energy efficiency

Goal 8 - Decent Work and Economic Growth

8.2 Achieve higher levels of economic productivity through diversification, technological upgrading and innovation, including through a focus on high-value added and labor-intensive sectors
8.5 By 2030, achieve full and productive employment and decent work for all women and men, including for young people and persons with disabilities, and equal pay for work of equal value
8.7 Take immediate and effective measures to eradicate forced labor, end modern slavery and human trafficking and secure the prohibition and elimination of the worst forms of child labor, including recruitment and use of child soldiers, and by 2025 end child labor in all its forms
8.8 Protect labor rights and promote safe and secure working environments for all workers, including migrant workers, in particular women migrants, and those in precarious employment

Goal 12 - Responsible Consumption and Production

12.2 By 2030, achieve the sustainable management and efficient use of natural resources
12.4 By 2020, achieve the environmentally sound management of chemicals and all wastes throughout their life cycle, in accordance with agreed international frameworks, and significantly reduce their release to air, water and soil in order to minimize their adverse impacts on human health and the environment
12.5 By 2030, substantially reduce waste generation through prevention, reduction, recycling and reuse

Goal 13 - Climate Action

13.1 Strengthen resilience and adaptive capacity to climate-related hazards and natural disasters in all countries
13.2 Integrate climate change measures into national policies, strategies and planning
13.3 Improve education, awareness-raising and human and institutional capacity on climate change mitigation, adaptation, impact reduction and early warning

Goal 14 - Life below Water

14.1 By 2025, prevent and significantly reduce marine pollution of all kinds, in particular from land-based activities, including marine debris and nutrient pollution
14

.

2 By 2020, sustainably manage and protect marine and coastal ecosystems to avoid significant adverse impacts, including by strengthening their resilience, and take action for their restoration in order to achieve healthy and productive oceans

Goal

15 -

Life on Land

15

.

2 By 2020, promote the implementation of sustainable management of all types of forests, halt deforestation, restore degraded forests and substantially increase afforestation and reforestation globally

Goal

16 -

Peace, Justice and Strong Institutions

16.1 Significantly reduce all forms of violence and related death rates everywhere
16.2 End abuse, exploitation, trafficking and all forms of violence against and torture of children
16.3 Promote the rule of law at the national and international levels and ensure equal access to justice for all
16.5 Reduce corruption and bribery all position
16.7 Ensure responsive, inclusive, participatory and representative decision-making at all levels
16.10 Ensure public access to information and protect fundamental freedoms, in accordance with national legislation and international agreements
Key Performances

Materiality Assessment
PTT stipulated materiality assessment process in accordance with the Global Reporting Initiative (GRI) Standards' Sustainability Reporting Guidelines and International Integrated Reporting Council's (IIRC) framework for report making to identify economic, environmental, social, and stakeholders' issues that have potential impacts on the organization's business operations as well as significant influence in stakeholders' decision-making. The materiality assessment is conducted annually in order to review any changes in material issues that are important to the organization and its stakeholders. The identified material issues are managed accordingly and effectively. The 3 steps to materiality assessment are as follow:
Identification of Material Issues for the Organization and Stakeholders:

The issues are evaluated and identified in collaboration with relevant functions in the organization. Issues are selected based on alignment with corporate risks, strategic direction and sustainability management, and stakeholders' expectations. PTT has established a scope for materiality assessment with consideration to the impacts of potential topics throughout its value chain, covering both internal and external stakeholders.

Issue Prioritization:

The identified issues are assessed based on the level of their impacts to PTT's value creation, encompassing finance, business and operations, corporate reputation, impacts to customers, suppliers and employees. Level of importance to stakeholders is also taken into consideration. Material issues are then brought into the process of strategy development and managed effectively thereafter.

Verification and Assurance: GR102-32

Governance, Risk and Compliance Management Committee (GRCMC) is responsible for sustainability management, performance monitoring, providing opinions and suggesting, as well as advising executives of relevant departments regarding verification of material issues. External parties are engaged to audit the materiality assessment process, stakeholder engagement process, data collection and analysis, and the organization's performance against indicators to confirm comprehensiveness, accuracy, reliability, and transparency of the report. PTT continues to improve the quality of its report with the aid of external entity's observations and suggestions.
Materiality Assessment Results in 2020
PTT has revised material issues to cover the changes in organization's context. The title of material topics are changed with details as follow: Fair Operating Practices to Governance, Risk Management, and Compliance – to align with the management guidelines; Product Stewardship to Customer Relationship Management – to cover the goal in becoming more customer oriented; Research, Development, and Innovation to Innovation & Technology – to emphasize the development and implementation of technologies in operations.
The Waste Management topic categorization is more defined to integrate the Implementation of the Circular Economy into the organization. Wastewater Management is included in the topic Integrated Water Management. Environmental Management was added to emphasize on PTT's management approach regarding environmental impacts from PTT's operations. Furthermore, PTT recognizes the importance of collective effort in value creation between the organization, the society, and the community. Hence, the topic title Corporate Citizenship was changed to Creating Social Value.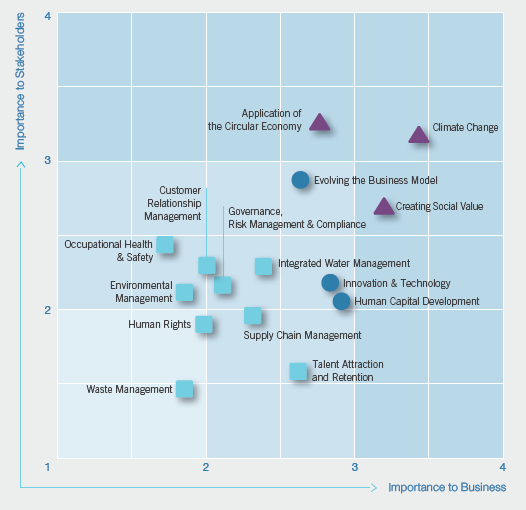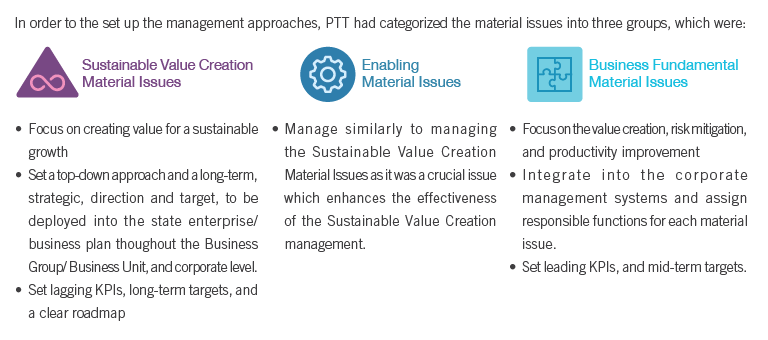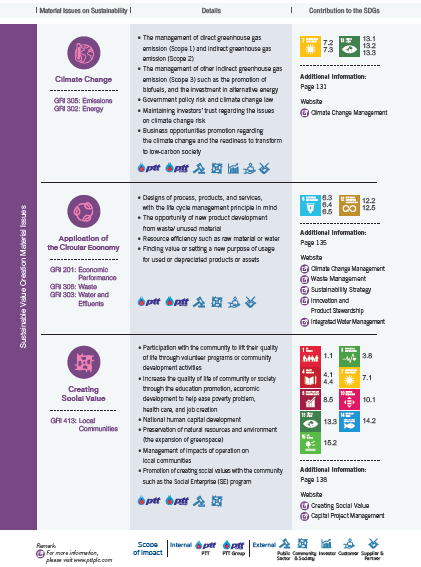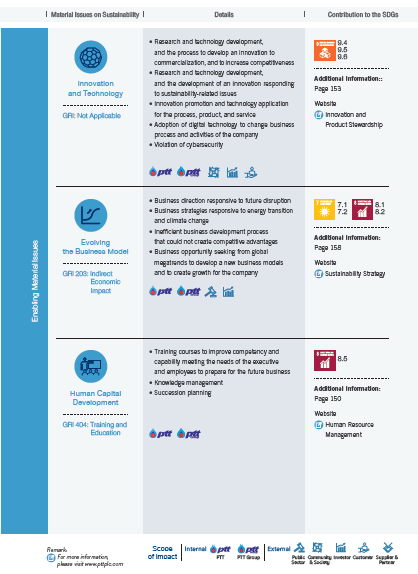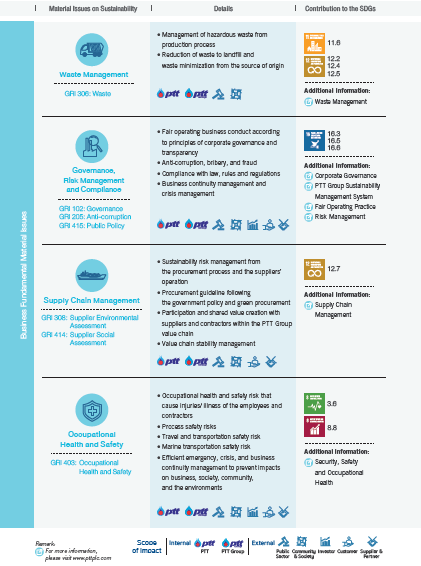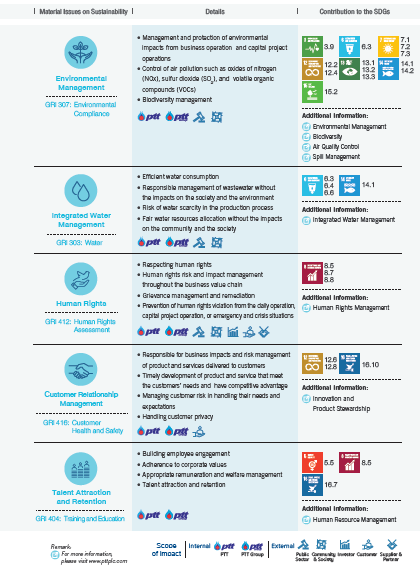 Material Issues 2020
PTT managed material issues through implementation of strategies and tangible action plans from relevant departments. In 2020, materiality assessment reveals climate change, implementation of the circular economy, and creating social value as the first 3 material issues. More information regarding respective management approach of each issue is available in relevant chapters.