Management Approach
At PTT workplace safety comes first. To ensure the workplace conditions comply with international occupational health and safety standards at all operating areas, all of PTT Group's important operational areas have been certified using international Occupational Health, Safety and Environmental Management System Certification against TIS/OHSAS 18001. PTT's operational areas have been awarded outstanding workplace for Occupational Health, Safety and Environment consecutively. Furthermore, PTT also focus in systemic security management to mitigate risks, which may occur in various forms. These risks can cause significant damage to the business as employees' safety are threatened. PTT develops and deploys safety tools and methods aligning with various standards. The intranet reporting system captures accidents, near-miss, sub-standard act/conditions. Incidents are analysed and investigated for the primary cause. This leads to development of solutions and prevention measures, all online. Information is accessible for all within the organization to prevent situations from occurring once again.
Employee Safety
At PTT, there is an emphasis on creating safety awareness amongst employees and contractors. This was achieved through various programs. Incident Injury Free (IIF) program at the gas separation units is one of the most successful projects in 2018. The IIF project has an integrated process that follows five principles
Planning
Assessment
Engagement
Skills
Sustaining
PTT has provided its employees and contractors with training as part of PTT's basic safety culture on the basics of Occupational Safety and on the principles of PTT's safety event reporting system. . For continuous improvement, PTT Group developed the SSHE Culture Management Guideline, clearly outlining the development process of organizational SSHE culture.
Implementation and deployment of safety aspects is the responsibility of the operating officers for occupational health and safety. PTT prioritizes development of PTT's OHS management system to comply with international standards. The PTT's OHS KPIs are referred to as Health Leading Performance Indicators (HPI) and are designed to be the proactive KPIs which continuously enhance PTT's OHS performance. To share and disseminate OHS knowledge and best practice, PTT has developed working manuals and procedures which are shared with officers and operators to use as reference guides for efficient and safe working conditions.

Health Risk Assessment is one of the tools to determine health aspects and impacts for PTT's operational areas. The assessment considers risks from direct contact with harmful substances or other working related risk factors. Based on the risk assessment PTT puts in place control and appropriated mitigation measures, for example, annual health check-up, knowledge sharing and trains sessions. For employees working in areas that pose a risk of contact with dangerous chemicals, PTT will conduct an evaluation of the work environment and assess risks of contact with dangerous chemicals. Workplace exposure limits for dangerous chemicals haven been determined and all operators must wear appropriate PPE. In addition health promoting campaigns are held in operating areas to support employee health.
Process Safety Management
Any accidents occurring in the production line can have impacts to life, asset, and environment, and affect stakeholders' trust in the value chain. PTT Group has the Process Safety Management (PSM) in place to ensure appropriate design, operation and maintenance and to prevent accidents. PTT Group has established the Process Safety Event Tier 1 as 0.
Operating results from the PSM system are communicated via the Operational Excellence Management System (OEMS) to the main units i.e. Engineering, Operation, Maintenance, and SSHE. These units are part of a forum that is responsible to ensure compliance with OEMS elements.
PTT Group strictly manages production safety. There is a production safety working committee, a network of directors and employees within PTT Group. The Committee drives forward coalition, through exchange of technical information regarding in-depth production process, as well as learning from those experienced from previous incidents. Most importantly, there is continuous exchange of best practices, advices following relevant assessments, lesson learnt from damages occur in PTT Group and the industry.
PTT Group PSM Implementation Guideline and Audit Checklist have been prepared and these manuals are shared with relevant OEMS Forums. These manual are for internal purpose to up-scale Process Safety Barrier i.e. Operating Window, Management of Change, Pre Start up Safety Review (PSSR), and Safety Critical Equipment, etc. The system can be used for consolidation and analyse of information for future improvement PTT aspires to implement and communicated internally n the Group. The information can be used for review and for further consideration of adjustments per aforementioned issues.
Furthermore, the scope regarding safety indicators within PTT Group's production has been expanded. This facilitates prompt measurement and follow up on proactive performance in order to prevent losses in a timely manner. The scope was set to be Process Safety Indicator Tier 3 and 4. The expanded scope has been communicated to relevant parties via the OEMS Forum and implementation against targets is monitored.
Security
PTT has established PTT Group Security Management as well as guidance for PTT group security risk assessment for setting up performance monitoring framework to ensure security aspect is consistent throughout PTT and PTT Group. In 2011, PTT Way of Conduct was issued which is part of personnel job responsibilities is being followed by PTT group. Central operators are responsible for evaluating job performance to be in accordance with PTT group security risk assessment manual. The output from assessment and appeals for security and safety issues are analyzed and used in order to improve successively security management system. PTT collaborates with government agencies for timely warning and emergency notifications in case of an emergency. Security practice training is regularly performed in all PTT sites, together with emergency practice training for personnel to prepare and effectively cope with emergency situations.
PTT is concerned about human right issues arising from security. Hence, PTT has addressed human right regulation including quality, security, health, and environment policies to be followed. The regulations cover life, property, and data protection, as well as organizing training courses, such as martial art and people frisking skills, for PTT security personnel and included in one of the requirement for employment. Evaluation of security personnel performance is regularly monitored through security assessment of PTT group for assuring that all security personnel recognize their right in performing their job duty in which do not abuse ignore or deny basic human rights.
Transport and logistic safety
PTT has maintained its transportation and logistics safety management to sustainably reduce numbers of accident, in line with the company's ESG management for the benefit of communities, society, and environment. In 2012, PTT formed the Logistic Zero Accident Steering Committee and enacted the policy regarding PTT Group Road Safety Management Guideline (RSMG). With this continued efforts in the past 7 years, more than 2,400 transport vehicles operated by PTT's contractors have strictly operated in line with PTT Group safety policy.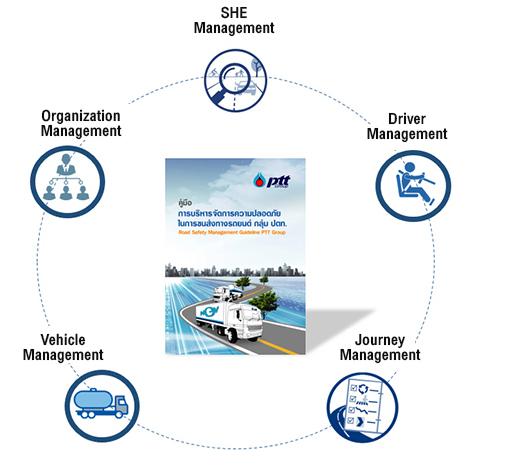 PTT Group Road Safety Management Guideline, RSMG
PTT continues to push forth its zero major accident target to reduce impacts of accidents occurring during the transport of products on the company, the society, and the environment. The company sets the target that major accidents should occur less than 0.05 times per 1 million km, or one major accident per 20 million km. To achieve this, PTT has adopted various logistic and transport safety measures, including installing In-Vehicle Monitoring System (IVMS) with GPS system and CCTV in and outside of vehicles which are under 24-hour real-time monitoring by the logistics and transportation monitoring center to ensure rapid responses; installing Fatigue Detection system to reduce fatigue which is the cause of more than 80% of road accidents and; conducting safety management inspections of logistic contractors in line with the RSMG to ensure that the guideline and policy is strictly enforced as stipulated in PTT group's policy.
In addition, to ensure that PTT Group has continuously maintained high performance in transport and logistic safety to sustainably reduce impacts on communities, society, and environment, PTT has given PTT Group Logistics Zero Accident and Eco-Driving Award 2018 to excellent transport and logistic contractors who achieved best performances for Zero Accident project, and Fuel Saving Program. The Fuel Saving Program was set to encourage transport contractors to comply with PTT Group's requirements for the safe transport of products, and reduced fuel usage by 2.5 million litre per year, which saved up to 63 million THB per year and reduce 6,929 tonnes of GHG emissions annually.
Performance
Progress
Safety Management at PTT covers personnel safety, process safety, and transport safety. PTT aims to be a zero-accident organization and to build confidence with stakeholder groups in regards to safety practices.
PTT supports employee and contractor engagement for safety practices by fostering a safety culture throughout the organization under the SSHE Management System. Strategic and annual targets are set to control and monitor performance across PTT Group.
Progress against PTT's OHS and environmental targets
Indicator
2020 Strategic Target
2018 Performance for 6 PTT
Group Companies
Lost Time Accident (LTA)
LTA = 0 Per year
Employees 1 case
Contractors 6 case
Total recordable injuries rate
(TRIR) – Total workforce
0.066 per 200,000 hours
0.04
Total recordable injuries rate
(TRIR) - Independent
-
0
Total Reportable Occupational Illness Frequency (TROIF) per million working hours – Total workforce
-
6
Serious car accident (only cases that PTT was convicted.)
0
m3
Controls, monitoring and reviews for environmental compliance
100% Controls, monitoring, reviews to ensure environmental compliance during construction period
100% Controls, monitoring, reviews to ensure environmental compliance during construction period
Process Safety Event Tier 1 (Case)
2020 Targets = 0

Process Safety Event Tier 2 (Case)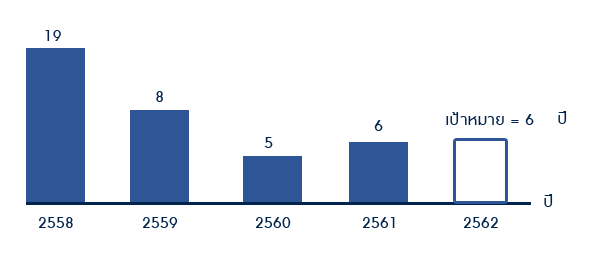 To achieve PTT Group's long term target (achieving zero accident by 2023), PTT has set the 2019 target at 0.040 times per 25 million km or one major accident per 25 million km.