As an energy business relying on fossil as primary fuel, climate risks and opportunities are key issues to PTT Group. Furthermore, Thailand signed the agreement in Conference of the Parties: COP 21 at Paris, pledging to reduce GHG emission according to Intended Nationally Determined Contributions (INDCs) in all sectors by 20-25% within 2030. This is in in addition to GHG reduction according to Thailand Nationally Appropriate Mitigation Action (Thailand NAMAs) in the energy sector and transportation sector by 7-20%, compares to the business as usual level as of 2020.
In respond to risks induced by climate risks and opportunities, as well as facilitating performance to ensure achievement of the national greenhouse gas reduction target, PTT established "PTT Group Clean & Green Strategy" in 2018. This was a collaborative efforts within PTT Group, combining climate change strategy with PTT Group's business strategy. This arrangement enables PTT to effectively monitor its subsidiary's performance, ascertaining alignment towards the Group's climate change strategy. The strategy itself has been approved by PTT Board of Directors and Executives already.
PTT Group Clean & Green Strategy
PTT Group has therefore stipulated the Group's climate strategy, titled "PTT Group Clean & Green Strategy"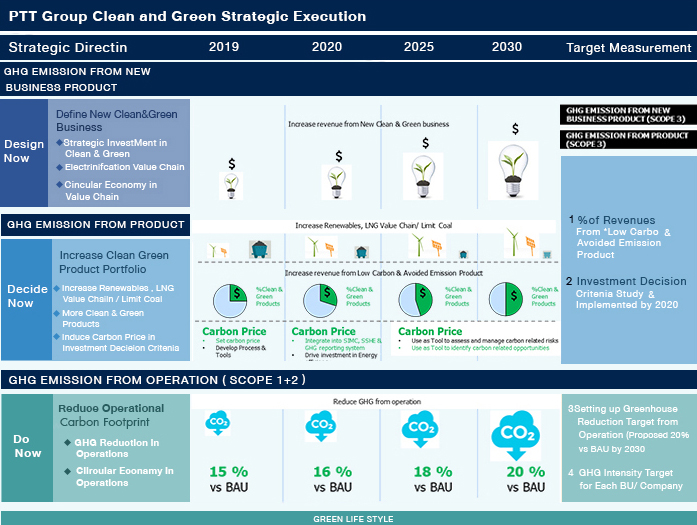 Strategic Direction of PTT Group's according to PTT Group Clean & Green Strategy, consists of:
Strategic Direction
Details
Design Now
Define New Clean & Green Business

Strategic Investment in Clean & Green
Electrification Value Chain
Circular Economy in Value Chain

Define PTT Group's business direction to be more 'Clean & Green', as follows:

Defining strategic Investment in Clean & Green
Developing and investing in electrification value chain
Adoption of circular economy principles in PTT Group Value Chain

Decide Now
Increase Clean & Green Product Portfolio

Increase Renewables, LNG Value Chain/ Limit Coal
More Clean & Green Products
Induce Carbon Price in Investment Decision Criteria

Increase the amount of PTT product groups to be more Clean & Green, as follows:

Increase Renewables, LNG Value Chain/ Limit Coal
Increase Clean & Green Products)
Induce Carbon Price in Investment Decision Criteria)

Do Now
Reduce Operational Carbon Footprint

Circular Economy in Operations
GHG Reduction in Operations

Reduce greenhouse gas emission from PTT Group, as follows:

GHG Reduction in operation through effective energy consumption, reduction and reuse of flare, reduction of methane leakage, to name a few.
Adoption of circular economy in operations through efficient use of materials and raw materials for maximum values, recycling materials back into the process
PTT Group Climate Risks and Opportunities Management Process
PTT Climate Change management is consistent with sustainable development approach, as well as approaches and standards practiced internationally. The process is as follows.
Diagram illustrating PTT Group's process in climate change management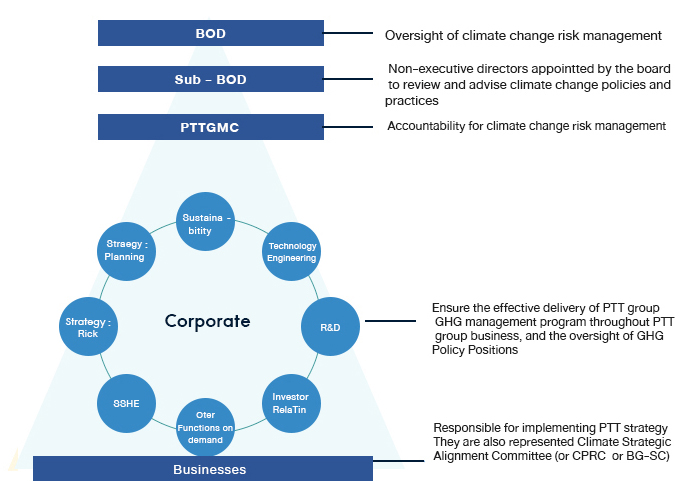 Account for and Understanding Impact : Collect data related to management off climate risks and opportunities, such as:

Direct and Indirect GHG emission (GHG Emission Scope 1, 2 and 3) for assessment of PTT Group's overall emission performance, inclusive to emission from operations under PTT Group, emission from purchased electricity and external heat, as well as GHG Emission from use of sold products. PTT Group's calculation process for direct and indirect emission is consistent with PTT Group GHG Accounting and Reporting Standard. The data can be used to improve work efficiency and disclosed directly to relevant stakeholders.
Revenue from products (revenues from sales of low-carbon products, meaning it emits less during the production or the service period; this may refer to service or products that help customers cut down their own emission). This facilitates measurement of PTT Group's operation in reduction of Scope 3 GHG Emission induced from PTT Group's goods and services, as well as businesses, by measuring GHG Emission from use of sold products

Assessing the Global and Local Climate Change Situation : Monitor climate change situation at both the global and local scale with potential impacts to sustainability, such as different laws and regulations, GHG emission management mechanisms (i.e. carbon tax, cap and trade), other approaches and standards related to climate change at an international level (i.e. WBCSD, CDP, DJSI, GRI). This includes participation in conferences and seminars on Climate Change, hosted by the public sector, private sector, among others.
Identifying Climate Changes Risks and Opportunities : dentify corporate-level climate change risks and opportunities as follows:

Risk and opportunities from regulatory change
Risks and opportunities from climate change-induced physical changes
Other risks and opportunities

Determining Actions and Setting Targets : Setting the strategy basing on the data collected on climate change, both on a global and local scale, and identifying risks and opportunities within the operations into 2 aspects:

Mitigation Action: Work on controlling, mitigating and absorbing carbon dioxide in the atmosphere to mitigate climate change impacts
Adaptation Action: Work on climate change adaptation to ensure sustainable business continuity.

Monitoring and communicating performance : Monitor and review progress according to strategy and work plan, including reporting progress to both internal and external stakeholders.
PTT Group Climate Risks and Opportunities Assessment
PTT Group integrates climate risk and opportunity analysis with enterprise risk management. PTT considers climate-induced risk and opportunities in alignment with recommendations from Task force on climate-related financial disclosure (TCFD). This comprises:
Transition Risk Due to Change in Energy Production and Utilization
Policy and Legal risks, encompassing risks from policy, targets, strategic plans, and laws stipulated by governing Thai government
Market and technology, refers to customers' changing behavior, such as reduced fossil fuel demand, low-carbon technology replacing fossil-fuel reliant business – such as electric vehicles, highly efficient batteries
Reputation, refers to PTT's reputation risks from climate change
Physical Risks
Natural disasters, including both sudden natural disasters, or gradual climate change impacts, such as increasing temperature, rising sea level.
Opportunities
Technology with greater energy efficiency at a lower price
Opportunity to invest in alternative energy, which is becoming more economically viable
Access to cleaner and environmentally friendly energy market and products
Access to funds supporting environmental works, both nationally and internationally
PTT Group assesses and reports results on climate change risk and opportunity analysis to the Boad of Committee and stakeholders through annual sustainability reports. There are measures responding to risks and changes occurring in various circumstances in an effective manner. This coincides with PTT's Pride and Treasure of Thailand. PTT has produced tangible innovation, from alternative energy comprising E20, E85, and synthetic materials made from biomaterials, which are used to develop hi-tech equipment that is lightweight, durable and environmentally-friendly, such as composite LPG gas tanks and biodegradable plastic for use in coffee cups, popcorn buckets. Furthermore innovation focuses on electricity generation from waste to energy power plant, and developing solar photovoltaic system.
For risks and opportunities arising from climate change at the operational level, PTT takes into account natural risks such as rising sea level and extreme weather events. Appropriate actions are taken to minimize the impacts of such risks. Preparation in prevention and mitigation against these risks is achieved through the implementation of Business Continuity Management System (BCMS). This system covers an emergency response plan for incidents which may occur naturally or anthropogenically. Each business unit is responsible for monitoring and ensuring business continuity on a quarterly basis
PTT Group Greenhouse Gas & Climate Target
PTT sets a target in climate change mitigation and emission reduction in alignment to United Nation's Sustainable Development Goals (SDGs), as follows.
Diagram illustrating SDGs in alignment to climate change mitigation and emission reduction target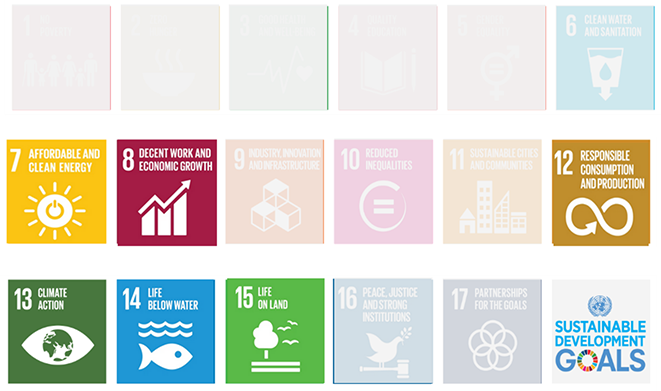 In 2018, PTT sets target on climate change strategy as follows:
Target Measurement
Details
Design Now & Decide Now
% of Revenues from Low Carbon & Avoided Emission Products
1. Increase proportion of PTT Group's revenue from Low Carbon & Avoided Emission Products within 2023 (% of Revenues from Low Carbon & Avoided Emission Products by 2023)
Investment Decision Criteria Study & Implemented by 2020
2. Study and adopt principle of carbon pricing be part of Investment Decision Criteria Study & Implemented by 2020
Design Now & Decide Now
20% Greenhouse Gas Reduction Target from Operation vs BAU by 2030
3. Reduce Greenhouse Gas Emissions vs BAU by 2030
GHG Intensity Target for Each BU/Company
4. Control GHG Intensity Target for each BU level and Company level
PTT Group Greenhouse Gas Accounting and Reporting Standard & Calculation Tool
PTT has conducted Greenhouse Gas Accounting to track its GHG inventory, in emission, absorption and storage continuously since 2006. This mechanism tracks and reports on direct GHG emissions (Scope 1), indirect GHG emissions (Scope 2), and other indirect GHG emissions (Scope 3). GHG data is externally verified by a third party organization on an annual basis.
PTT had developed the PTT Group GHG Project Standard based on ISO-14064-2. The Standard is integrated with PTT's GHG emission inventory and is used as the standard for PTT Group to assess and analyze GHG reduction efforts in accordance with international standards.
Direct GHG Emissions (Scope 1) and Indirect GHG Emissions (Scope 2)

Direct GHG emissions (Scope 1) encompasses operational activities from combustion, carbon dioxide separation, release of hydrofluorocarbons (HFCs) and sulfur hexafluoride (SF6), fugitive emissions, vented emissions, flares, and other process emissions.
Indirect GHG emissions (Scope 2) refer to the release of GHG from the consumption of purchased energy, such as electricity, heat and steam in PTT's business operations.
PTT has an approach in GHG emission reduction, either direct GHG emission (Scope 1) or indirect GHG emission (Scope 2), by focusing on management process to increase energy efficiency, alternate fuel used, generate electricity from co-generation power plants, and utilize waste heat. These are the efforts taken to facilitate progress towards the set goals.

Other Indirect GHG Emissions (Scope 3)

PTT's other sources of indirect GHG emissions (Scope 3) include the transportation of raw materials and products, employees transportation by air, as well as combustion from products sold. In 2015, PTT planned to expand GHG accounting to cover Scope 3 emissions, namely emissions from waste treatment, to align with the PTT Group 2020 Strategic Objective of Zero Hazardous Waste-to-Landfill
PTT's approach for reducing other indirect GHG emissions focuses on reducing product carbon footprints through product research and development to meet market needs in correspondence with the Pride and Treasure of Thailand strategic direction and Alternative Energy Development Plan (AEDP). In addition, PTT plans to expand manufacturing of bio-fuels in order to serve the increasing demand for bio-fuel in Thailand.
Energy
PTT has initiatives in place to enhance the efficiency of energy consumption in operations in alignment with the Green Roadmap, under the PTT Group Energy Efficiency Plan. PTT is committed to develop a streamlined energy management system across the Group, which will enable accurate analysis of available data, target-setting, and application of energy efficiency improvement plans. Improving energy efficiency is one of the strategic direction of PTT Group Clean & Green strategy.
The Energy Efficiency Plan not only leads to the reduction of environmental impacts from GHG emissions, but also reduces the cost of production. PTT has set a target to reduce energy intensity by 1.9% annually by 2020 based on a business as usual (BAU) scenario in 2015. A commitment to reach this target has led to various improvements projects, which continuously improves energy efficiencies.
Performance
Progress
Climate change is a highly prioritized issue at PTT. The awareness is reflected through management in accordance with PTT Group Sustainability Management Framework. The components and preferred approach with regards to climate change are as follows: setting emission target in alignment with PTT Group's target, conduct sensitivity analysis in monetary impacts, and giving considerations on large scale project investment, either new project, expansion or significant changes to fundamental utility infrastructure, climate change adaptation, and implementation according to climate change work plan.
Participation in CDP: Climate Change
| 2018 Targets | 2018 Performance |
| --- | --- |
| Report GHG data and performance through participation in the CDP program annually | PTT's Score: C |
Methane emissions (leakage, venting, and flaring)
(m3)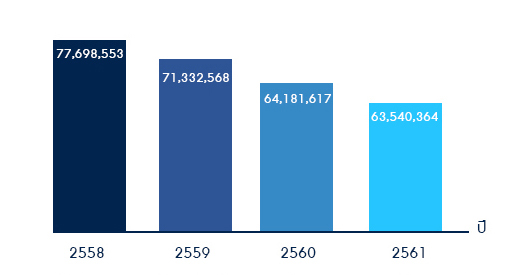 Greenhouse Gas Intensity.
(kilog co2 per barrel of oil equivalents)
Direct and indirect GHG emissions from PTT activities (Scope 1 and 2)
| ​Year | Performance | Target |
| --- | --- | --- |
| 2558 | 84.7 | 88.6 |
| 2559 | 78.7 | 88.5 |
| 2560 | 78.1 | 88.4 |
| 2561 | 76.4 | 87.8 |
Direct and indirect GHG emissions from PTT activities and the combustion of RTT's fuel products sold (Scope 1,2 and 3)
| ​Year | Performance | Target |
| --- | --- | --- |
| 2558 | 380.81 | 381 |
| 2559 | 378.95 | 381 |
| 2560 | 378.77 | 381 |
| 2561 | 334.56 | 381 |
Remark: The scope of data covers companies in Thailand under PTT's operationl control in which PTT holds direct shares more than 20% and holds indirect shares for 100%
Direct and Indirect Greenhouse Gas Emissions1
Direct GHG Emissions (Scope1)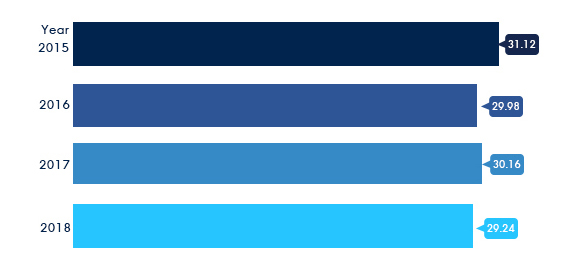 Direct GHG Emissions (Scope2)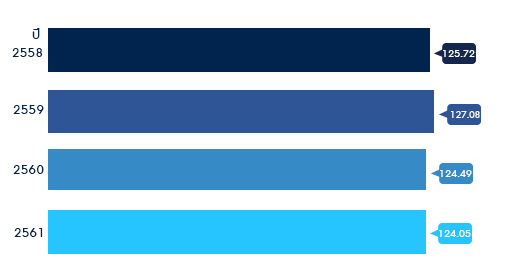 Other relevant GHG emissions from the combustion of fuels sold by (Scope 3) (2,3)