Sustainable Development Goals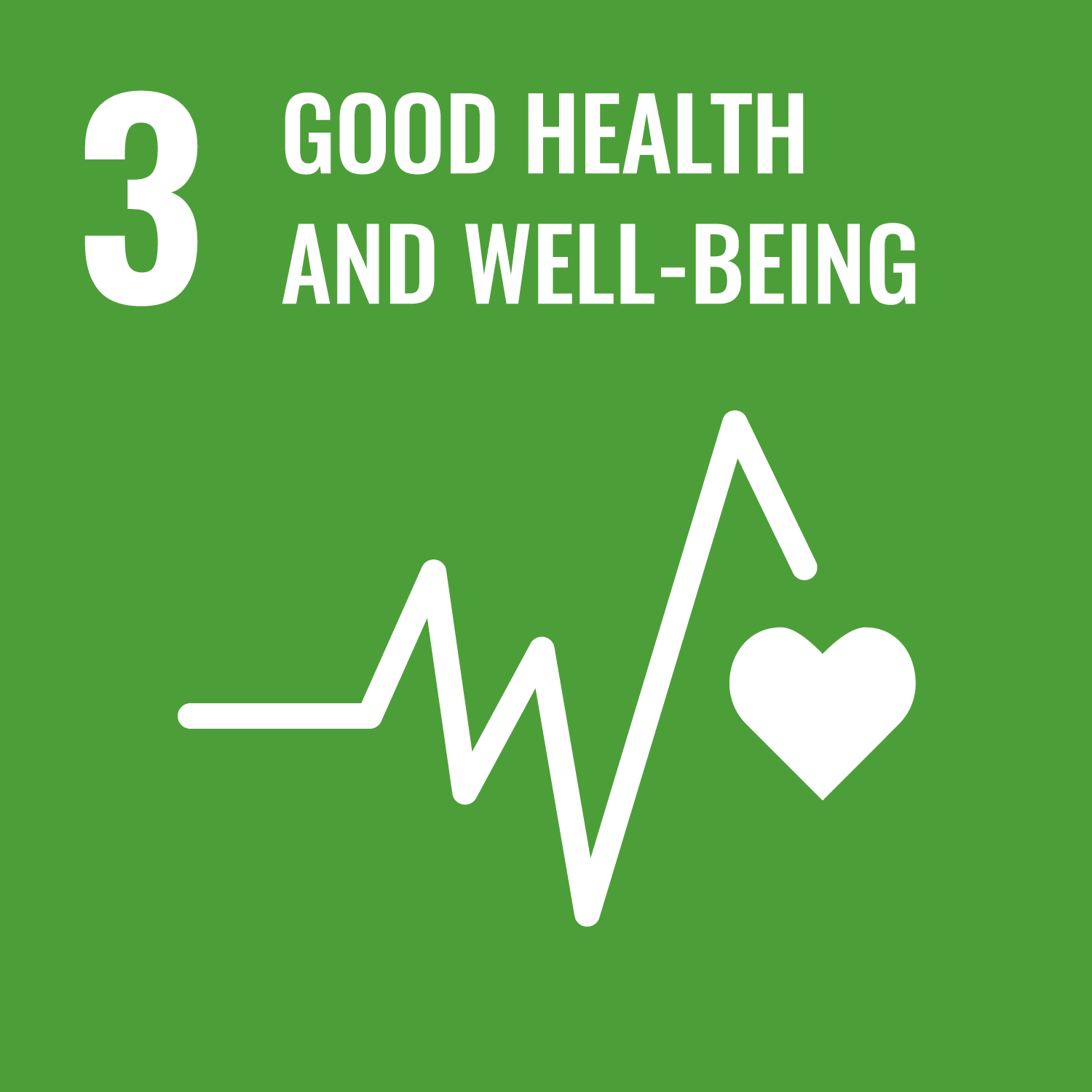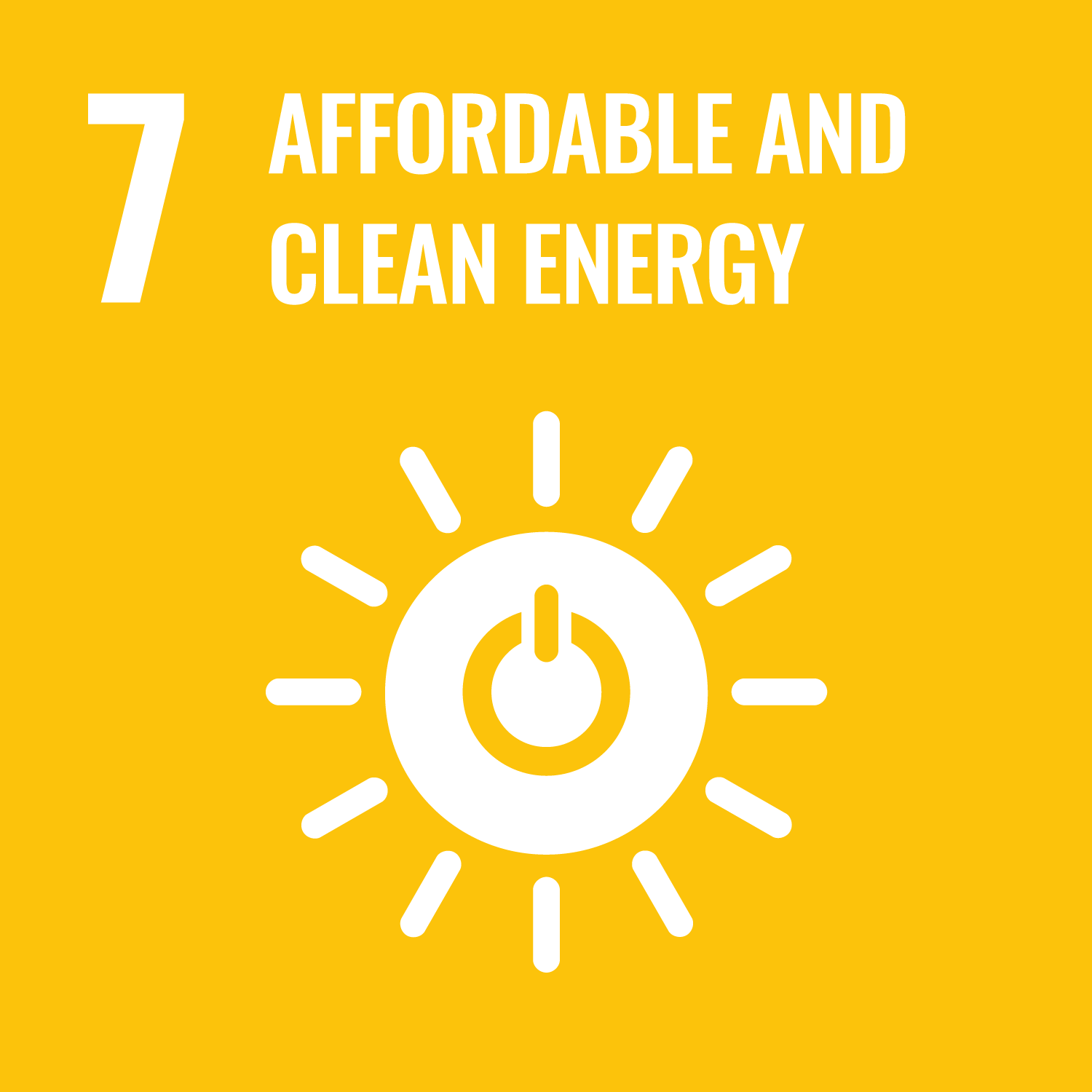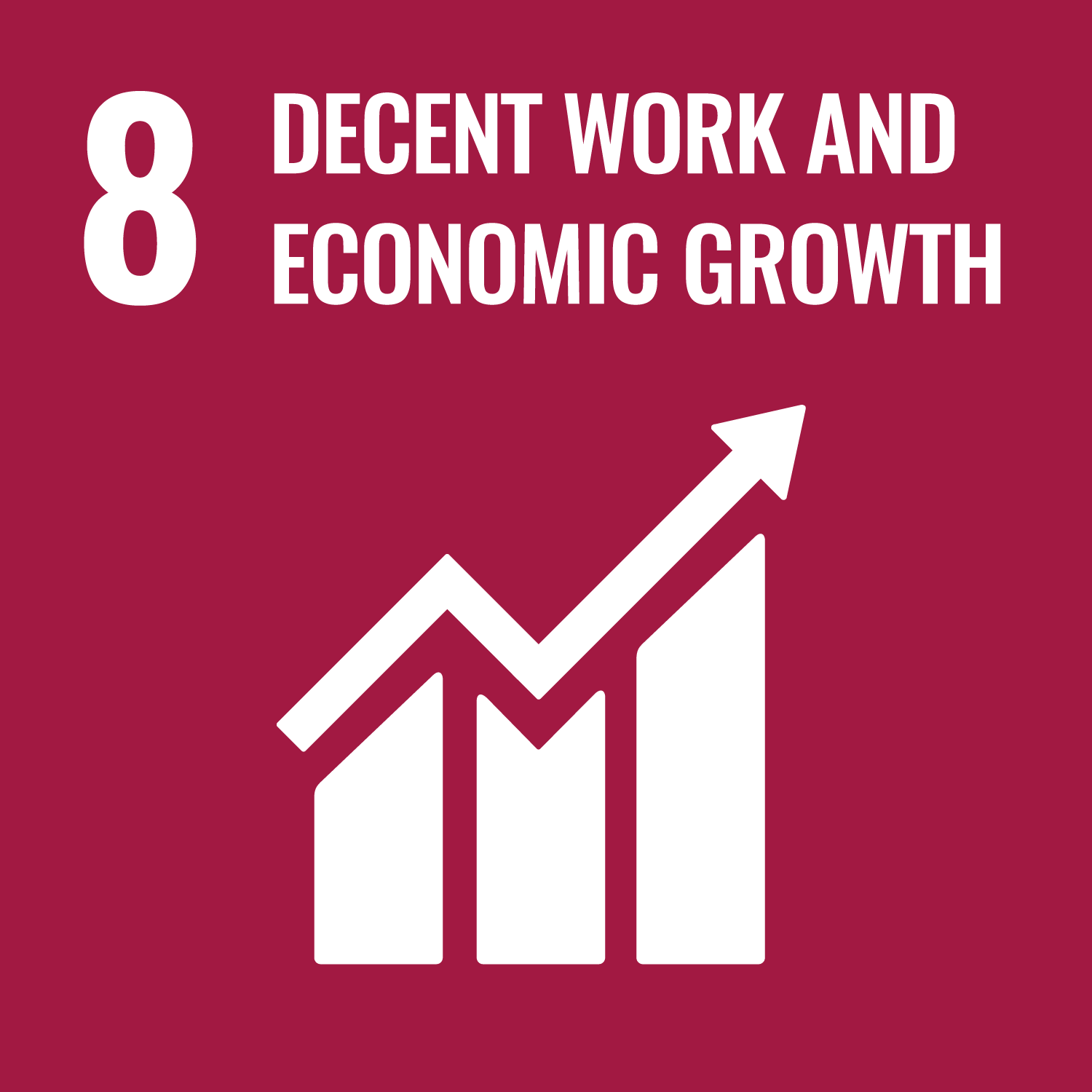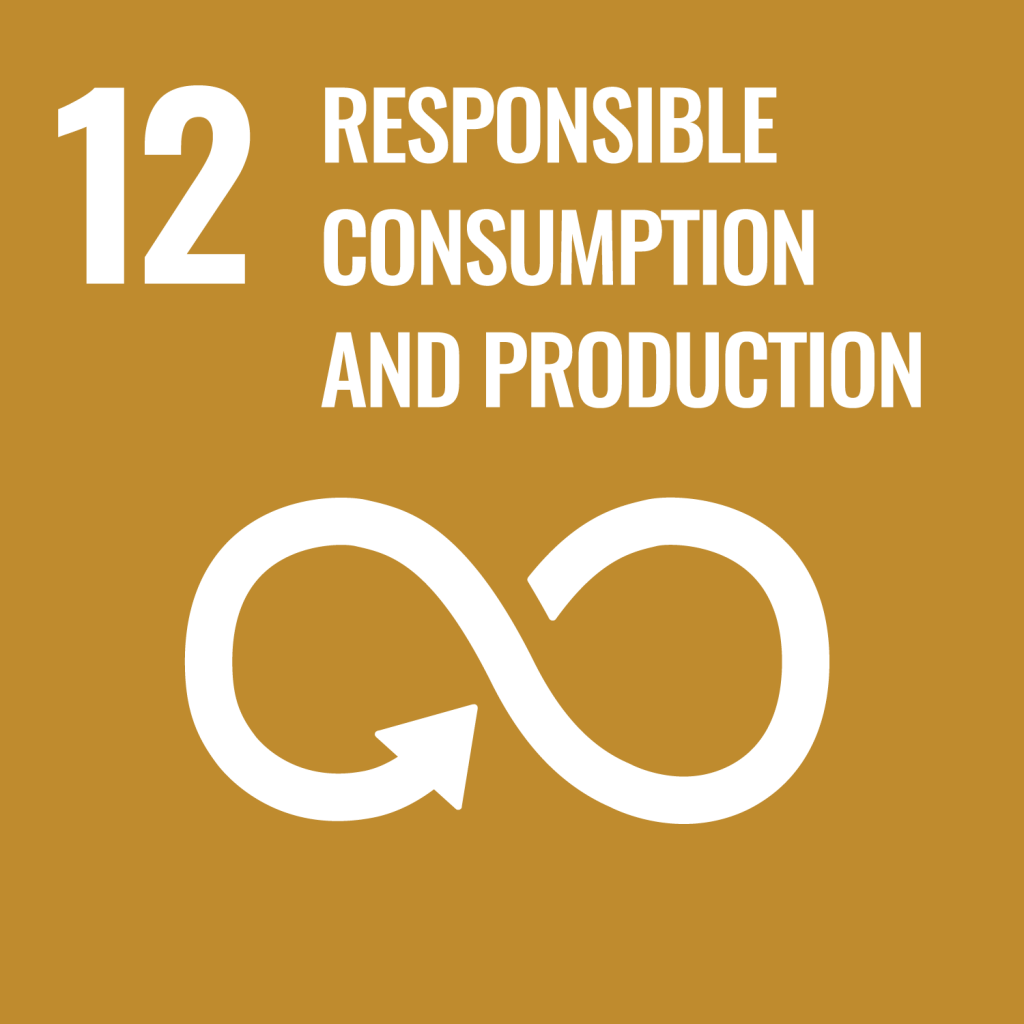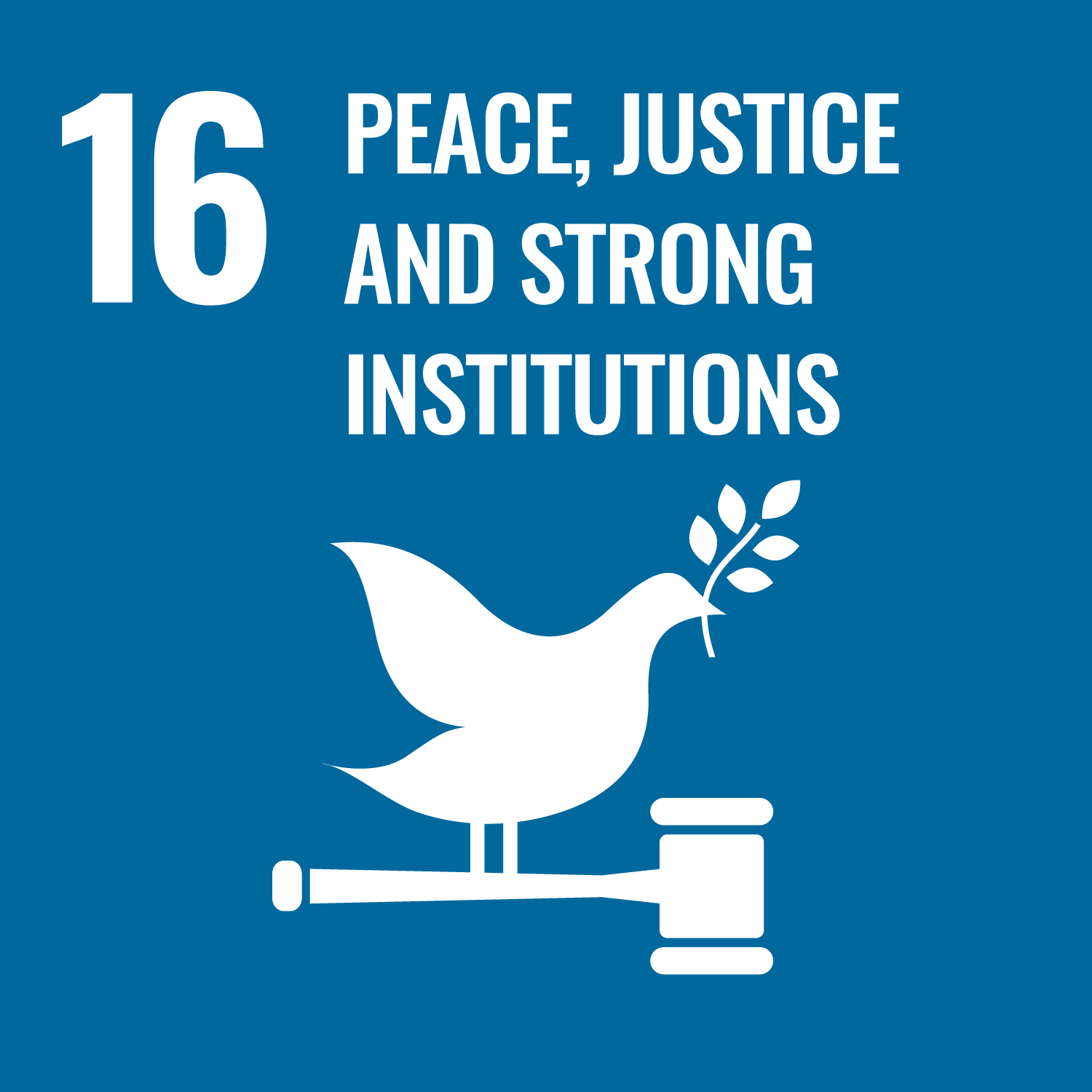 Strategic Sustainability Framework for Business
PTT Strategic Business Framework GRI 2-22, GRI 11.2
PTT is aware of and recognizes the plausible risks and opportunities that may have arisen due to climate change. Coupled with changes regarding Megatrends and Energy Outlooks in the future, PTT subjects' high importance on these two factors when determining the strategic business direction and operations. The company's vision, strategic framework, and business plan clearly outline and reflect this.
Under PTT's new corporate vision concept of "Powering Life with Future Energy and Beyond," PTT emphasizes business diversification strategies to expand its future energy business and operations best, which encompasses new businesses beyond energy production in line with mega and Energy outlook trends, as well as mitigating key risk factors and opportunities arising due to climate change. Thus, investments have been directed to the following:
Future Energy as Renewable Energy, consisting of renewable energy sources, energy storage systems, electric vehicle supply chains, and research into hydrogen-related opportunities, are being conducted.
Beyond or businesses beyond PTT's energy business offerings:


Life sciences such as pharmaceuticals, medical equipment, and nutritional products
High-value business chemicals
Mobility and lifestyle businesses, including non-oil retail-related offerings
Logistics and infrastructure
AI, robotics, and digital business
To drive knowledge and vision transfer into concrete actions, PTT has established a guideline framework for the organization's business strategy, as shown, in line with its "Aspiration PTT by PTT."
Powering Thailand's Transformation" is an energy organization that drives Thailand through transformational changes by choosing to place focus on the three business mentioned above direction areas, Partnership & Platform, Technology for All, and Transparency & Sustainability. While also setting 2030 new vision goals to reflect PTTs importance of mitigation impact, including increases in abilities for Resilience & Adaptation as follows:
Business Growth: Adjusting energy portfolios to focus on low-carbon businesses

LNG: Increased LNG trade volume in the portfolio to 9 million tons/year

Power (Conventional): Increase investment in conventional power generation capacity such as gas-to-power into 8 GW

Renewables: Increase efforts in renewable power generation capacity to 12 GW

New Growth: Increase profit shares from Future Energy & Beyond sector to no less than 30%

Clean Growth: Reduce PTT Group's greenhouse gas emissions by 15% compared to 2020, announce PTT's carbon-neutral goal by 2040, and aim for net zero greenhouse gas emissions by 2050.
PTT's "4R" strategic, operational plan includes
Resilience Creates flexibility and continuity of business operations while maintaining liquidity. Promote safety and operational excellence to encourage synergies and best utilize existing company assets. Encourage employees to remain agile and resilient with preparedness to cope with changes regarding business situations and focus on risk management and crisis management.
Reenergize Strengthen market competitiveness for current businesses. Generate added value throughout the company's supply chain from upstream to downstream. Adjust existing portfolios to support the transition of hydrocarbon energy and reduce carbon emissions from existing business operations.
Reimagination Initiation of business expansion to support the next normal transition, including energy businesses that have demonstrated potential to expand, such as LNG electricity. While also accelerating the development and growth of new business models beyond the hydrocarbon business, both within the Future Energy business and beyond.
Reform Evaluation and adjustment of existing organizational structure or business models per the future business/strategy direction, thus ready to adapt to unforeseeable changes in the future.
All strategic frameworks have been transferred into PTT's business plans on relevant agencies, including subsidiaries within PTT Group. This movement includes operational plans conveyed to specific operations for responsibility as well as critical mechanisms and methods for driving PTT's sustainability business, such as regulatory structures, defining various indicators to ensure that operations can be effectively driven towards the vision and goals set for effective and systematic results.
Strategic Sustainability OutlookGRI 2-22
Under PTT's oath on PTT by PTT (Powering Thailand's Transformation by Partnership & Platform, Technology for All, Transparency & Sustainability), In terms of Transparency & Sustainability outlooks, PTT diverts adequate attention to formulating transparency and sustainable business development practices to support the implementation of Sustainable Development Goals (SDGs), by placing importance upon balanced responses regarding requirements and expectations of all stakeholders related parties.

PTT has defined its " Strategic Sustainability Direction" within the "Sustainability Management Outlook Plan" to demonstrate corporate social and environmental responsibility.


PTT's outlook for 2021-2025" consists of 3 dimensions: the environment, society, and governance, with a formulated set of indicators for short-term, medium, and long-term goals alongside strategies to maximize success. This outlook is in line with the 20-year national strategy and supports the following SDGs:
Support for Sustainable Development Goals (SDGs)
In 2021, PTT scheduled an assessment of its priorities regarding sustainable development goals related to its business operations for sustainable development goals to be incorporated within the company's strategic vision and aligned with its strategic and enterprise plans. The three assessment steps are as follows:
Explore significant internal and external factors, including the organization's vision and new strategic direction, Corporate Sustainability Key Issues Policy, Sustainability Strategic Direction Policies, Targets Action Plans, and various global sustainability trends and directions that may affect business operations throughout the value chain including the needs and expectations of stakeholders.
Prioritize level of response and importance of Sustainable Development goals according to the international frameworks and guidelines such as the SDG Ambition Integration Guide, UN Global Compact's SDG Compass, IPIECA's Mapping the Oil and Gas Industry to the SDGs: An Atlas, WBCSD's SDG Sector Roadmaps, and IPIECA and WBCSD's Accelerating Action: An SDG Roadmap for the Oil and Gas Sector. In addition, assessments will be made in consideration for alignment to Thailand's 20-year National Strategy (2018-2037) and the 12th National Economic and Social Development Plan (2017-2021) deemed relevant to PTT's operations. Said rankings of sustainable development goals were then concluded through the categorization of 2 categories. Ten goals were to be Integrated into Core Business, while the other seven goals were to fit into Collaboration with Other Stakeholders; notably, goal 17 is vital in facilitating the remaining goals' success.
Justify prioritization and management approach to relevant departments for organizational development to consider feeding frameworks into the development of state enterprise plans, work plan, and projects supporting sustainability material topics, as well as engagement plans with stakeholders in subjected areas.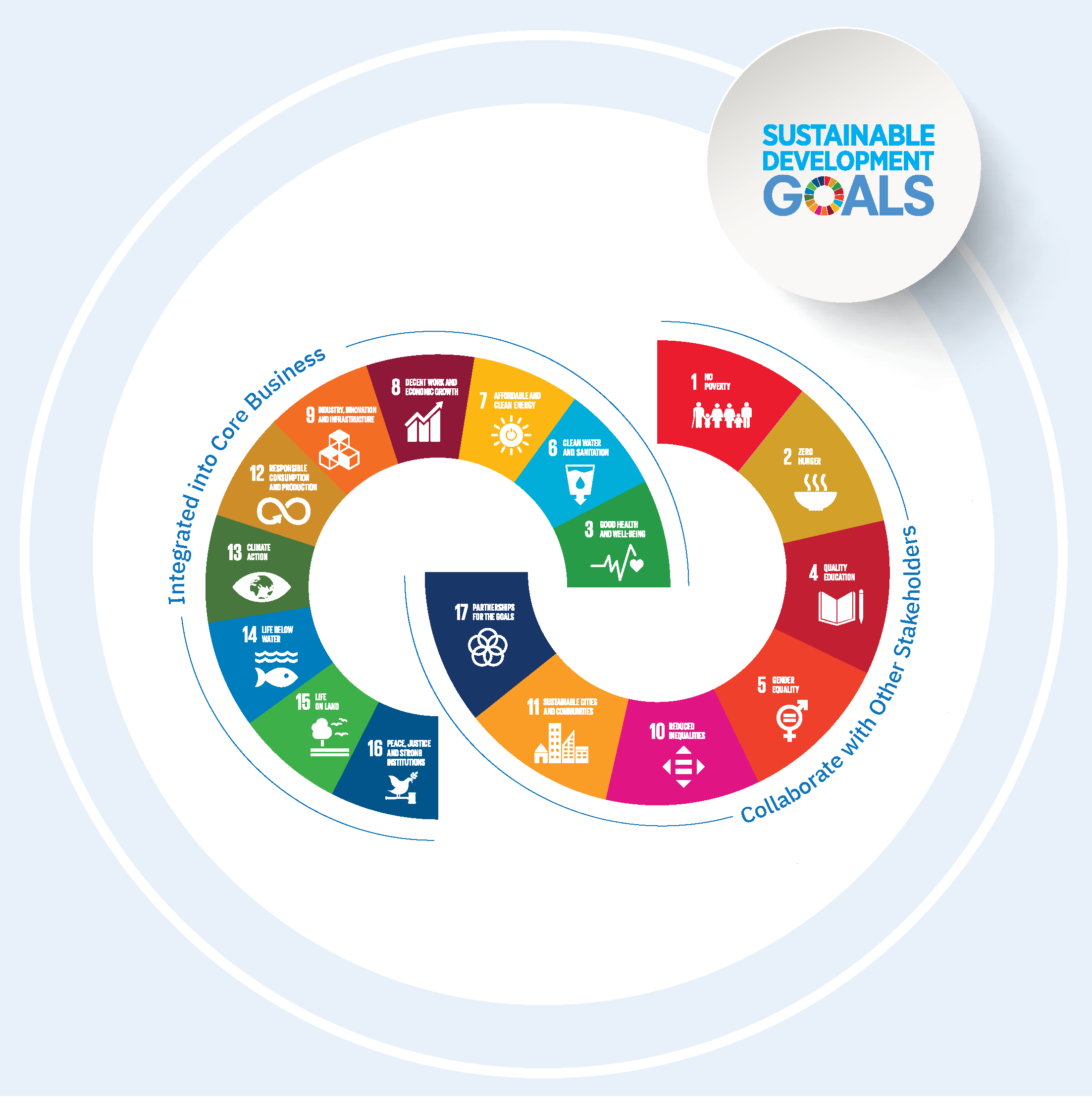 Supervision Structure and Responsible Business Conduct
Sustainability Governance Structure

GRI 2-9, GRI 2-13
PTT establishes a governance structure for its business spearheaded towards sustainability. Succinct clear responsibilities are directed through board-level management, managers, and internal departments to drive support and monitoring coupled with a review of its overall sustainability management. To achieve its stated goal efficiently, as shown below, the company has collected, evaluated performances, and reported results from each respective unit per "PTT's Sustainability Management Master Plan for Social and Environmental Responsibility" for the year 2021-2025. Said reports are then provided to PTT's Governance Risk Management Committee (GRMC) and Corporate Governance and Sustainability Committee (CGSC) to demonstrate its commitment to social corporate and environmental protection along with quarterly and performance reports reviews of the ongoing sustainability management process and its annual sustainability management plan for the PTT Board of Directors as well.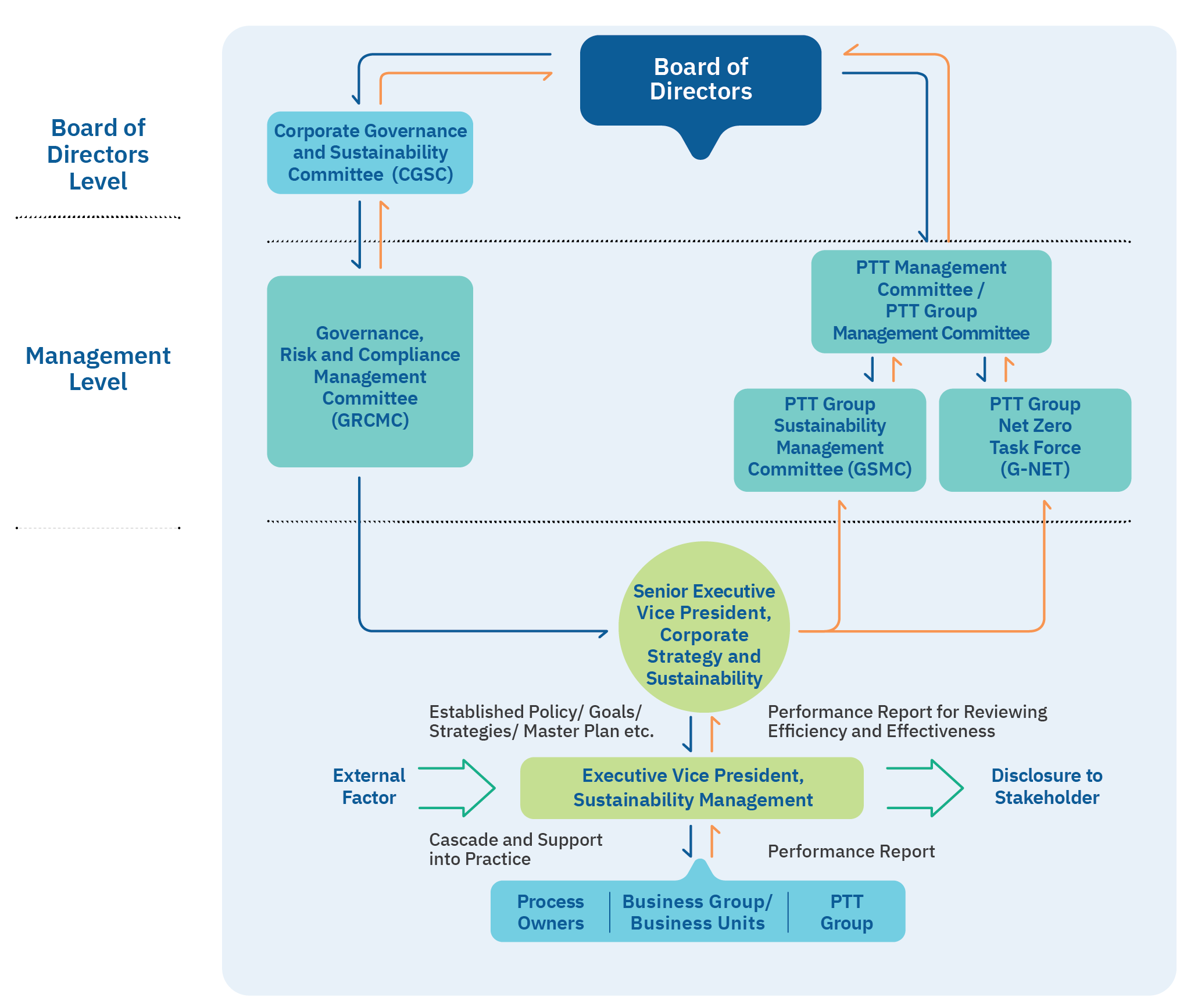 Regarding the management of key sustainability topics, each key specific issue is designated a responsible committee along with close supervision assistance ranging from management to the PTT Board of Directors. For more information, please refer to the process and results of assessing key sustainability issues
Policy on Responsible Business Practices

GRI 2-9, GRI 2-13
PTT recognizes and upholds the great importance of responsible business operations and has expressed its commitment to the various policies as follows:
PTT Sustainability Management Policy, Signed by the Chief Executive Officer and President of PTT Public Company Limited, consists of three-dimensional commitment intentions to manage, namely the environment, society, and governance sustainably.
PTT Corporate Governance Policy Signed by the Chairman of the Board of Directors of PTT Public Company Limited to enable PTT Public Company Limited (PTT) to conduct its business efficiently, have good corporate governance, and excellent management by focusing on extending sustainable benefits to shareholders with consideration of stakeholders as a whole and maintaining business ethics, transparency, and accountability.
PTT Human Rights Statement Signed by the Chief Executive Officer and President of PTT Public Company Limited
Nonetheless, PTT's policies have also been formulated to demonstrate the company's commitment to managing key issues for greater clarity as deemed appropriate as follows:
Policies are subjected to a timely review of content annually to align with the changing landscape and key sustainability prioritization within the organization.
Governance of PTT Group Companies

GRI 2-24
PTT has since established PTT Group's Governance Policy through the publication of its PTT Group Way of Conduct, serving as a compilation of guidelines, principles, and procedures regarding working dimensions concerning PTT and PTT Group subsidiaries to remain consistent as a tool for implementing uniformed standards where PPT is a shareholder through selected representatives of the company. The members mentioned above are assigned to perform directorial, executive, and work-related decisions to foster unity within its operations, strengthening the potential and international competitiveness of PTT Group so that PTT Group can continue maintaining good business practices and growth within a transparent and sustainable manner.
Mechanisms for Sustainable Business Operations
Sustainability Management Process

GRI 2-24
PTT is determined to systematically incorporate sustainability management practices into business operations and all working systems within the organization. There are five main processes.
Process
Implementation

1. Analysis of internal/ external factors and materiality assessment of sustainability issues

Analyze internal and external factors that may affect PTT Public Company Limited and PTT Group's business operations by identifying risks and opportunities in terms of sustainability.
Collate stakeholders' expectations, needs, and concerns, including identifying key sustainability concerns of the organization.



2. Formulation of policy, management framework, master plan, strategic plan, and business planning strategy

Establish and evaluate policies, including PTT's sustainability management system and work process.
Adopt key sustainability issues as input factors for setting long-term goals, strategic direction, 5-year enterprise plan, and corporate risk management plan.
Define strategic direction and sustainability management master plan, the master plan on sustainability management, and action plan to achieve specified goals.
Define relevant corporate KPIs and functional KPIs.



3. Implementation procedures and performance monitoring

Develop processes and methods to manage material issues on sustainability.
Increase knowledge and capacity awareness, including a feasible digital sustainability system.
Transfer knowledge to PTT Group by defining mechanisms/ methods for managing essential sustainability issues following the PTT Group Way of Conduct (PTT Group WoC).
Monitor implementation progress through performance indicators.


4. Evaluation and management procedure review

Evaluate sustainability management to benchmark performance by external parties.
Review efficiency and effectiveness of sustainability management in line with PTT and PTT Group's strategy, corporate plan, budget plan, risk management plan, and related indicators by each committee on sustainability governance, responsible for material issues to ensure continual improvement of results.


5. Disclosure Procedures

Disclose sustainability management guidelines to corporate stakeholders by implementing standards and procedures for disclosure of information as specified by the organization to expand reach to the stakeholder's organization.
PTT has communicated and trained employees throughout the organization to acknowledge and strictly adhere to company policies. In addition, PTT monitors progress and operations improvement in sustainability management standards amongst PTT Group companies, and reports summarized results to the PTT Group Sustainability Management Committee (GSMC) quarterly. Flagship operations and target companies are evaluated through the Maturity Assessment at least once every three years.
PTT Sustainability Management Standard

GRI2-24
In 2021, PTT reviewed and revised the 2016 PTT Group Sustainability Management Framework as "PTT Sustainability Management Standards" to uphold consistency with various standards and practices at both the national and international levels to reflect current issues. Furthermore, measures introduced and applied include ISO26000 Social Responsibility Guidelines, United Nations Global Compact (UNGC), Sustainable Development Goals (SDGs), Global Reporting Initiative (GRI) standards, as well as State Enterprises Assessment (SE-AM), consisting of three parts as follow.

1. Sustainability Management Principles consist of 7 components as follows:

Accountability: Corporate governance coupled with risk, opportunity, and sustainability management of key issues and establishing governance structure.
Transparency: Disclosure of the corporate's activities that affect the economy, society, and environment with clarity, accuracy, timeliness, and completeness
Ethical behavior: Adherence to the principles of fair business practices in any agreement may put other organizations and consumers at a disadvantage.
Respect for stakeholder interest: Promote effective and fair engagement with stakeholders as well as provide comprehensive feedback.
Respect for the rule of law: Compliance with regulations and various requirements, as well as review compliance with the law.
Respect for international norms of behavior: Respect for the rule of law and avoid violation of policies and wrongdoings in line with international guidelines.
Respect for human rights: Protecting the human rights of those who may be positively and negatively affected by PTT's business operations.
2. Sustainability issues consist of 7 components as follows:
1) Governance
2) Human rights
3) Labor practices
4) Environment
5) Fair operating practices
6) Consumer issues
7) Community Involvement and Community Development

3. Sustainability Management Process consists of 4 steps as follows:
1) Organizational Governance and Leadership
Clear written intentions and commitments of the organization in writing through policy announcements and communication by the organization's chief executive
Define the structure and delegate responsibilities to related personnel to establish the organization's sustainability management process.
Review of management performance review to ensure appropriate action and for continuous improvement.
2) Materiality Assessment, Strategic Planning, and Target Setting
Identification and relationship development with stakeholders for needs and expectation analysis.
Analysis and prioritization of sustainability issues in line with domestic and internationally accepted standards
Define strategies, risk management, master plans, and indicators for short, medium, and long-term goals.
3) Implementation
Transfer of strategies, risk management plans, master plans, and targets designated to relevant departments.
Establish action plans for relevant departments under the master plan.
Prepare action plans by relevant departments under the master plan.
Communicate operations to stakeholders for cooperative efforts.
4) Monitoring and Reporting
Monitor, review, audit, and improve performance goals according to the master and work plans.
Disclose crucial management results following internationally accepted standards to inform all stakeholder groups of operational performance.
Materiality Assessment Process and Results

GRI 3-1, GRI 3-2
PTT defines the materiality assessment process following the Global Reporting Initiative (GRI) Standards' Sustainability Reporting Guidelines and the International Integrated Reporting Council's (IIRC) framework to identify the best environmental, social, and governance issues that have a significant impact on the organization's value creation, through business operations throughout the value chain, as well as the impact on stakeholders' needs, expectations, and deliberations. In addition, PTT conducts materiality assessments annually to review changes in essential issues to the organization and stakeholders by raising critical issues to management efficiently and balance. The assessment of key sustainability issues is carried out in 3 steps as follows:

1. Identification of material issues of organization and stakeholders
Selection of key sustainability issues in collaboration with agencies adhering to relevant international standards, guideline and practices to align with the company context, risks, strategy and sustainability management strategy of the organization. PTT defines the scope of sustainability issues according its impact of operations throughout the value chain which pertains to both internal and external organizations.

2. Priority assessment
Assessment and evaluation of opportunities and impacts on PTT's value creation covering PTT's financial aspects business processes, operations, corporate reputation, impact to customers, partners as well as employees. This includes levels of interest, impact, and importance of value creation for stakeholders. Where then materials will be integrated into PTT's strategic formulation and management process for efficiency.

3. Verification and Assurance
PTT's sustainability assessment review results in collaboration with relevant departments and reported the results to the management committees, namely the Governance, Risk and Compliance Management Committee (GRCMC) and the Corporate Governance and Sustainability Committee (CGSC). Monitoring and evaluation of key sustainability feedback, advice and consultation are reported to senior management of relevant departments for consideration to review and approve results of the assessment of key sustainability issues of the organization. In addition, external independent assurer has been engaged to verify the assessment processes and stakeholder engagement with emphasis on completeness, accuracy, credibility, and transparency. PTT considers continually implementing processes for improvements and disclosures in respect to observations and recommendations from external parties including systematic improvement on performance monitoring in alignment with stakeholders' need, and clearer disclosure of performance process and disclosure of information.

56-1 One Report
2022 Materiality Assessment ResultsGRI 3-2, GRI 3-3

Following PTT's 2022 materiality assessment, the top five material topics, from high to critical/ extreme levels, are as follows:
Climate Action continued to rank first following the previous year, as it remains an internationally significant agenda requiring concerted efforts from various sectors, as well as the business sector, to achieve the goal of limiting global temperature at no more than 1.5 Cํ and Net Zero Emissions around mid-century.

Business Diversification became more focused corresponding to PTT Vision's "Powering Life with Future Energy and Beyond" to diversify into newer businesses beyond conventional Energy, adjust the investment portfolio and move towards low carbon. Innovation and Technology had a high impact following the business expansion related to the innovation and technology development for products and services to accommodate new business opportunities.
Occupational Health and Safety became less significant, considering PTT could systematically and effectively manage the COVID-19 pandemic, enabling employees and contractors to take appropriate actions and promptly receive aid when needed.
Corporate Citizenship played an important role as communities and society expect PTT to support public health safety amidst the COVID-19 pandemic, generate jobs and revenues, and restore the national economy following the abovementioned impacts.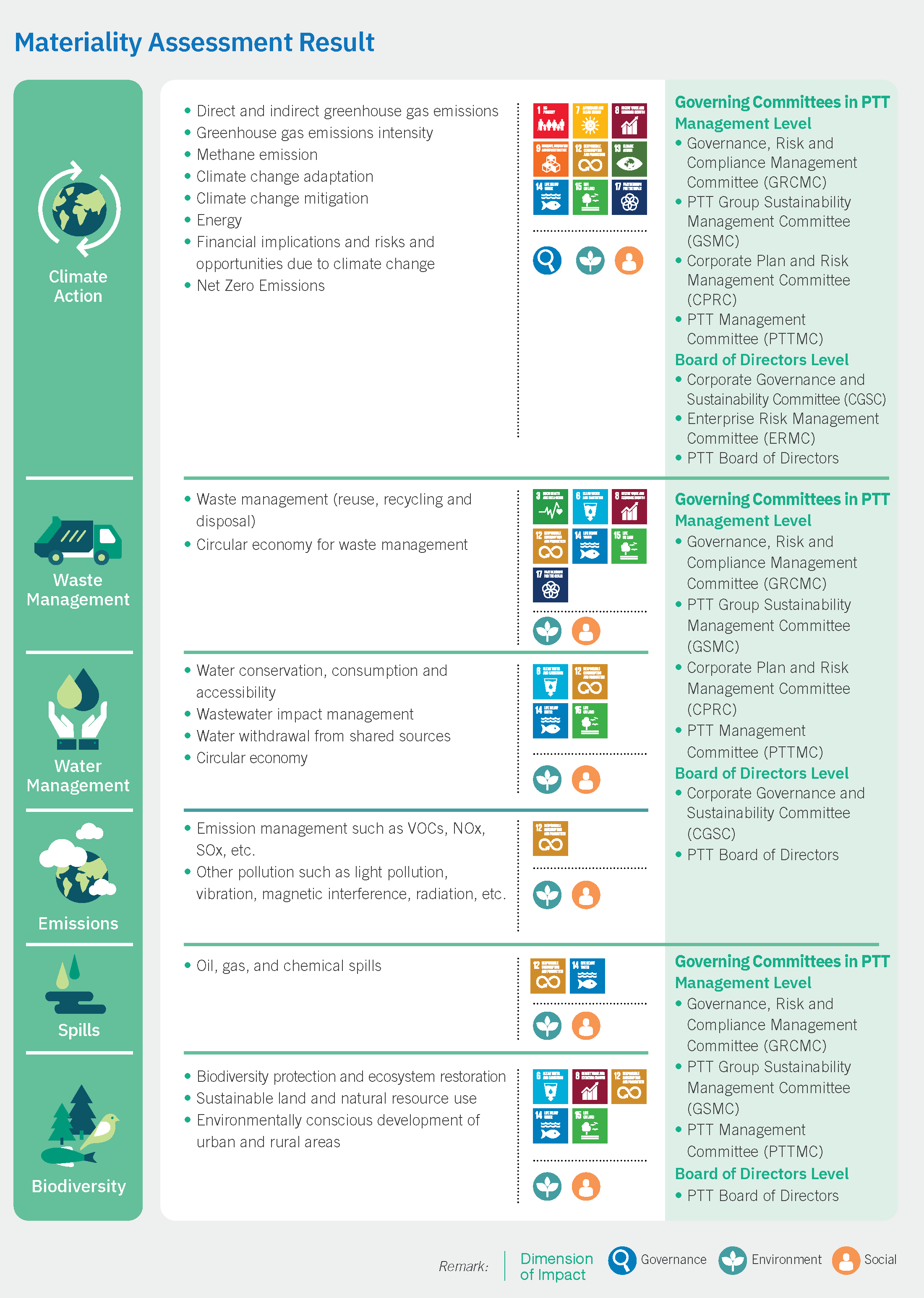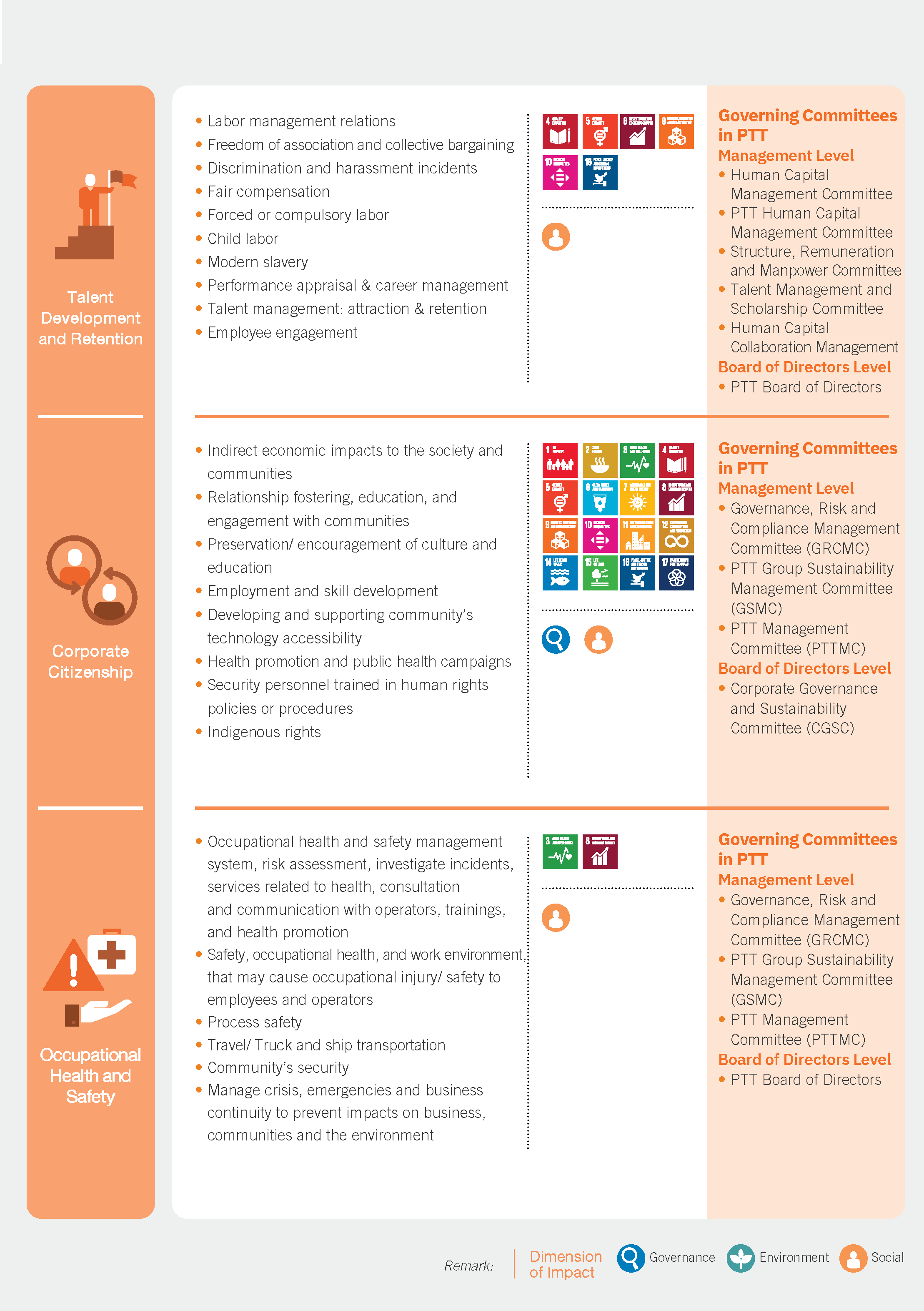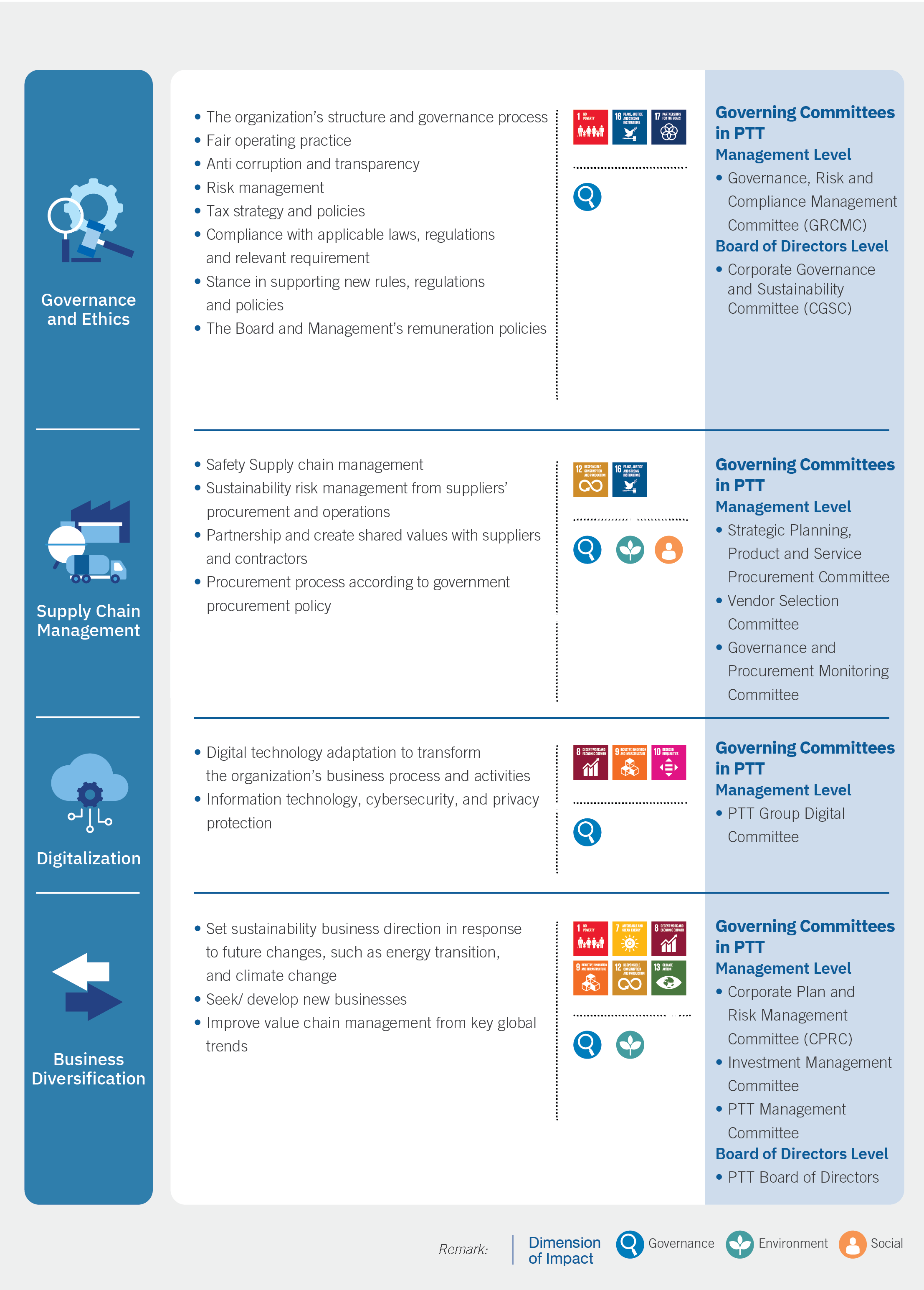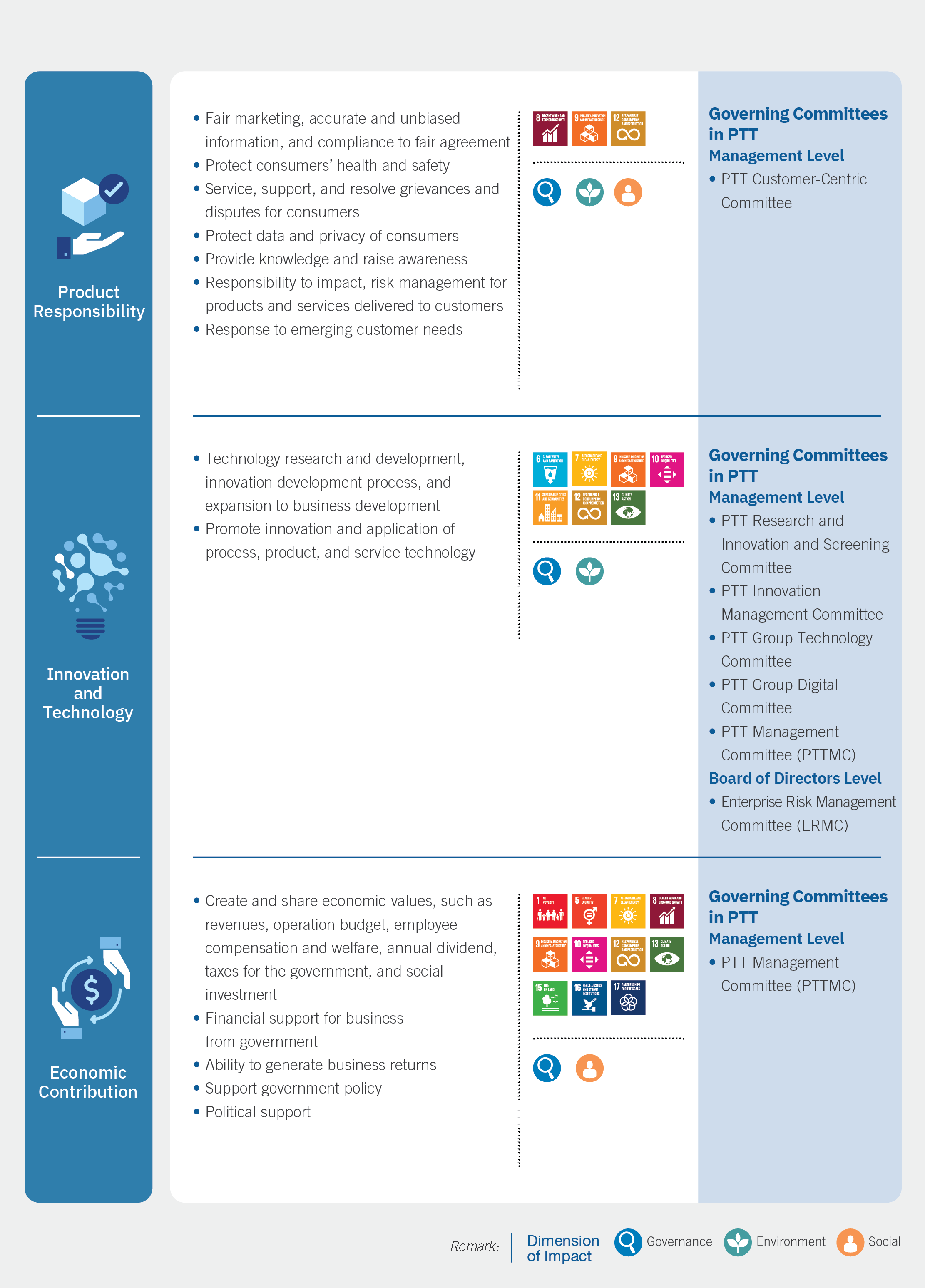 Mechanisms and approaches to drive business for sustainability
PTT believes sustainability management aligns with its vision to achieve long-term goals effectively. It is necessary to integrate key sustainability issues actively and systematically within the strategic planning and business operations of the organization through the following mechanism and methods:
Assessing of organization's true value based on sustainability management performance.
PTT assesses its actual organizational value based on both positive and negative impacts on sustainability such that investors retain access to real insights concerning the organization's operations, reflecting good and bad externality impacts regarding organizational procedures through monetary assessment methods. The assessment allows the company to pinpoint opportunities to improve its operations to reduce negative impacts and potential risks to its business and stakeholders, resulting in more proper management and allowing for more tailored decision-making to be made in implementing future projects PTT plans engage in.
The actual valuation of corporate sustainability can be divided into five main components. Where the scope of the assessment covers PTT's business performance data each year (excluding PTT Group companies) as follows:
Study the organization's policies and strategies related to sustainability management.
Select material sustainability issues according to corporate policies and strategies to determine indicators that reflect direct and indirect impacts, including being used in the actual valuation. Most of these indicators are constantly collected and reported in the organization's 56-1 One Report annual report.
Gather indicator data and value variables of indicators (Valuation Factor) to analyze positive and negative impacts, including direct and appropriate indirect effects, by considering all dimensions of sustainability.
Assess the value of both positive and negative sustainability impacts using quantitative sustainability performance data multiplied by the value variable of the indicator.
Include the value of each indicator on both positive and negative impacts to calculate the organization's intrinsic value.